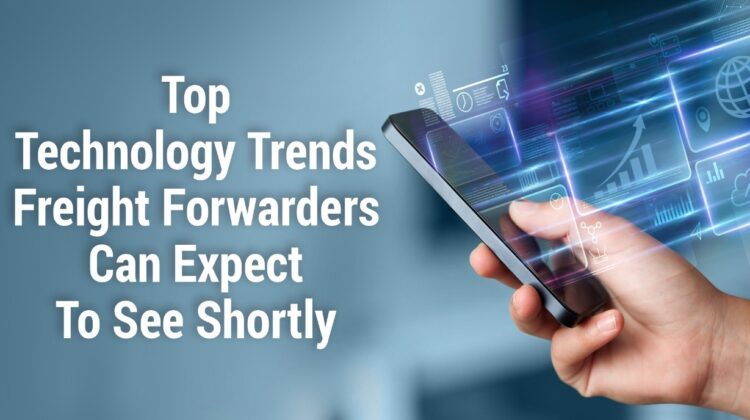 Top technology trends Freight Forwarders can expect to see shortly
For decades, speedy innovations have been hard to come by for the freight forwarding industry that has always played a crucial role in the economy. But digital disruptions brought by newer players in recent times are slowly changing the outlook of even the technology-opposed forwarders.
The pandemic set off panic alarms for the underprepared to handle non-forecast and sudden situations including remote working, transport scarcity, personnel shrinkage, effects of cost-cutting, and so on. Conversely, early adopters of technologically advanced solutions did not feel the effect of the pandemic. The aftermath of the pandemic brought to the forefront alternative and futuristic technology trends that wouldn't just help in staying afloat but also serve as a launchpad for business growth.
Artificial Intelligence
The unorganized and fragmented logistics sector can be transformed with technologies that extract useful data and turn it into meaningful insights. Manual processes always have a degree of human error involved that results in delays and fines. Artificial Intelligence(AI) is conducive to:
avoiding mistakes that humans can make
reducing the job turnaround time
making sense of internal and external trends
predicting future opportunities and possible hurdles
With increased accuracy in demand prediction, logisticians and forwarders can:
schedule only the required vehicles for transport
maintain just the right amount of supply in the warehouse
accurately remain agile to dynamic demands
In freight and logistics, there is always a ripple effect in case of delays. AI can help avoid the derailment of schedules by real-time information of shipping capacity and possible price changes.
Blockchain
Even in its early days, blockchain technology is treating the users with immense returns. Blockchain is a publicly distributed digital ledger that was thought to be primarily benefitting the financial industry but has since demonstrated many other applications.
For freight forwarding applications, blockchain can be used for contracts with carriers, shipping companies, regulatory bodies, and payment of various fees. Data transactions, electronic money transactions bring stronger security with blockchain. Due to its transparent nature, blockchain can encourage payment confirmations and eliminate the chances of fraud.
Information stored in the blockchain can be used in tracking and tracing by exporters, customs brokers, and even the receiving party. The result of an authentic delivery of data and important information is higher levels of trust and satisfaction for customers.
IoT sensor technology
Much of the difficulties in freight and logistics start creeping in when there is little or no visibility. Technology in the form of GPS and RFIDs have been around for a while to provide information on the real-time location of containers and vessels. Situations like accidents, thefts, damage, and false claims have led to the demand for more detailed and real-time information.
IoT (Internet of Things) is transforming how perishable cargo information like pressure and temperature difference and state change is recorded and monitored. High-value and time-sensitive shipments deserve the right treatment for the sake of their importance. A recent survey suggests that 80 percent of companies expect to adopt IoT technologies over the next five years.
With the help of IoT and location tracking technologies such as GPS, ports and terminals can get updated information on inbound shipments, such as expected time of docking, shipment quantity, and storage requirements. This could help save costs and record proofs for any tampering of cargo, retaining the trust of customers.
Last-mile and Contactless Deliveries
Paperless compliance and electronic Proof of Deliveries became a norm during the Covid-19 pandemic. Rising contactless deliveries in the last-mile section of logistics brought focus on the scope of enhancement. About 40% of U.S. consumers in a survey said they favor contactless delivery due to safety concerns.
Several experiments in the last-mile end of the delivery have been undertaken by companies to optimize operations. Drones, self-driving vehicles, and autonomous transportation options will find a place among trends in the coming years. A couple of years ago, Alphabet tested Wing delivery drones to deliver parts to ships away from the shore. Improving the last-mile delivery can boost customer experience and reap gains for the company.
Bringing it all together
For a freight forwarder, it's vital to have an ecosystem where the various technologies implemented work in harmony. Being inter-dependable, all digital tools and underlying technology must communicate seamlessly to avoid any confusion or delays. On the contrary, a technology-powered system can derive a lot of value for customers. The best outcomes of technology adoption won't be generated with mere implementation but with a holistic combination with human expertise.
Source : Author, Mr. Amit Maheshwari, MD & CEO, Softlink Global Pvt. Ltd.