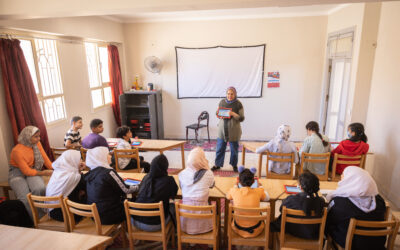 UNHCR and Agility sign an agreement to support refugee education in Egypt
ABU DHABI : UNHCR, the UN Refugee Agency, and Agility, a global leader in supply chain services, infrastructure and investment, announced renewal of their partnership, along with an Agility donation to fund education for 1,788 refugee children in Egypt.
Agility first partnered with UNHCR in 2016. Agility's latest donation will pay for tuition, transportation, uniforms, books, stationery and devices such as computers for nearly 4% of the total 51,000 school-age children receiving educational support from UNHCR in Egypt.
"Many forcibly displaced families face difficulty accessing education because of the growing needs and difficult living conditions. Agility's kind contribution will support our efforts in making the education of refugee children more accessible, helping them build a better future." – stated UNHCR's Representative in Kuwait, Nisreen Rubaian.
UNHCR estimates that more than 103 million people have been forced from their homes across the world due to war, conflict, persecution, and human rights violations, a record number representing 1.2% of the global population.
"The world's refugee population is growing at an alarming rate as people flee conflict and violence, economic deprivation, and the devastation of natural disasters and climate change," said Tarek Sultan, Agility Vice Chairman. "Host countries find themselves overwhelmed and unable to meet the needs of those who cross their borders seeking protection. We have to find cost-effective ways of supporting people and providing them with the means to learn, work and thrive, or we risk losing a generation of young people who have much to contribute."
Egypt hosts more than 288,000 refugees and asylum seekers, 32% of whom are children and youth of school age. UNHCR Egypt supports refugees and asylum seeker families with school-age children by providing education grants for their enrollment in Egyptian public schools under the supervision of the Ministry of Education. In addition, UNHCR supports the education of refugees and asylum seekers in urban settings at the primary, secondary, and tertiary levels.
Since 2020, Agility has donated to fund a UNHCR outreach center in Johor, Malaysia where 4,000+ Rohingya refugees and others received shelter, healthcare, education, skills training and other critical services. In Jordan, Agility's donation helped fund UNHCR's Job Matching program, linking 180+ refugees with potential employers. Through the program, UNHCR arranged interviews and placed refugees in agriculture and construction jobs or other livelihood opportunities.
Globally, Agility has reached out to help those affected by natural disasters and other crises, providing supply chain expertise and resources in collaboration with commercial partners, relief groups and international institutions. In the past, Agility has supported UNHCR's work in the Middle East, assisting Syrian refugee families (close to 2,500 individuals) through fundraising and donations. To find out more about Agility's sustainability activities, visit sustainability.agility.com.