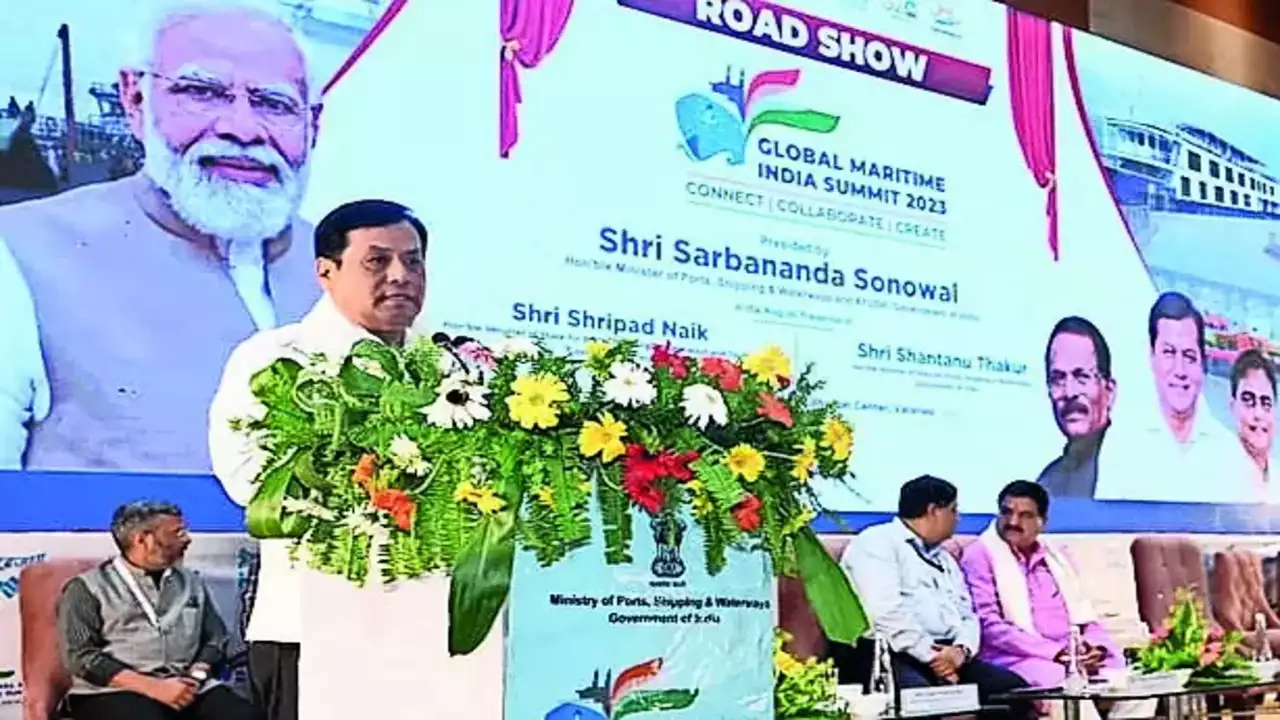 Waterways and logistics are bedrock of economic growth : Sarbananda Sonowal
VARANASI : Union Minister of Ports, Shipping and Waterways & AYUSH, Shri Sarbananda Sonowal was addressing a roadshow for the upcoming Global Maritime India Summit 2023 at the Trade Facilitation Centre in Varanasi recently.
"Waterways and logistics are the bedrock of our economic growth, and the Global Maritime India Summit-2023 is the catalyst for partnership and realizing the shared vision of generating investment of Rs 10 lakh crore and creating more than 15 lakh avenues for the youth," said Sonowal.
The Union minister said that the government was committed to creating a sustainable and modern ecosystem, "The Jal Marg Vikas Project and Arth Ganga initiative are tangible testaments to our dedication. Our multimodal terminals, innovative Ganga River transport, and modernization of 60 community jetties are bolstering industries and preserving our cultural heritage. We are fostering regional cooperation with neighbouring countries and offering exciting cruises on the Ganga. This transformation is green and sustainable and aligns with our environmental stewardship commitment," he said.
"The Inland Waterways Authority of India (IWAI) is constructing an Inter Modal Terminal at Kalughat, Bihar. The terminal is slated for completion by December 2023 and is set to revolutionise freight movement by connecting Nepal to Kalughat through road and Kalughat to Haldia via waterways," Sonowal said.
He said that India was pioneering in the tourism sector with MV Ganga Vilas completing the world's longest river cruise. "We are modernizing all the ports across the country. We have made significant progress in inland waterways, coastal shipping, and seaways through multiple projects. With the PM Gati Shakti initiative, we have achieved a groundbreaking milestone in waterways-centric transport, doubling the multimodal freight share to 12% and reducing logistics costs," he added.
He said the government was confident of attaining the 'Atma nirbhar Bharat' mission and 'Net-zero' goals by 2047 and leading India towards a resilient and self-reliant future.
Anchored by IWAI, the roadshow served as a precursor to the Global Maritime India Summit to be held from October 17-19 in Mumbai.
"We are celebrating IWAI's growth from Rs 1,517 crore to Rs 5,210.81 crore in nine years, 16% growth in cargo movement (315% increase since 2014-15), and international cooperation with Bangladesh, Myanmar, Bhutan," IWAI Chairman Sanjay Bandopadhyay said.
On this occasion, an agreement was signed between IWAI and the UP government for operation of electric catamarans in Varanasi, Ayodhya and Mathura.
Registrar, Nepal Panijahaj Karyalaya (Nepal Shipping Office), ministry of physical infrastructure and transport (Nepal), Bipin Rajbhandari said, "Nepal is the centre of maritime activities, especially with India. Our aim is to propel the sector towards employment excellence in the future and have already announced multiple initiatives for navigation purposes in the travel, tourism and trade segment."
He also expressed gratitude towards the government of India for signing a special trade agreement with Nepal, aiming at faster and easier movement of goods via waterways. He added, "This agreement will not only create greater collaboration opportunities for both the nations in trade and tourism sectors but also help in capacity building and training of the existing workforce for further expansion of the maritime sectors across geographies."
The roadshow was attended by UP minister Dayashankar Mishra Dayalu, senior officials from the ministry of ports, shipping and waterways, CEOs and senior officials of ports and maritime boards of coastal states and UTs.