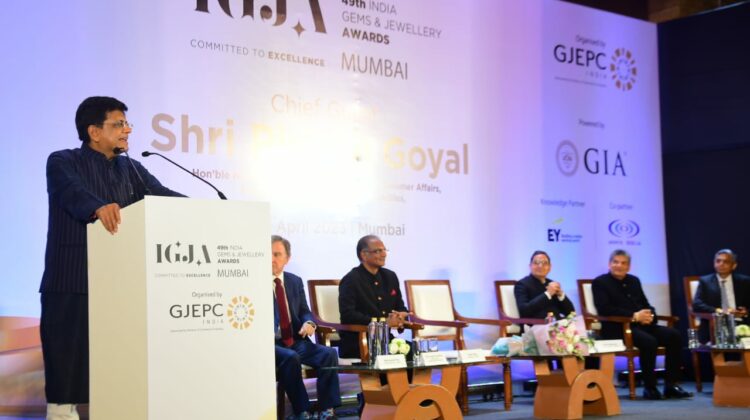 World is looking at India-grasp this opportunity to grow exports : Piyush Goyal
MUMBAI : Union Minister of Commerce Shri Piyush Goyal on Sunday said the world is now looking up to India and its industries and this is the right time for entrepreneurs and industry players to grasp the opportunity and grow exports. Entrepreneurial abilities in the country with innovation, new ideas, new ways of marketing and branding products can unleash the true potential of the country, the Commerce and Industry Minister said while addressing the 49th India Gem and Jewellery Awards.
"On April 24, I have a meeting with ministers of the European Free Trade Association (EFTA), consisting of four countries including Iceland, Liechtenstein, Norway and Switzerland, who are keen to negotiate with India.
"Other Gulf countries and Russia are also keen to negotiate with India. The world is now looking up to India and its industries, and this is the right time for the industries and entrepreneurs to grasp the opportunity and grow exports," Goyal said.
Further, Goyal said jewellery exporters have shown good promise and good results and the gem and jewellery industry is the diamond of India's exports.
"The industry's talent is spread across every zone and this industry can generate lots of jobs commensurate with the talent. The future is bright but we seek a collective commitment from every exporter to contribute to increasing exports despite headwinds and challenges," said the minister.
The government is working towards ease of doing business honestly and efficiently and expects the industry players to engage in ethical practices, he said.
Talking about the mega Common Facility Centre (CFC) in Santacruz Electronics Export Processing Zone (SEEPZ), Goyal said it is on track and is expected to be ready by 'Ganesh Chaturthi' this year.
Meanwhile, the Gem and Jewellery Export Promotion Council (GJEPC) Chairman Vipul Shah, who was present on the occasion urged the government to have dialogue with the US and the G7 to avoid imposing sanctions, which may cripple the Indian natural diamond cutting and polishing industry.
"We met the top officials of the US and EU governments recently to deliberate and put forward our viewpoint on this," he added.
Shah emphasised that time has also come to grow exports of plain gold and silver jewellery from India as only 10-15 per cent of gold and silver, which is imported is used to manufacture jewellery for exports.
"We require the minister's direct intervention in the implementation of the Ad Valorem scheme for gold and silver, whereby the effective import duty on gold and silver procured from domestic market – just like GST – should be put into exporters' accounts at the rate prevailing on the day of exports to have a level-playing field with exporters from Singapore, Italy and Vietnam," Shah added.
In 2022-23, the overall gem and jewellery exports grew 2.48 per cent to Rs 3,00,462.52 crore, as compared Rs 2,93,193.19 crore in the year-ago period