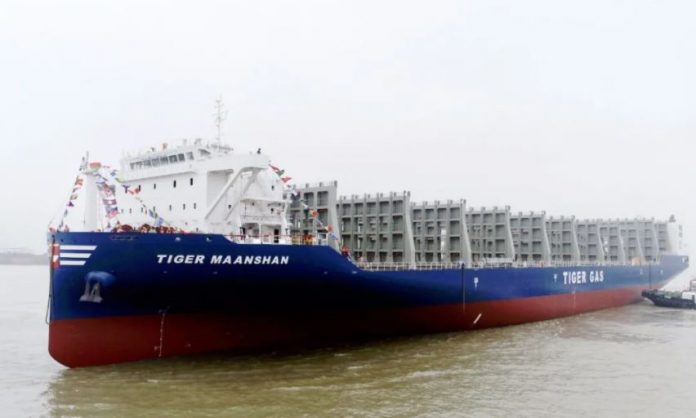 World's largest LNG tank container ship launched

---
Tiger Gas (Shanghai), part of Hong Kong shipping investor Graham Porter's portfolio, has launched the world's largest LNG tank container ship.
The ship, Tiger Maanshan, is one of four sister ships which can each carry about 700 LNG ISO tank containers, equating to around 15,000 tonnes of LNG.
All the ships are being built by Yangzijiang Shipbuilding, and Tiger Maanshan, now undergoing sea trials, will be delivered by the end of the year, four months ahead of the agreed delivery date of April 2022. The vessels were ordered in June 2020 and can carry LNG tank containers not only internationally, but also in Chinese inland waterways.
Tiger Gas is overseen by former Seaspan Corp. CEO Gerry Wang, who along with Porter, is among the company's directors.
The company will use Tiger Maanshan and its sister ships to carry LNG from Malaysia to China, having signed a shipping contract with Malaysian state-owned energy group Petronas.
Tapping on the growing demand for clean energy, Tiger Gas is understood to be working with clients who are close contacts of Wang and Porter. Tiger Gas is targeting Chinese and intra-Asian businesses, with multiple customers, including Chinese gas importers.