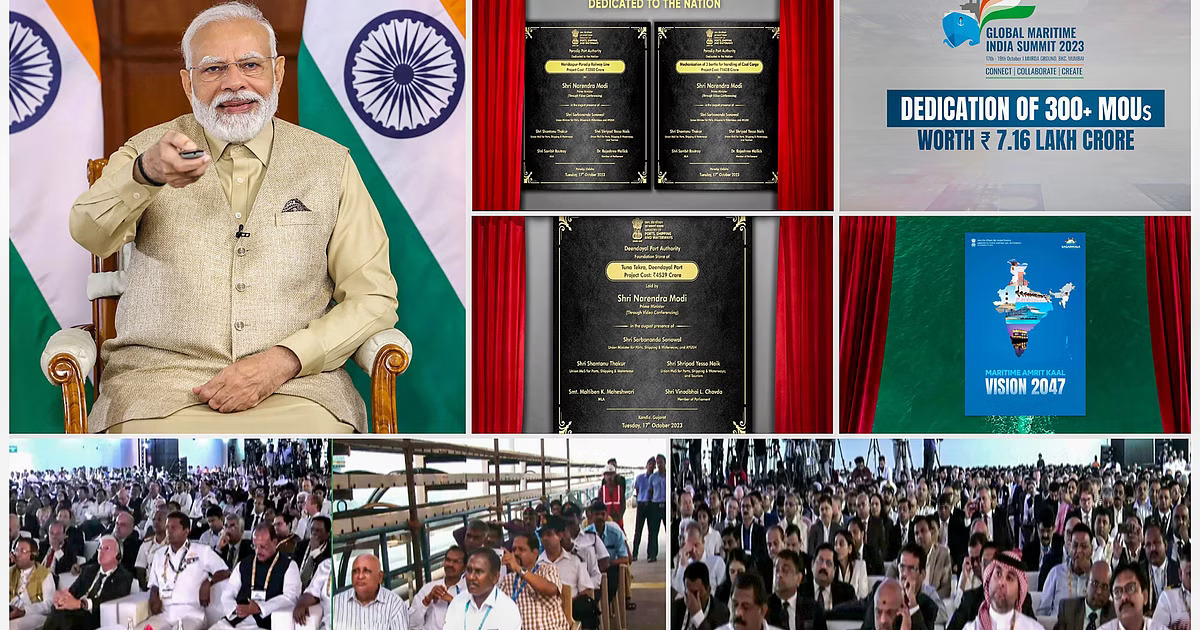 34 agreements worth Rs 3.24 lakh crore signed on Day 1 of three-day Global Maritime India Summit
MUMBAI : India's biggest event of shipping and maritime seems to be a grand success on the inaugural day only. Govt has said that as many 34 agreements worth Rs 3.24 lakh crore have been signed on the first day of the three-day Global Maritime India Summit (GMIS 2023).
The signing of these pacts underlined the commitment of various stakeholders to transform India into a maritime powerhouse, the shipping ministry said.
Besides Modi and Union Minister for Ports, Shipping and Waterways Shri Sarbananda Sonowal, the summit was also attended by Maharashtra Governor Ramesh Bais, Maharashtra Chief Minister Eknath Shinde, the two ministers of state in the Ministry of Ports, Shipping and Waterways (MoPSW) — Sripad Naik and Shantanu Thakur, officials from the MoPSW, and other stakeholders.
"Our prime minister's vision for transformation for transportation has seen radical growth in the coastal and inland waterways," Sonowal said in his speech.
"Embarking on a transformative journey towards a brighter maritime future. The rise of 'smart ports' will revolutionize logistics through digitization and innovative models. Initiatives like 'Digital India' highlight our dedication to unlocking economic growth via digitization," said Sonowal at a panel discussion.
These 'smart ports' will utilise data, automation, IoT, and advanced analytics for safer, efficient resource management, he said and added that to stay technologically updated, "we propose a digital centre of excellence (DCoE) for major ports, encouraging collaboration and cybersecurity focus".
Additionally, "Harit Sagar – the green port guidelines, he said, leads us to zero waste discharge, with an emphasis on reduce, reuse, repurpose, and recycle principles," Sonowal stated.
He also highlighted that initiatives have been taken towards interconnecting major ports by 2030.
Unified Logistics Interface Platform (ULIP) and drone-based security reinforces the government's commitment to modernizing port operations, the minister said.
The session emphasised aligning strategies with innovation outcomes, collaborative innovation for maritime capabilities, and skill development for seafarers.
Furthermore, it underscored the potential of the blue economy and the need for skilled manpower.
The "Special Session with Maharashtra" highlighted challenges in the state's ports and transportation sectors, transportation connectivity improvements, and strategies to enhance industrial resilience. It also covered topics like tourism promotion, policy framework initiation, and attracting investments.
"The sea is our highway to a world of jobs, bridging local and global horizons. This summit is our harbour for collaboration, where ports like JSW and Dighi shine bright. With the Maharashtra Maritime Development Policy, we've set sail on a comprehensive journey, welcoming industries to navigate and flourish in our waters," said Sanjay Basonde, Minister of Ports, Maharashtra.
"As we embrace technology, we must remember that these advancements are not just fancy gadgets; they are the gears that keep our maritime engine running smoothly. They ensure cargo moves seamlessly, vessels stay in top shape, and routes are optimised to save time and resources," said Naik.
These advancements are part of a broader national initiative 'Digital India', which not only establishes India as a technological powerhouse but also emphasizes that technology should serve the people, improving their lives and livelihoods, he added.
The session further highlighted the integration of 5G technology in the Indian maritime sector. While on one side, 5G's high-speed, low-latency connectivity enables real-time data exchange, facilitating remote monitoring and control of vessels and cargo handling, it also poses infrastructure and cybersecurity challenges.
The 5G network has the potential to revolutionize the maritime industry, enabling efficient automation and digitalization, ultimately leading to safer and more efficient maritime operations, it observed.