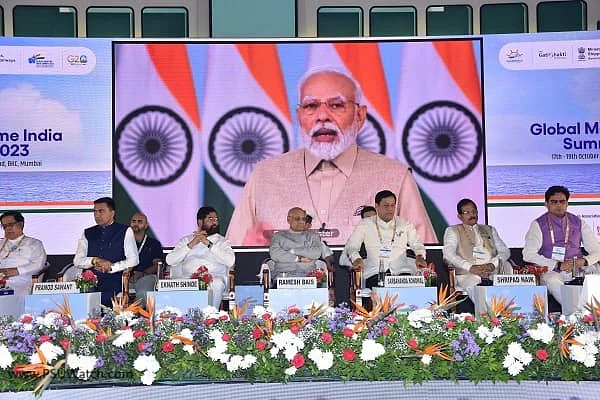 Maritime sector sets sights on Rs 80 lakh Cr investment by 2047: PM Modi
MUMBAI : Prime Minister Shri Narendra Modi on Tuesday said the India-Middle East-Europe Economic Corridor (IMEEC) has the potential to "transform" the global maritime trade, and invited investors to partner with the country to be a part of the initiative.
India is eyeing an investment of ₹75-80 lakh crore in the country's maritime sector by 2047, according to a vision document released by Modi, who also laid the foundation stone of maritime projects worth more than ₹23,000 crore.
Speaking at the inauguration of the third Global Maritime India Summit (GIMS) via a video-link, the prime minister said India was able to forge a historic consensus at the G-20 for IMEEC. The initiative will prove to be a catalyst for prosperity like the Silk Route was a few centuries ago, he added.
"For investors, this is an opportunity to partner with India and be a part of these efforts (of making the corridor happen)," PM Modi said.
"The corridor has the potential to transform the global maritime industry," Modi said, adding that the initiative announced at the G20 meeting in New Delhi earlier this year will drive positive changes in global and regional trade.
He said the corridor entails a slew of developmental initiatives, including building next-generation mega ports, international container transshipment ports, island development, inland waterways, and expansion of multimodal hubs.
The IMEEC will help reduce the cost of business by making logistics more efficient, curtail damage to the environment, and also create a lot of jobs, Modi said.
"The day is not far when India will be one of the top three economic powers of the world. In the post-Corona world, the world needs reliable and resilient supply chains," he said.
Delegates from more than 70 countries attended the summit.
A presentation by the Ministry of Ports, Shipping, and Waterways at the event said India will need an investment of Rs 75-80 lakh crore to achieve the goals set out under the Amrit Kaal Vision 2047 document for the sector.
"A cargo handling capacity of 10,000 million metric tonnes per annum (mmtpa) would be required at the Indian major and non-major ports to cater to the projected traffic in 2047," according to the vision document that calls for further strengthening the Indian port infrastructure to garner a greater share of global export-import (Exim) trade.
Data received from major ports in the country suggest a capacity expansion plan of 3,000 mmtpa that includes the capacity developed by addition of two new major ports. The remaining capacity will be added by non-major ports. Currently, there are 68 operational non-major ports having a total capacity of 1,000 mmtpa..