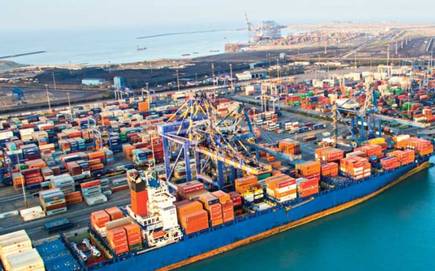 Adani grabs greater slice of India's rebounding container flow
Container flow in and out of Indian ports saw a strong rebound sequentially in the fourth quarter after crashing at the height of COVID-19-related shutdowns. But that acceleration has unmasked more distinctly what had been an underlying trend for some time — market share elevation for Mundra, the country's largest non-government harbor owned and operated by the Adani Group.
Mundra's combined December throughput soared 52 percent year over year and 21.5 percent month on month, compared with 10 percent and 11 percent, respectively, at Jawaharlal Nehru Port Trust (JNPT), the long-time market leader. By volume, Mundra — encompassing four container terminals — handled 586,952 TEU last month, versus 459,920 TEU at JNPT, according to the latest port figures.
Besides Mundra, Adani runs container facilities at Hazira, about 120 nautical miles north of JNPT on the west coast, as well as Krishnapatnam, Kattupalli, and Ennore, all of which dot the southeastern coast and directly compete with the Chennai port.
New data pegs India's total containerized trade last month at 1.72 million TEU, up 16.5 percent from November and 24 percent from a year earlier. Of that, Adani's countrywide contributions accounted for 769,772 TEU, notching a commanding 45 percent market share from a level of approximately 30 percent until early 2019.
While terminal efficiency and unregulated tariff-fixing powers have been powerful selling points for Mundra, the establishment of terminal operating partnerships with Mediterranean Shipping Co. and CMA CGM — with an eye on building broader service networks and transshipment opportunities — has admittedly become a vital "beachhead" for the private handler to flex its capacity muscle.
Mundra gains amid Colombo congestion
Mainliners active out of India trades seem to have acquired an "operating affinity" for Mundra. Echoing that sentiment, Sunil Vaswani, executive director of the Container Shipping Lines Association (CSLA), told, Mundra offers multiple competitive advantages in terms of productivity, freight mix, drafts, and inland pricing, with the last edge stemming from its closer proximity to the northern hinterland region. To that end, Vaswani noted the rail distances between Mundra and inland container depots (ICDs) in North India are relatively shorter than JNPT, thus allowing shippers to save on haulage rates that he estimates range between $80 and $125 per TEU on top of other cost gains usually associated with regular, scheduled double-stack train offerings in place. He also said Mundra's evolving acceptance as an alternative regional hub is drawing incremental carrier loadings.
"Mundra has seen a surge in volumes, especially during the congestion in Colombo," Vaswani said. "Many [shipping] lines have opted for Mundra as a preferred transshipment port to Colombo due to the heavy congestion being experienced at the latter hub for some time now."
Another local industry leader with knowledge of the matter cited similar structural and strategic reasons for Mundra's growth. He also sees an opportunity for the private harbor to further consolidate its leading position in the near term with imminent "first-mover" advantages on the soon-to-be operational national rail freight corridor and ongoing delays around capacity expansion at JNPT.
"Essentially, imports or exports, overall, have increased just marginally, which suggests the main growth driver [for Adani] is cannibalization of JNPT cargo and its hinterland by Mundra and Hazira," the source said. "The cabotage relaxation [enacted in May 2018] has only fortified that play."
The Adani Group was unavailable for comment.
The company in a recent statement said its overall cargo tonnage out of 10 port locations during December hit a new monthly high of 27.2 million tonnes, up 28 percent year over year. In contrast, major public ports saw a 4.4 percent increase in total tonnage last month, data shows.
The pandemic has redefined the logistics industry's playbook overnight, causing widespread pain points. But for Mundra, the reconfiguration appears to have bred a brighter outcome.