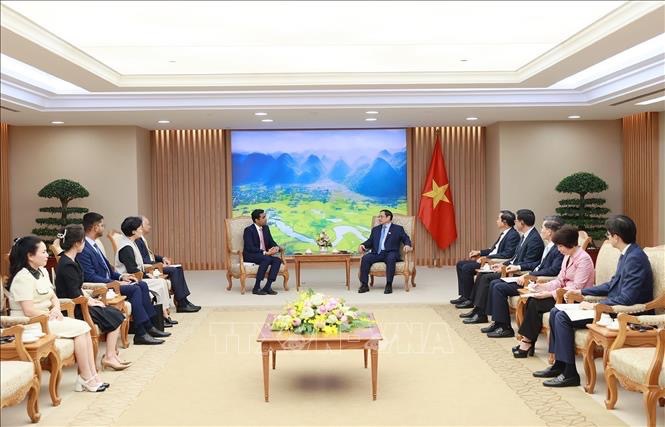 Adani Group exploring $3-billion investment in Vietnam
Vietnam Government on Wednesday said Adani Group is exploring $3-billion investment in the country's seaport ecosystem and wind and solar energy projects.
"Adani Group wants to develop a seaport ecosystem as well as wind and solar energy projects in Vietnam, with a combined investment of $3 billion," the Vietnamese government said in a statement.
Vietnamese Prime Minister Pham Minh Chinh received Karan Adani, Chief Executive Officer of Adani Ports and Special Economic Zons Ltd (APSEZ), in Hanoi on Wednesday.
Chinh briefed Karan Adani on Vietnam's development orientations focused on three strategic breakthroughs, namely perfectin.
Vietnam creates the best possible conditions for foreign businesses, including those from India, to invest in strategic infrastructure such as transport, energy, digital and climate change infrastructure, in the country, he stressed.
He noted that digital transformation to build a digital economy and digital society is an irreversible trend of the world at present, and Vietnam is not an exception. He expressed his hope that Adani Group would expand its investment strongly in this field in Vietnam.
Karan Adani said Adani Group is the leading economic group in India operating in multiple fields such as seaport, transportation, logistics, energy, and digital technology in more than 50 countries around the world.
Following the recent fact-finding tour, he said the conglomerate has decided to pour long-term investments in Vietnam, not only in seaports and logistics, but also in energy and digital technology.
Adani Group wishes to build a green seaport ecosystem and invest in wind and solar power plants in Vietnam, with a total capital of about $3 billion, said Karan Adani.
He assured his host that the conglomerate would soon work alongside relevant ministries and agencies of Vietnam to develop specific cooperation projects.
"Vietnam is willing to create more favourable conditions for India's large companies, including Adani, to invest and do business in the country," Chinh told Karan at the meeting, according to the statement.
Chinh said Vietnam welcomed Adani's investment, initially in Lien Chieu Port in the central city of Danang, according to the statement.
Karan told Chinh Adani would soon work with Vietnamese partners and stakeholders on specific investment projects in the country, according to the statement, which said the investment could reach $10 billion over the longer term.
Earlier this month, Adani Ports and Special Economic Zone Ltd said it has completed the sale of its Myanmar port Coastal International Terminals Pte Limited for $30 million.
Adani Group's investment plans come at a time when the stocks are showing semblance of recovery after getting brutally hit due to Hindenburg Research's report.
Earlier in May, Adani Enterprises and Adani Transmission said they will together raise Rs 21,000 crore through QIP or other permissible modes.
Adani stocks have been on a tear after a Supreme Court-appointed panel found no evidence of stock price manipulation in the group companies even though some profit booking was soon on Wednesday.