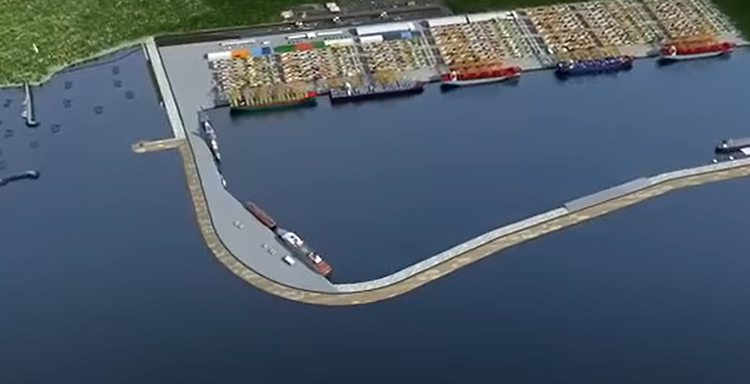 Adani Group may tie-up with MSC to develop major regional transhipment hub at Vizhinjam International Seaport
MUMBAI : Adani Group – India's leading private port operator is attempting partnering with major container carriers to boost volumes, at the recently inaugurated Vizhinjam International Seaport, a deep-water project in the south of the country.
According to industry sources, the group is poised to set up a JV deal with Geneva based Mediterranean Shipping Company (MSC ) for terminal operations at the port, which stakeholders believe has the potential to emerge as a regional maritime hub, akin to Colombo in Sri Lanka or Singapore.
"This partnership deal is in the works," an official close to the group said.
Adani already has a 50:50 terminal partnership with Geneva-based MSC through its terminal arm, TiL, for one of five box handling facilities in Mundra port, its flagship entity. Alongside another, with CMA CGM (CMAT), the strategy has delivered rich dividends for Mundra, making it the busiest container handler in India.
Its success is largely thanks to transhipment volumes contributed by the two carriers. In fiscal year 2022-23, Mundra saw some 1.6m teu of transhipment loads out of the total 6.6m teu, according to industry data.
Growing industry expectations around Vizhinjam mainly stem from two factors: its 20m draught, enabling it to berth large-size containerships; and the close proximity to the busy east-west international shipping axis, said to be within 10 nautical miles and about 175 nautical miles from Colombo.
While work at the site was delayed by local protests and adverse weather, Vizhinjam has made headlines in recent days with the first vessel docking there last week, the Zhen Hua 15 arrived from China with the first batch of cranes for the port. The second batch of cranes is due next month.
Full-scale commercial operations will start in or around Q1 24, according to current indications.
Vizhinjam's first phase was designed for 1m teu capacity, with 800m of quay wall and some 130 acres of container yard space. Phase I involves some $500m public-private investment, out of a $1bn plan for the two-phase project.
"The port is strategically located for access to prominent international waterways and will enable India to be strategically positioned as a global transhipment hub," said group CEO Mr. Karan Adani when the company broke ground at Vizhinjam in 2017. "It is on the shipping route connecting Europe, the Persian Gulf and the Far East."
A large portion of Indian containerised freight is transhipped via foreign hub ports, in the absence of adequate direct connections, making its export/import trade costlier, a pain point that undermines the cost-competitiveness of Indian goods. However, containership call sizes at Vizhinjam could go up to 24,000 teu, an operational barrier at other Indian ports.
Its waterfront attractions could drive some carrier interest, but it is generally believed that much of Vizhinjam's potential as a transhipment hub for the region will hinge on Adani's marketing strategies and network strengths, hallmarks of its competitive success at Mundra.
Meanwhile, DP World Cochin, or Vallarpadam, which began operations in 2011 with the same "hub" goals but with limited success, is adding new cranes and a free trade warehousing zone in a bid to thwart the anticipated competition from Vizhinjam.