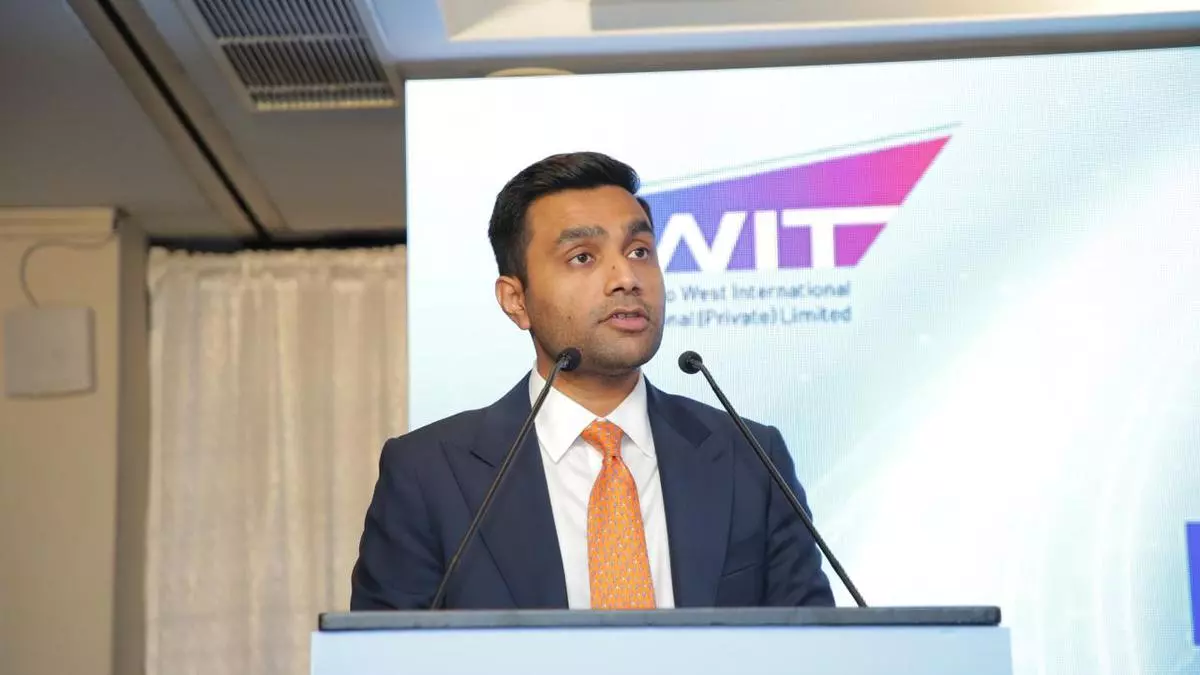 Adani Group's port terminal project secures $553 million funding from U.S. DFC : Karan Adani
COLOMBO : The U.S. International Development Finance Corporation (DFC) has recently pledged $553 million in funding for the Colombo West International Terminal Pvt. Ltd. (CWIT) project, a consortium involving Adani Ports and SEZ Ltd., John Keells Holdings (JKH), and the Sri Lanka Ports Authority. This marks the first time the U.S. government is backing an Adani project, signifying its confidence in the group's capabilities.

Karan Adani, third from right, Julie Chung, US Ambassador to Sri Lanka, fourth from right and DFC CEO, Scott Nathan, fourth from left.
DFC, the U.S. government's development finance institution, collaborates with the private sector to address critical challenges in the developing world across various sectors, including energy, healthcare, infrastructure, agriculture, and small businesses.
The Colombo West International Terminal project aims to enhance the Colombo Port, the largest transshipment port in the Indian Ocean. Operating at over 90 per cent capacity since 2021, it urgently requires additional capacity to cater to the growing economies in the Bay of Bengal.
Mr. Karan Adani, Whole Time Director and CEO, Adani Ports and Special Economic Zone said the project will transform Adani ports too, as it comfortably aligns with Adani Ports and SEZ's journey to become the largest container terminal operator in the Indian subcontinent region.
DFC CEO Scott Nathan emphasised the significance of this infrastructure investment, which is set to boost Sri Lanka's shipping capacity and foster economic prosperity without increasing sovereign debt.
U.S. Ambassador to Sri Lanka Ms. Julie Chung highlighted the positive impact of DFC's $553 million investment on Sri Lanka's economic recovery and the shared vision for a free and prosperous Indo-Pacific.
Mr. Krishan Balendra, Chairperson of John Keells Holdings, expressed confidence in DFC's investment and its potential to bolster investor confidence in Sri Lanka's recovering economy.
Adani Ports, part of the Adani Group, is making strategic investments in emerging markets, positioning itself as a leader in transport logistics and energy utility businesses. The group's commitment to sustainable infrastructure development is contributing to a brighter future for India and the world.
Speaking about the company's growth, Mr. Karan Adani said, "We are the largest integrated transport utility in this part of the world, one of the world's largest port developers and operators, and India's largest container terminal operator with a market share of over 40 per cent.
He also said Adani Ports is responsible for managing one out of every three containers handled at India's container ports. Adding that, given Colombo's strategic position in the East-West trade route across the Indian Ocean, it serves as a crucial transshipment hub. With Adani's well-established connections with global shipping companies and India's extensive network of container terminals, the partnership with CWIT is expected to enhance collaboration and service options, ultimately benefiting the entire supply chain.