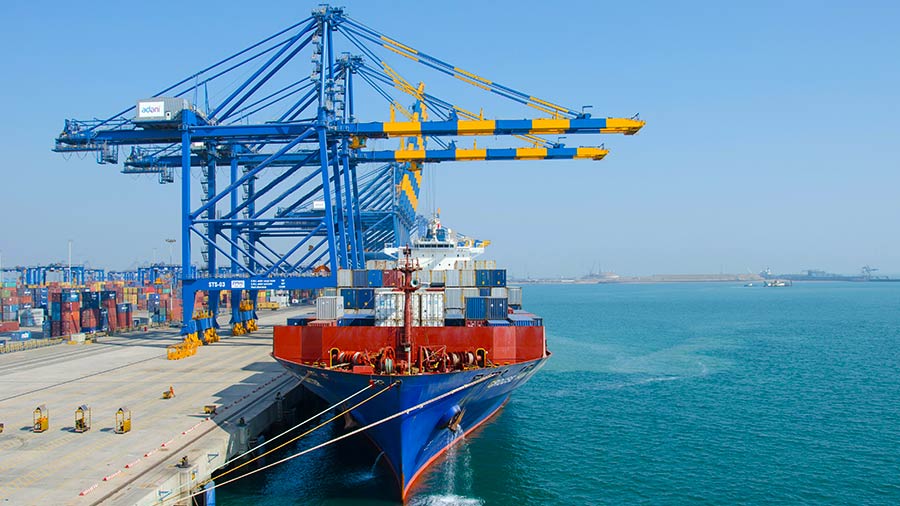 Adani Ports Mundra clocks 40 vessel movements in a day
MUNDRA : Adani Ports Mundra, a bustling hub of maritime activity on India's western coast, has accomplished a remarkable feat. In a span of just 24 hours, the port managed to handle an overwhelming 40 vessel movements, setting a new record and exceeding their previous achievement of 39 vessel movements. This accomplishment speaks volumes about the port's impressive capacity, unparalleled efficiency, and unwavering ability to handle a massive volume of cargo. It's a testament to the hard work and dedication of the port's skilled professionals, who have once again proven that Mundra Port is a force to be reckoned with in the world of maritime logistics.
"The management of the port expresses their sincere appreciation and acknowledgement of the hard work and dedication exhibited by the team responsible for achieving this significant milestone. We recognize that the success of the port is a result of the collective efforts of various departments. The unwavering commitment of the team to provide seamless services has played a crucial role in enhancing the port's reputation." Spokesperson, APSEZ.
APSEZ has invested heavily in technology, infrastructure, and equipment to enhance its operational capabilities across its ports. Besides, the teams also undergo rigorous training to handle complex and challenging situations.
Mundra Port's outstanding achievement in handling vessel movements is a clear demonstration of their unwavering dedication to delivering exceptional services to their customers, placing them at the forefront of India's maritime industry. This remarkable accomplishment is a true reflection of the nation's maritime sector's increasing importance and the vast potential for further growth. The port's exceptional capability in handling an immense volume of cargo and vessels is pivotal to India's economic and trade prosperity. APSEZ is poised to harness India's maritime economy, which presents an immense opportunity for progress and expansion, with the government's proactive policies and initiatives set to play a vital role in unlocking this potential and driving growth in the sector.
Mundra Port's vision is to establish itself as a world-leading port by offering cutting-edge, sustainable, and innovative solutions. The port aims to promote sustainability and implement innovative technologies. This clearly reflects APSEZ's forward-thinking approach and the intent to remain at the forefront of industry advancements. With this ambitious vision, Mundra Port is poised to become a leading player in the global market, setting new standards for excellence, efficiency, and sustainability.