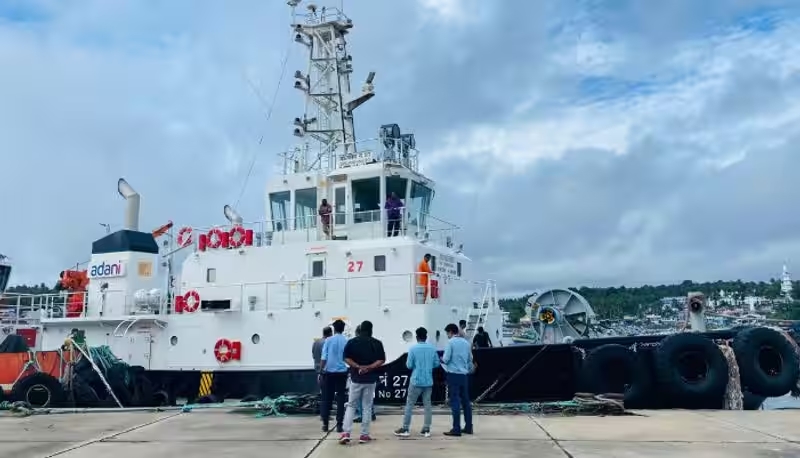 Adani Port's Tug Dolphin 27 & Dolphin 37 reaches Vizhinjam Port
THIRUVANANTHAPURAM : The second tug has arrived at Vizhinjam International Port to bring the cargo ship Shenhua-15 from China. Adani Port Company's tug Dolphin 27 docked at the Vizhinjam port on Wednesday. Four tugs are brought to Vizhinjam to bring the cargo ships. Port purser Vinulal said that the tug Dolphin 37 arrived at the port on Oct 5. The Dolphin tug was brought from Dahej port in Gujarat.
Meanwhile, Shenhua 15 has arrived at Mundra Port in Gujarat and is unloading cranes. Officials said that they will return tomorrow or the next day and reach Vizhinjam before the 15th. The journey is arranged in such a way that it reaches the outer sea of Vizhinjam on October 14. Four tugs are brought to Vizhinjam to bring the cargo ships closer to the berth. The ship left China at the end of August. An expert team to unload and install the cranes will also reach Vizhinjam soon. The ship will be welcomed at Vizhinjam port on the 15th at 4 p.m. Chief Minister Shri Pinarayi Vijayan and ministers will attend the welcome ceremony.
Port Minister Shri Ahamed Devarkovil had said the reason for the change in the date of the ship was due to the typhoons in the Shanghai, Vietnam, and Singapore coastal areas.