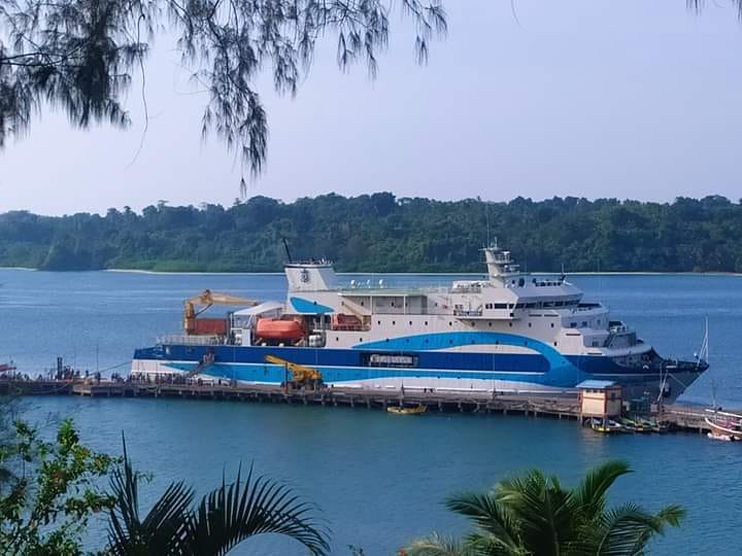 Administration Plans to Enhance Shipping Services in Andaman and Nicobar Islands with New Vessels
PORT BLAIR : Shipping services are the lifeline of the Andaman and Nicobar Islands, providing crucial connectivity to the far-flung islands. While the present fleet comprises both old and new ships, only two vessels, namely MV Sindhu and MV Nalanda, are relatively new and offer desirable services to the islanders.
Recognizing the importance of preparing for future needs, the administration has taken steps to bolster the shipping sector by ordering new vessels. These upcoming additions aim to provide uninterrupted services to all islands, including the most remote ones.
In a recent interview with Secretary of Shipping, Andaman and Nicobar Islands, Mr. Kshirsagar Kishore Lakshaman, IAS, aired on AIR Port Blair, he emphasized the significance of shipping services in the Andaman and Nicobar Islands.
He informed that the administration has already commenced efforts to strengthen the shipping sector, as demonstrated by the induction of MV Sindhu last year and MV Nalanda this year. These modern ships have garnered positive responses from the public, attracting interest due to their comfortable and well-equipped travel facilities.
Looking ahead, the administration plans to further fortify the harbor ferry and vehicle ferry sectors by replacing ageing vessels. Notably, ships such as MV Dering and MV Sentinel are among the older vessels scheduled for replacement, with the initiation of the replacement process already underway.
He said that the construction of MV Atal and MV Ashoka is currently in progress, with approximately 65% of the work already completed. These large ships boast modern amenities and a passenger capacity of 1,200, surpassing the 500-passenger capacity of MV Sindhu and MV Nalanda.
Previously, MV Nicobar and MV Nancowry had a similar passenger capacity, but currently, only MV Swaraj Dweep serves the mainland sector.
The existing fleet of shipping services comprises 11 vehicle ferries and 11 passenger ferries. In addition to smaller ships like motor launches, eight inter-island vessels, and the mainland plying ship MV Swaraj Dweep, the administration plans to allow MV Nalanda and MV Sindhu to operate within the fleet. To enhance service capabilities, the administration has also completed the tender process for the acquisition of two new high-speed response vehicles.
Furthermore, plans are underway for the construction of six passenger harbor ferries, four vehicle ferries, six small-size harbor ferries, five small-size vehicle ferries, and three inter-island vessels with a passenger capacity of 300. These three vessels will cater to areas with less draft, such as Car Nicobar and Diglipur, ensuring improved services.
The Secretary, Mr.Kshirsagar highlighted the immense undertaking of augmenting the shipping fleet, acknowledging that construction would take a considerable amount of time. However, he said that the administration remains committed to strengthening the shipping services in the Andaman and Nicobar Islands, ensuring reliable and efficient connectivity for the residents and visitors alike.