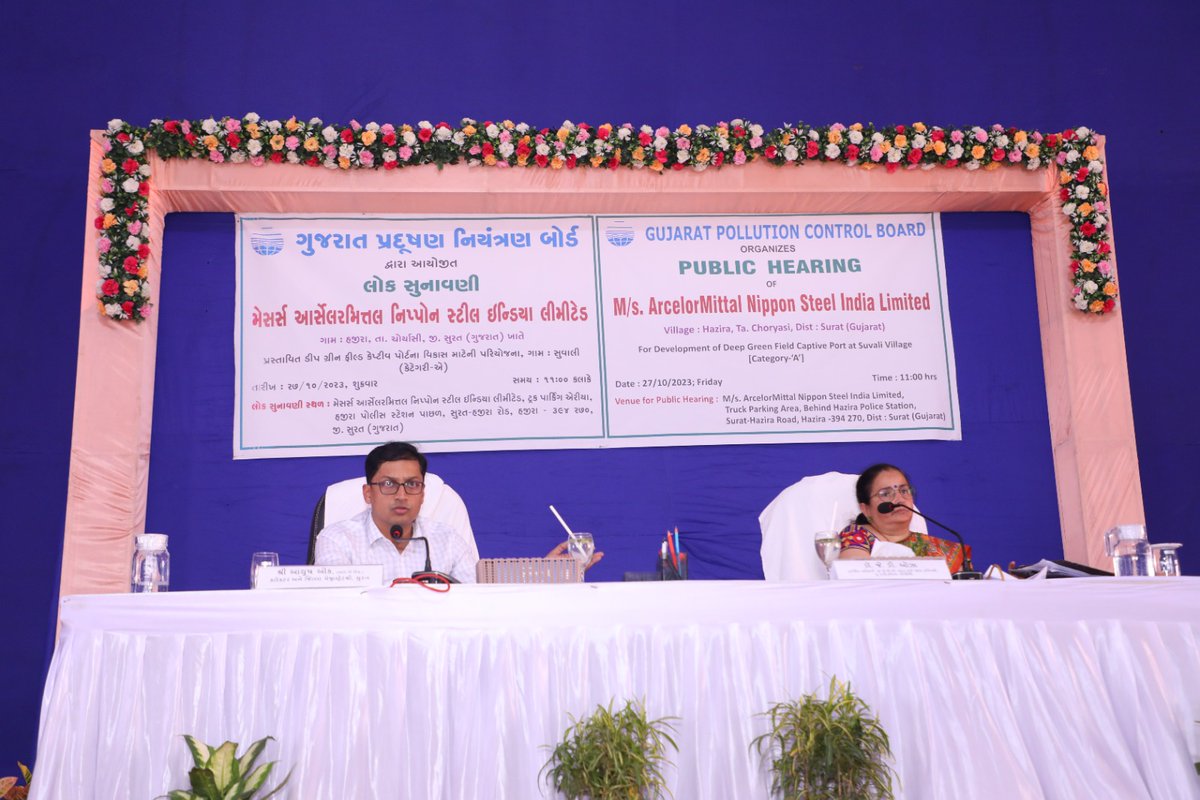 AM/NS India to develop deep draft Greenfield Jetty at Suvali in Gujarat
SURAT : ArcelorMittal Nippon Steel India (AM/NS India), a joint venture between ArcelorMittal and Nippon Steel, plans to develop a Deep Draft Greenfield Jetty having capacity of 65 Million Metric Tonnes Per Annum (MMTPA) at Suvali in Shivrampur village near Hazira, the company said in a statement.
"As part of its strategic expansion plans, AM/NS India is in the process of enhancing the production capacity of its integrated steel plant at Hazira from the existing 9.6 MMTPA to 15.6 MMTPA by 2026 and 21 MMTPA by 2030. The planned Greenfield Jetty project at Suvali is envisaged to meet the company's growing demand for raw materials such as iron ore, limestone and coal, and finished steel handling capacity, necessitated by the expansion," said the company in official statement.
"AM/NS India's existing steel plant utilises its shallow water captive jetty as well as a deep draft jetty owned and operated by a group company at Hazira for handling its raw material and finished goods. However, due to infrastructural limitations, the two jetty facilities are facing operational constraints in managing the growing volume of steel plant cargoes," the company further stated.
"As we move forward with our expansion plans, the existing port infrastructure is not enough to deal with the massive increase in steel production, making it imperative to establish and operate a dedicated captive jetty to facilitate the growing cargo movement. The Deep Draft Greenfield Jetty at Suvali is aimed at meeting our growing port capacity requirement. This jetty facility will be a key ingredient in increasing our capacity and contributing to realising the country's target of 300 MMTPA as envisaged in the National Steel Policy," said Captain Rituparn Raghuvanshi, Head, AM/NS Ports, Hazira.
The company also stated that the proposed Deep Draft Greenfield Jetty will serve as a captive jetty for AM/NS India's existing integrated steel plant and also cater to its future needs. The project will be completed in two phases.
"The project will create direct and indirect employment opportunities in the area, contributing to the improvement of socio-economic conditions. Moreover, it will also give a boost to sea transport for both raw materials and finished goods, reducing congestion on roads and lowering air pollution," the press statement added. The public hearing for the proposed Deep Draft Greenfield Jetty was held on October 27 at AM/NS India, Hazira.