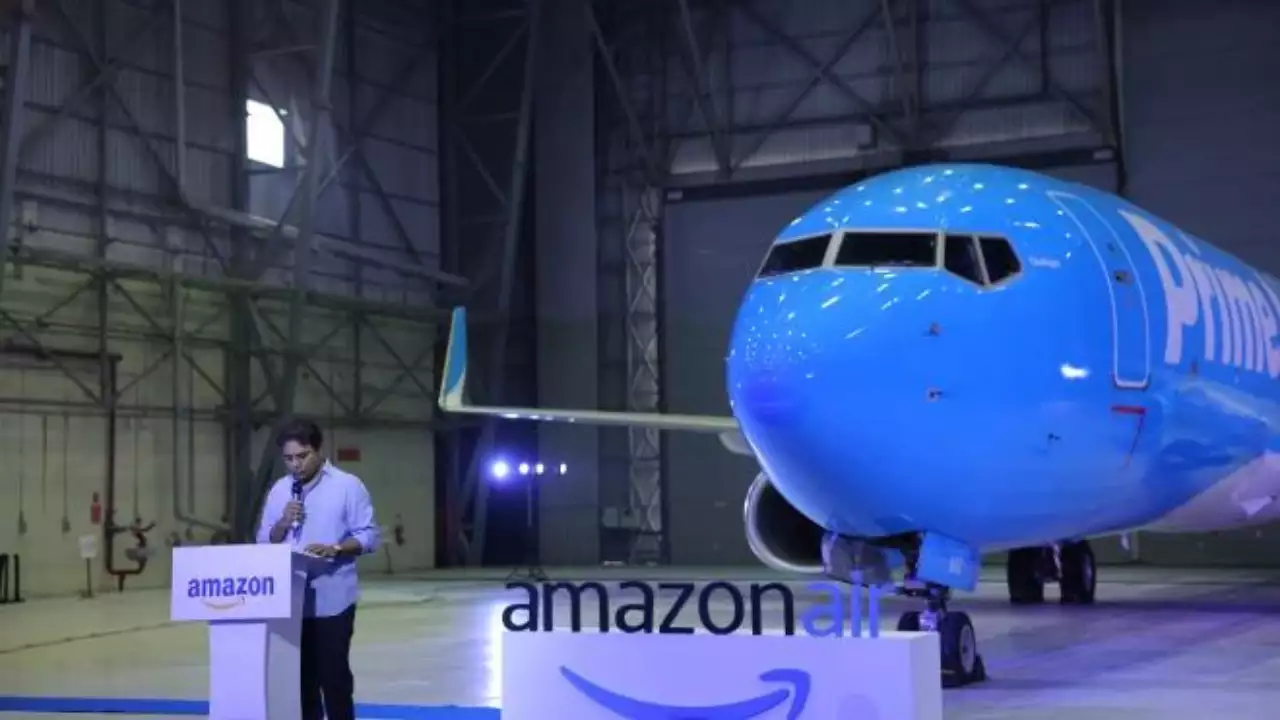 Amazon Air declares its official launch of cargo plane in India
HYDERABAD : Amazon has launched its dedicated cargo airline, Amazon Air, in India, the first in the region and the first partnership in the country between an e-commerce company and a third-party air carrier. The new bright blue Amazon Air aircraft will carry thousands of packages across four cities in India, facilitating faster deliveries to customers. The launch of Amazon Air will also increase support for the company's 1.1 million India sellers and promote growth for ancillary businesses such as transportation and packaging.
The company posted on LinkedIn recently announcing the launch of the first Amazon Air in the region. The company had previously announced the introduction of Amazon Air in the India region last month on January 23th, now with the launch of the same complete one can spot these bright blue Amazon Air cargo planes flying over Indian skies.
At the time of the introduction last month, Akhil Saxena, Vice President – Customer Fulfilment (APAC, MENA & LATAM) and WW Customer Service, Amazon, stated that the introduction of Amazon Air in India will enable the growth of ancillary businesses such as transportation and packaging, further supporting Amazon's 1.1 million sellers in India. The launch of Amazon Air comes at an opportune time as the company has made significant investments in its fulfilment, transportation, and logistics infrastructure in India over the past few years.
This is the third market for Amazon Air, following the United States and Europe, since it was launched in 2016. It now comprises over 110 aircraft across 70 destinations worldwide. Amazon has invested hundreds of millions of dollars in air logistics capabilities since its launch, creating thousands of new jobs worldwide.
In addition, Amazon Air invests in environmentally-conscious solutions to power its network. The company aims to achieve net-zero carbon emissions by 2040, and it has begun using sustainable aviation fuel on flights departing from Seattle, Washington.
The introduction of Amazon Air in India is a significant step for the company's logistics capabilities in the region, enabling Amazon to deliver packages faster and more efficiently to its customers while supporting growth for its 1.1 million India sellers. With this new partnership, Amazon is poised to solidify its position as a leading e-commerce provider in the Indian market.
The company's Vice President, Amazon Global Air, Sarah Rhoads, stated that the new Amazon Air operation will enable the company to provide more selection, fast delivery, and great value to customers in India, while supporting the overall growth of its Indian seller community.