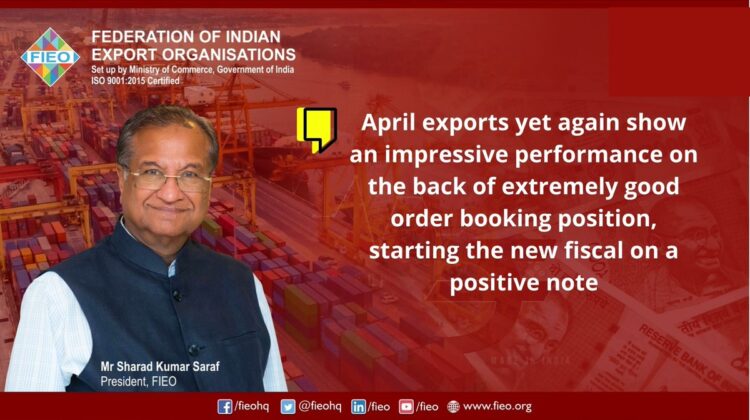 April exports yet again show an impressive performance on the back of extremely good order booking position : FIEO
NEW DELHI : Reacting to the trade data of April, 2021, Mr Sharad Kumar Saraf, President, FIEO said that the impressive growth reiterates our assessment that order booking position of our exporters is extremely good and with gradual improvement of situation in the country, will push exports growth further. He said that over 15% growth on the base of April 2019 is a better indicator and reflects a positive double digit trend. Mr Saraf particularly emphasised that the growth in labour-intensive sectors like Gems & Jewellery, Handicrafts and Carpets augur well for the job scenario, which is most relevant in the current context. Mr Saraf added that such a growth has been mainly on account of 30 out of 30 major product groups of exports showing either a very impressive high positive growth starting with four digit and almost all ending with a very high double digit growth continuously defying all the odds for the second time during the year 2021 as still the global economy is passing through these challenging times.

FIEO President added that the exports of Gems & Jewellery, Jute mfg. including floor covering, Carpet, Handicrafts excl. handmade carpet, Leather & leather products, RMG of all textiles, Cotton yarn/fabs./made-ups, handloom products etc., Man-made yarn/fabs./made-ups etc., Other cereals, Ceramic products & glassware, Electronic goods, Oil meals, Cashew, Mica, Coal & other ores, minerals including processed minerals, Engineering goods, Petroleum products, Tobacco, Cereal preparations & miscellaneous processed items, Iron ore, Oil seeds, Meat, dairy & poultry products, Tea, Marine products, Spices, Coffee, Organic & inorganic chemicals, Rice, Plastic & Linoleum, Fruits & vegetables and Drugs & pharmaceuticals were the sectors, which contributed towards showing such a spectacular performance by the exports sector during the month.

Mr Sharad Kumar Saraf also added that such a growth performance in exports during the first month of the new financial year augurs well for the sector as it will help in paving a new growth path for the sector as a whole during the fiscal. FIEO Chief also reiterated that the continuous support and help provided by the Government during these difficult times has been commendable. Mr Saraf further thanked the overall exporting community for continuously showing resilience and coming up with impressive performance even during these torrid times. Further an increase in April 2021 imports by about 167.05 percent to USD 45.72 billion compared to the same period during the previous fiscal led to a trade deficit of USD 15.10 billion, which is an increase of over 123.17 percent during the month, which is definitely a concern and should be looked into.

FIEO President reiterated that though the government has announced a slew of measures on exports, imports, banking and taxation front, the need of the hour is to soon notify the RoDTEP rates to remove uncertainty from the minds of the trade and industry thereby helping in further forging new contracts with the foreigner buyers. Mr Saraf also reiterated that the government must address some of the key issues including announcement of the new FTP soon after September, 2021, release of the necessary funds for RoDTEP, MEIS and clarity on SEIS benefits, softening of freight charges, resolving risky exporters' issues and continuance of seamless refund of IGST. Besides long pending demand for the creation of an Export Development Fund for marketing of Brand India products and various other infrastructure bottlenecks also needs to be looked into to bring back exports on the double-digit growth trajectory.
Source : FIEO