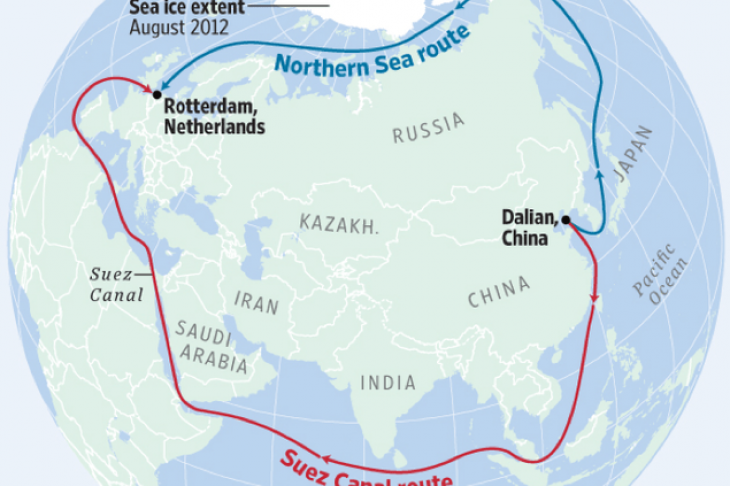 Arctic Northern Sea Route freight expected to achieve 80 million tons in 2024
MOSCOW : Aleksey Chekunkov, the Russian Minister for the Development of the Far East and the Arctic, has stated that despite sanctions affecting shipbuilding projects, the Northern Sea Route (NSR) in Russia's Arctic economic zone is experiencing an unprecedented surge in development.
Chekunkov said that freight turnover through this vital transport corridor skyrocketed to 34 million tons per year in 2022, marking an eightfold increase since 2015. He anticipates that ongoing infrastructure initiatives will propel this turnover to surpass 80 million tons in 2024.
"The Northern Sea Route has already become a full-fledged international artery; it can already be considered a global transportation corridor. A large part of the global economy depends on it; all the countries that receive our liquefied natural gas, including those that are currently deemed 'unfriendly'… The intensity of shipping will increase many times over in the next seven years," Chekunkov said, speaking on the sidelines of the Far Eastern Economic Forum in Vladivostok.
Chekunkov emphasized that the corridor should not be considered as Russia's response to Western sanctions but is a global "route for transporting goods, which we are already producing or will soon start to produce."
"The floating liquefaction plant, the Arctic LNG 2, will produce 10 million tons of LNG per year. To transport this gas through the ice, we need the Northern Sea Route; we need ice-class LNG carriers, ports, navigation, and control systems. The Vostok Oil project is being launched, coal and ore production projects continue to expand – all these ventures will produce 100 million tons by 2026 and 200 million tons per year by 2030-2031. That's what the Northern Sea Route infrastructure is for."
Chekunkov noted that while Western sanctions were "a challenge" for the construction of ships that are set to operate the route, Russia has already managed to substitute most of the equipment and technologies it used to import from the West with domestic alternatives.
"We are overcoming this challenge. In April, we adopted an additional provision in our development plan for the NSR dedicated to creating domestic technologies for shipboard equipment. It envisages ₽18 billion (US$187 million) of budget investments in import substitution of these technologies. With regard to icebreakers, close to 100% of production is already localized," he said.
Meanwhile, he noted that Russia has received multiple proposals from foreign partners to participate in its shipbuilding projects, most notably from India. Russia plans to build over 100 ice-class ships by 2030 and requires additional investments.
"India, as a major maritime and shipbuilding powerhouse, much like Russia, is keenly interested in cooperation with Russia in the north, in using the Northern Sea Route as an alternative transportation corridor, in mastering arctic navigation skills, participating in joint shipbuilding projects, and not only for cargo ships but also non-nuclear icebreakers," he stated. "The NSR infrastructure will still be of Russian origin, but technology and goods may be sourced from friendly states."
Chris Devonshire-Ellis, of Dezan Shira & Associates comments "The Indian shipbuilding industry is centred in Gujarat, the home of Indian Prime Minister Shri Narendra Modi, who has previously inspected Russian shipyards in Vladivostok. He is keen to gain industrial development as part of the overall Indian plans to develop its economy by using Russian energy. Modi's strategy in this regard is to insert Indian manufacturing and products into the Russia-India energy supply chains."