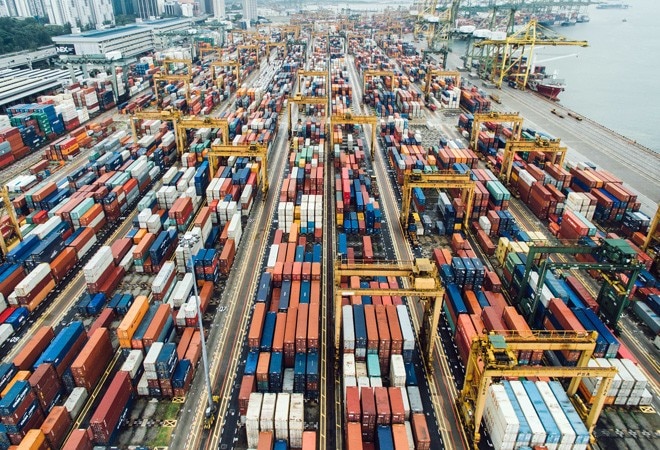 At $35 bn, July exports 34% higher than pre-COVID level
NEW DELHI : India's merchandise exports in July were 34% higher than the pre-COVID levels of July 2019, at $35.17 billion, Commerce and Industry Minister Piyush Goyal said on Monday, but the trade deficit hit a three-month high as gold imports jumped 145.4% from 2019 levels.
Imports jumped from $41.8 billion in June to $46.4 billion, 14.75% higher than pre-pandemic activity. But without factoring in oil and gems and jewellery brought into the country, imports actually shrank 0.17% over the same period.
Total merchandise exports during the first four months of 2021-22, now stand at $130.6 billion, about 22% higher than 2019, and the government exuded confidence about meeting the $400 billion target for the full year.
"The target for the remaining eight months (requires) an average of $33.68 billion per month," the Commerce and Industry Ministry said.
"While the non-oil exports were robust in July 2021, they remained below the March 2021 level. A spike in oil exports boosted the overall merchandise exports to a record-high level in July," noted ICRA Chief Economist Aditi Nayar.
The economy's phased reopening has triggered the gold imports surge, she reckoned, adding that they have already crossed $12 billion between April and July and would likely surpass last year's level of $34.6 billion as festive demand is expected to push up the yellow metal's inflows.
In value terms, India's exports to the U.S. and China saw the sharpest spurt in July, rising 51.6% and 52.3%, respectively, from pre-COVID-19 outbound trade.
Imports from Iraq grew the most in terms of value, rising 76.3% over July 2019.
Within the India-China trade basket, the biggest growth was reported in exports of engineering goods, up nearly 261% from July 2019 and petroleum products which surged by almost 98%.
Federation of Indian Exporters' Organisation (FIEO) president A. Sakthivel said July's exports were the highest in at least nine years and signal a swift recovery in global demand that is swelling exporters' order books.
He hinted that exports could grow further if the government resolved outstanding issues, including remitting pending benefits and offering quick clarity on a tax and duty refund scheme that has kicked in since January, but is yet to be notified.
"The need of the hour is to notify the Remission of Duties and Taxes on Export Products (RoDTEP) rates soon to remove uncertainty from exporters' minds, besides addressing key issues including the accordance of priority status to exports sector, augmentation of empty containers and establishing a regulatory authority to seek justification of freight hike and various charges levied by the shipping lines," he said.
Engineering Exports Promotion Council Chairperson Mr. Mahesh Desai sought immediate government intervention to arrest rising logistics costs and prices of raw materials like primary steel. He stressed that this would make engineering exporters more competitive globally, and lead to fresh investments that can create jobs. He also urged the government to notify the RoDTEP rates at the earliest.
Source : THE HINDU