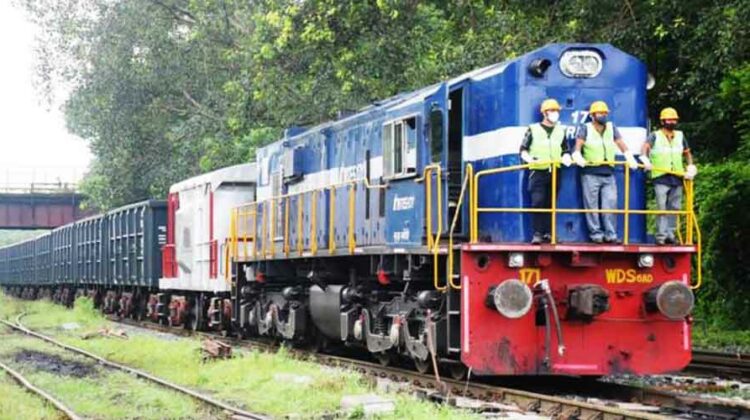 Bokaro Steel purchases first freight train
BOKARO : The steel giant Bokaro Steel Plant (BSL) purchased its first goods train (rake) for the transport of iron ore.
The entire train of 59 wagons costs around Rs 20 crore. The company will save more than Rs 4 lakh per trip by having its own freight train to transport iron ore from its Kiriburu and Meghataburu mines for its steel production. However, BSL already owned 40 railway locomotives and now for the first time purchased a goods train of 59 wagons.
The company will save more than Rs 4 lakh a trip with its own iron ore transport facility.
Chief of Communications, Manikant Dhan said that BSL has entered into an agreement with Texmaco Rail & Engineering to procure 6 rakes (Box N HL) under GPWIS (General Purpose Wagon Investment Scheme) approved by the Railways. The flag-off of the first rake procured by BSL under this agreement was done by Director-in-Charge, BSL, Amarendu Prakash. On this occasion, Executive Directors of BSL, Chief General Managers and senior officers of the Traffic Department were present.
The total cost of this project of Bokaro Steel Plant is around Rs 110 crore. These rakes will be operated on the route from Kiriburu-Meghataburu to Bokaro Steel Plant. Bokaro Steel Plant will also get a 10 per cent rebate from the Railways for 15 years on the transportation of iron ore by these rakes. Accordingly, BSL is expected to get a discount of about Rs.4 lakh per freight from the Railways for the next fifteen years. Besides this, BSL will also save substantial revenue incurred on account of payment of demurrage charges to railways due to delay in loading and unloading of rakes earlier provided by Railways.
The colour coding of these wagons is bottle green, being made distinctly different from the wagons of the Railways. This step by BSL will also resolve the problem of non-availability of rakes and ensure timely transportation of raw material from the mines to the plant. It is noteworthy that under this project of SAIL, 6 rakes are being procured by Bokaro Steel Plant, 4 rakes by Bhilai Steel Plant and 3 rakes by Durgapur Steel Plant. BSL has got the distinction of getting the first rake among them.
Source : The Telegraph