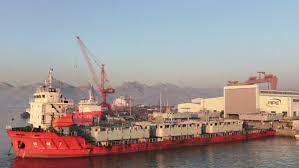 BOLLORÉ Logistics successfully handed six jack-up barges from China to West Africa

---
Bolloré Logistics China handled six jack-up barges from China to West Africa on behalf of its customer Process Systems, a leading company in process control industry.
The high weight and large size of jack-up barges posed challenges to the Industrial Projects' teams. Measuring 19 x 19 x 4 meters in size and weighing 190 tons for each, the jack-up barges reaches a total 9,200 cbm (equivalent of 370 TEUs) and 1,135 tons. These heavy lift cargos needed to be transferred from Rushan City, where the factory Fajun Industrial Process and Equipment (FIPE) is located, to Qingdao Port by barge, loaded onto the Mother Vessel at Qingdao Port, and then shipped to West Africa.
To avoid expensive vertical lifting by using a floating crane, Bolloré Logistics decided to shift the cargos horizontally by using the hydraulic system of the self-propelled modular trailers (SPMT). The jack-up barges were standing on elephant legs of 1.8m in height. The teams have been obliged to jack down the jack-up barges from 1.8 meter to 1 meter to perform the transfer from FIPE jetty to the barge.
Before the transfer, Bolloré Logistics finished SPMT assembling and testing at FIPE in advance. After cargo pre-loading survey and supervision by a third-party marine surveyor and close collaboration with each party, these cargos were then transferred in two batches from Rushan to Qingdao Port.
Due to the draft restrictions of minimum two meters during low tide and maximum four meters during high tide, not every barge was able to berth at the factory jetty. The time window to transfer the cargos from the factory to the barge was very important.
To optimize the cost, initially the second batch of three jack-up barges were supposed to be directly transfer to the Mother Vessel. The operation scenario was changed since the bad weather conditions delayed the Mother Vessel arrival at Qingdao Port. Bolloré Logistics has tackled this challenge with a result-driven mindset and efficient solution.
To transfer the jack-up barges to the mother vessel at Qingdao port, Bolloré Logistics has chartered a heavy lift vessel equipped with two gears with 200 tons lifting capacity each. The combinable lifting capacity reaching to 400 tons in maximum.
In response to these major challenges, Bolloré Logistics' expert team demonstrated high level of agility, flexibility, adaptability and team spirit, making the whole operation a real success. The operation was completed in March 2021 at the satisfaction of the customer who was delighted with the work done and the efficiency of the service offered.
Source : Bollore Logistics
---