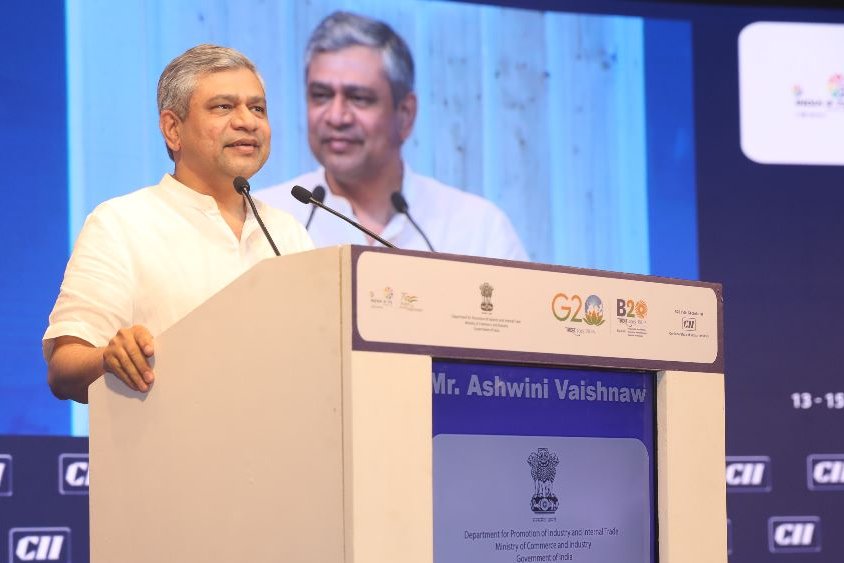 Budget allocation to Railways will dramatically change logistics in country: Union Minister Ashwini Vaishnaw
NEW DELHI : Railway Minister Ashwini Vaishnaw on Tuesday stated that the 2023 Budget allocation to Indian Railways is historic and would fundamentally change the productivity of Indian economy.
The minister was speaking at the CII Partnership Summit 2023, organized by Confederation of Indian Industry (CII) and Department for Promotion of Industry and Internal Trade (DPIIT), Ministry of Commerce and Industry.
"Railways logistics costs in the country would be brought down through the increased allocation. The Government is focusing on increasing the capacity at the bottlenecks and increasing the rolling stock on an average. Most importantly, the focus is on changing the passenger experience by building new stations at totally new scale and new design of trains," he added.
The minister highlighted that the Bullet Train is a project that is fundamentally changing the model of operation.
"Resolving project execution, quality of construction, absorption of design and the challenges that were faced ensures that India will create a world-class design in good time," he said.
On the manufacturing side, the minister said, "Today electronics manufacturing is close to USD 87 billion as an industry in the country. The Government has taken 3 major initiatives viz, creating the ecosystem, laying out a clear policy framework and focusing on developing the semiconductor industry. India would declare the first fab in the coming few weeks, announced the Minister. With the work being done by Industry and the Government today, India will have a vibrant semiconductor industry in the coming 3-4 years."
On the global digital divide front, Vaishnaw highlighted that globally 4 elements significantly contribute to the current digital divide i.e. affordability, accessibility, availability, and knowledge.
He said, "As the Telecom sector is the entry to digital world, therefore there is a need to make sure that the telecom sector is stable, healthy and competitive."
Rajiv Memani Chairman, CII National Committee on Taxation and Chairman-India Region and Emerging Markets Committee, EY India said, "Digital innovation in India is not only fueling economic growth but is also giving it very significant, competitive advantage."