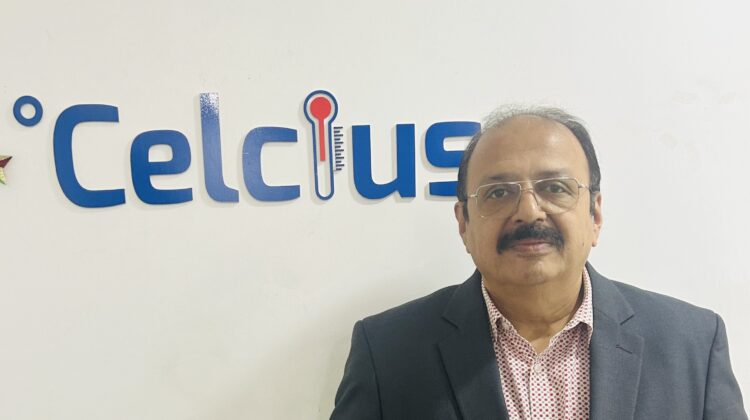 Celcius Logistics appoints Industry Veteran Tarun Goyal as Business Head to drive Innovation and Growth
MUMBAI : Celcius Logistics, India's fastest-growing cold chain marketplace startup, is thrilled to announce the appointment of Mr. Tarun Goyal as the Business Head. With 26 years of profound experience in the logistics industry, Mr. Goyal's arrival marks a significant step in Celcius's journey towards revolutionizing the cold chain logistics sector in India.
The conventional cold chain system in India suffers from inefficiencies, leading to food losses worth about $14bn and rendering up to 29% of vaccines ineffective due to damages and temperature variations during transit. Celcius's entire platform was built, from ground up, using proprietary tech solutions, specifically for the cold supply chain, catering to the challenges of all the stakeholders, from the manufacturer to the small transporter and the end consumer.
As only aggregator platform in India offering proprietary state-of-the-art technology and operational solutions for Reefer logistics and cold storage warehousing, Celcius Logistics is transforming the fragmented segment to build a truly unbroken cold chain network across the country. It boasts of an impressive fleet of over 4500 vehicles, operates 107 cold storages, manages 7 distribution centers, and relies on a team of more than 100 hyperlocal riders. In April 2023, it also raised INR 100 Cr. in funding, making Celcius Logistics the first start-up in the cold supply chain sector to achieve rapid growth and establish a niche in the cold chain industry within a short period of time.
In the near future, Celcius aims to introduce comprehensive cold storage warehousing solutions, establish a nationwide presence spanning over 500 cities, and expand its team significantly. These efforts are all strategically aligned with Celcius's core vision – to build an unbroken cold supply chain network that harnesses cutting-edge technology to drive unparalleled efficiency and cost-effectiveness across various sectors.
And, Mr. Tarun Goyal's addition to the Celcius team is set to propel the brand's vision further. He brings over 26 years of rich experience in the field of logistics, having played pivotal roles in some of the leading logistics companies in India. His impressive career includes key positions at Gati, Safexpress, Radhakrishna Foodland, Transocean, V-Trans India Ltd, DP World, and Delhivery.
Speaking about the new addition to the team, Mr Swarup Bose, Founder and CEO, Celcius Logistics, said, "Mr Tarun Goyal has been a versatile Industry stalwart and has successfully managed express cargo, hard freight, and cold chain logistics, making him an experienced business leader with deep domain insights in the world of logistics. We are delighted to welcome him to the Celcius family. His appointment strengthens the company's position as a leader in the cold chain logistics industry and reinforces its commitment to transforming the logistics landscape in India. I am confident that his extensive experience, strong leadership, and business development acumen will undoubtedly play a pivotal role in furthering our vision of excellence in the cold chain logistics industry."
Commenting on his new role at Celcius Logistics, Mr. Tarun Goyal expressed, "I am excited to join Celcius Logistics, a company that has been redefining the cold chain logistics industry. It's an honor to be part of a team that is setting new service benchmarks and supporting cold chain vendors in achieving their full potential. I am thrilled to be part of Celcius and look forward to working closely with Mr. Swarup Bose and the entire team to take the company to new heights."
Mr. Goyal holds a strong educational background, having completed his schooling at St. Xavier's Institute in Mumbai and obtaining his graduation and postgraduate degrees in marketing from Dehradun. He is also a certified ISO Auditor and has attended various workshops, including "Train The Trainer" and NLP.
The company's forward-thinking growth strategy includes implementing advanced Warehouse Management Systems (WMS) and enhancing their existing Transportation Management Systems (TMS). With a growth of 20X in the past year, Celcius, has an esteemed list of clienteles, including Zepto, Zomato, Maersk, Prabhat Dairy, Baskin Robbins, Vadilal, Domino's, Keventers, Godrej Agrovet, and Zydus Pharma. Celcius has transported over 125, 000 tons of perishable cargo for sectors like dairy, fresh agricultural produce, pharma, fruits, seafood, and vaccines across 350+ cities in India.