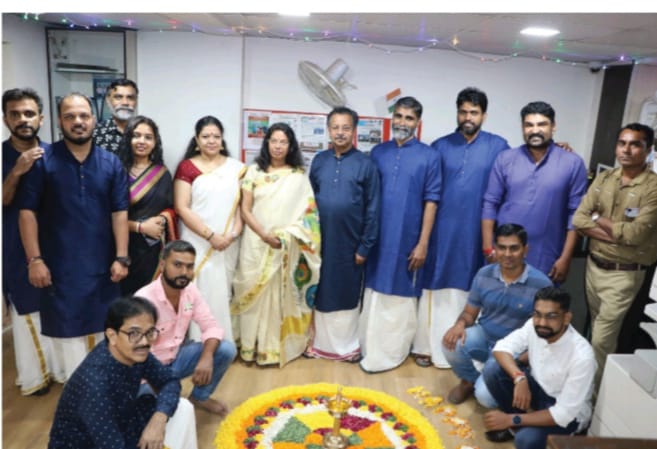 Celebrating Unity and Tradition : Onam 2023 at Suraj Forwarders Pvt. Ltd.
AHMEDABAD : Suraj Forwarders Pvt. Ltd., a prominent name in the logistics industry, came alive with vibrant colors, rich traditions, and heartfelt camaraderie as the company celebrated the auspicious festival of Onam on August 29, 2023. The event, hosted at the company's headquarters, at Ahmedabad encapsulated the essence of unity, culture, and festivity that define the spirit of Onam.
With its commitment to fostering a diverse and harmonious work environment, Suraj Forwarders Pvt. Ltd. beautifully amalgamated tradition and innovation in this year's Onam celebration. The festivities commenced with an enchanting flower rangoli that adorned the entrance, setting the tone for what would be a day filled with vibrancy and camaraderie. Employees donned their traditional attire, turning the workplace into a vibrant tapestry of colors. The celebration extended to a grand feast featuring an array of authentic Onam delicacies, symbolizing the significance of sharing and togetherness.
Mr. Rajan A. M, Managing Director of Suraj Forwarders Pvt. Ltd., conveyed his appreciation to the employees, highlighting that such cultural celebrations are emblematic of the company's ethos of unity. He stated, "Onam is not just a festival; it's a reminder of our shared values and diverse heritage. Our employees are more than colleagues; they're family, and this celebration underscores our bond."
Suraj Forwarders Pvt. Ltd. remains committed to nurturing a work environment that promotes both professional growth and personal enrichment. The Onam celebration serves as a shining example of the company's dedication to its employees' well-being and its determination to uphold cultural values. As the day came to a close, employees left with hearts full of happiness and a stronger sense of unity. The Onam celebration at Suraj Forwarders Pvt. Ltd. was a testament to the company's belief in the power of unity and tradition.