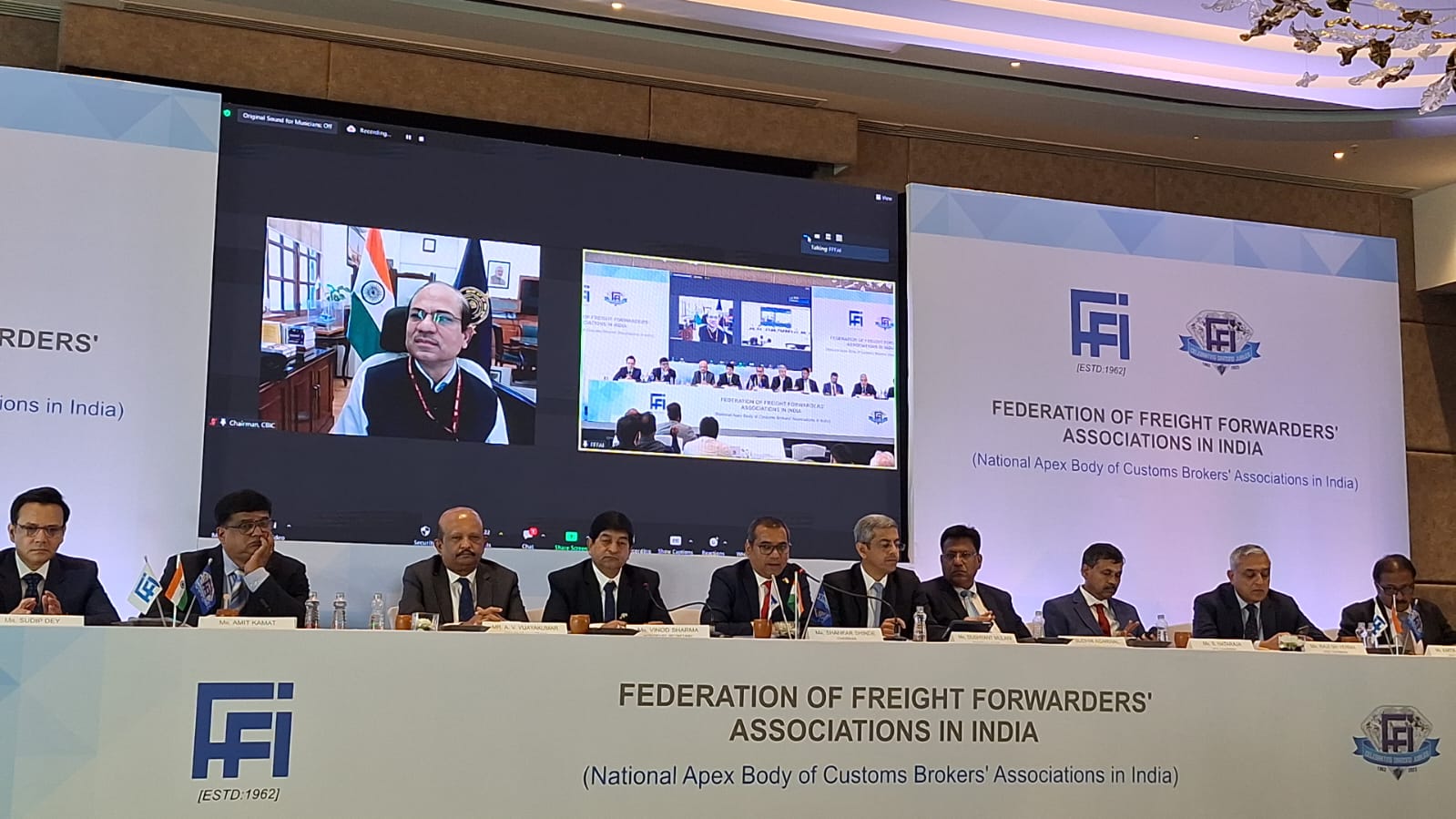 Chairman CBIC addresses 60th AGM of FFFAI, calls for making India a global Manufacturing & Logistics Hub
MUMBAI : Addressing a gathering of the Federation of Freight Forwarders Associations in India (FFFAI) Executive Committee (EC) Members on the occasion of the 60th Annual General Meeting (AGM) of the Federation, Mr Sanjay Kumar Agarwal, Chairman, Central Board of Indirect Taxes & Customs (CBIC) lauded the significant contribution of FFFAI to the exim trade during its more than 60 years journey.
He spoke on a virtual platform due to sudden changes in his programme, which was earlier scheduled for a physical presence. In his speech Mr. Agarwal pointed out that being a National umbrella organization of 30 Customs Brokers Associations across the country, FFFAI has a big role to play in making India as a lucrative destination for logistics and manufacturing hub.

The AGM took place on Septembers 29, 2023 in Mumbai to elect a new team (Executive Committee) for the ensuing two years term, i.e year 2023-25. Present in this AGM were FFFAI Chairman for year 2021-23 Mr. Shankar Shinde, the then Chairman Elect Mr. Dushyant Mulani, other Office Bearers and representatives (Executive Committee Members) of 30 Member Associations of FFFAI. The EC members gathered from different parts of the country. A large number of FFFAI members also participated in this hybrid meeting online.
Earlier, welcoming the Chairman CBIC, Mr. Shinde said that this is a gracious moment for FFFAI to have Chairman, CBIC to the AGM. It provided an opportunity for understanding the recent initiatives of CBIC in fulfilling the target of trade facilitation to reduce logistics cost and transaction time. Mr. Shinde also highlighted FFFAI's leading role both in national and international customs broker and freight forwarding fraternity as an organization. He reiterated full support to CBIC and Government of India to their endeavor of making the country a successful transshipment and logistics hub.
Mr. Agarwal highlighted some key developments which were recently achieved due to the collective efforts of CBIC and FFFAI members. In his opinion, progress in digitalization, faceless assessment, Customs Broker License Management System (CBLMS) portal, Electronic Cash Ledger (ECL) mechanism in ICEGATE System, reducing dwell time, etc, have been enhanced due to the effective collaboration between the Federation and CBIC. According to him, FFFAI is playing a pivotal role in improving the World Bank's Logistics Performance Index (LPI) with a target of positioning India in the top 25 countries by 2030. He also praised FFFAI's support to CBIC in conducting the National Time Release Study aiming to reduce cargo clearance time drastically. In the 2023 Study it was found that the Release Time has reduced 20% in ICDs, 11% in airports and 9% in sea ports as compared to 2022. Further he informed that thanks to FFFAI initiatives almost 99% CBs have got registered with the CBLMS Portal.
Mr. Agarwal emphasized on the recently announced PM Gati Shakti Master Plan and National Logistics Policy with an objective to accelerate cargo movement through technology driven solutions and collaborations between different ministries and industry stakeholders. He underscored the Prime Minister's vision of providing a multimodal logistics infrastructure and connectivity based on digital initiatives. Aim is to support Indian manufacturers/exporters to compete with global counterparts. The CBIC Chairman stressed that this is achievable only through an efficient end-to-end supply chain system, reduced logistics time and cost.
The CBIC Chairman invited FFFAI for regular interactions for the larger interest of the country's manufacturing/logistics eco system as well as the economy of the nation.
Conveying sincere gratitude to the CBIC Chairman, Mr. Dushyant Mulani, the then Chairman Elect ( Chairman at present) of FFFAI assured regular feedback to the CBIC and Ministry of Finance, Government of India. He said FFFAI is committed for the fast progress of the country and towards achieving the goal of positioning India to a developed nation within the stipulated time i.e. by 2047.