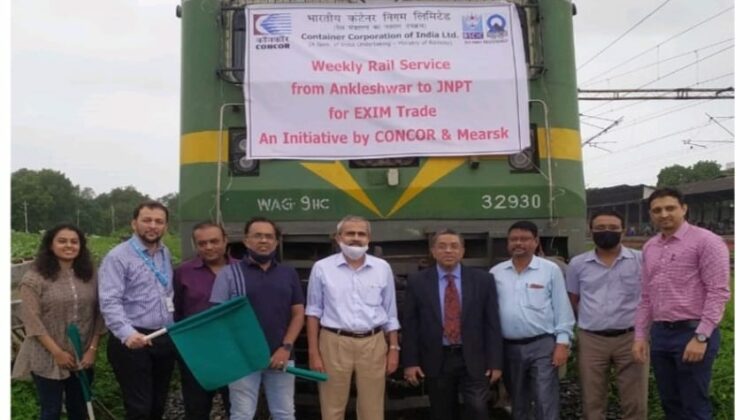 CONCOR-Maersk commenced weekly scheduled Rail services from ICD Ankleshwar
ANKLESHWAR : Container Corporation Of India Ltd (CONCOR) in association with Maersk India commenced weekly scheduled rail service from its Inland Container Depot (ICD) at Ankleshwar to the Gateway Port JN Port. This is a joint initiative by CONCOR & Maersk for a short haul rail service for the Chemical industries in the South Gujarat, CONCOR said in a release. The train will depart on scheduled time on every Thursday.
The first rake loaded with export containers of Maersk India was loaded on 29.07.2021 (Thursday) and flagged off by the major industry players. As per the commitment, CONCOR dispatched its 2nd train on 05.08.2021 (Thursday) as per the schedule announced during the first rake departure.
Shri Madhukar Roat, CGM/CONCOR Ahmedabad Cluster informed that trade & industry can avail end-to-end logistics solutions through CONCOR & Maersk, with First Mile transport solutions for door pick up of their export containers through FMLM (First Mile Last Mile) initiative of CONCOR. Shri Roat also mentioned that presently CONCOR Ankleshwar is already moving approx.. 55-57 rakes per month connecting JNPT, Hyderabad, Bangalore, Kolkata, Delhi NCR, etc
Mr. Vivek Gadre, President of Atul Ltd, Mr. Shailendra Dixit, DGM(Commercial) of Coromandel International Ltd, Mr. Munna Kothari, Commercial Manager of UPL Ltd, and Maersk India Team of officers including Mr. Arvind Ambo, Head (Sales, Commercial, Project cargo & e-commerce-India, Bangladesh & Sri Lanka), Ms. Ishta Anil Jain, Mr. Bhavesh Baretha, Mr. Keyur B Patel from Maersk India Ltd. were present in the flagg off ceremony last week.
Ms Ishita Jain of Maersk India expressed that this initiative of joint effort will enable to reduce the carbon foot print by shifting from road to rail.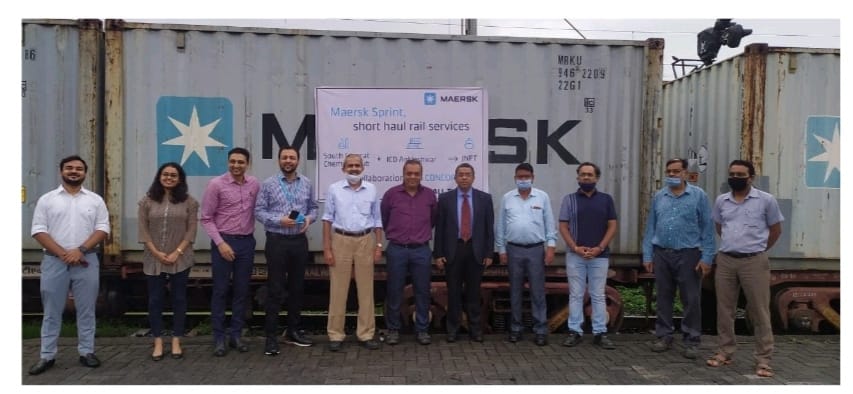 Mr. Sudhakar Sen, Terminal Manager, CONCOR ICD Ankleshwar conveyed that this terminal is equipped to cater the requirement of EXIM trade as well as domestic containerized movement within India in all sense.
Mr. Arvind Ambo of Maersk India Ltd assured to provide best of the class services to the chemical trade of South Gujarat through ICD Ankleshwar.
Mr. Vivek Gadre, President M/s. Atul Ltd and other trade members present during the flag off ceremony of the first weekly rake has appreciated this joint effort of CONCOR & Maersk and requested the industry to avail this service regularly.
Source : Concor