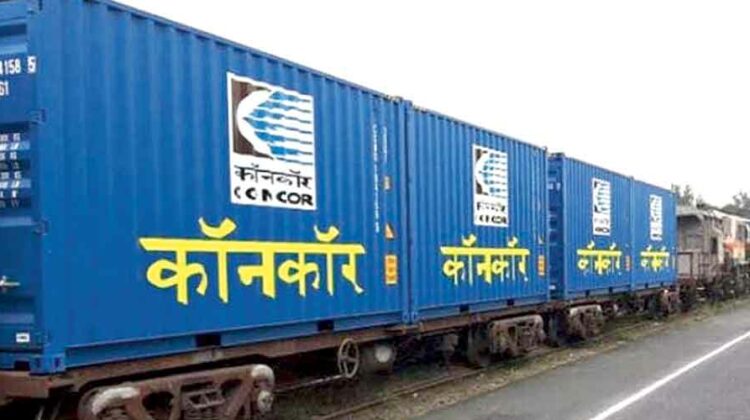 CONCOR Q2 results : Net profit up 21% YoY at Rs 367.31 crore; revenue at Rs 2,194.87 crore
MUMBAI : The consolidated net profit of Container Corporation of India (CONCOR) jumped 21.8 percent on-year to Rs 481.76 crore in the second quarter of the fiscal year 2022-24 (Q3 FY24), according to the financial results declared by the public sector company on November 2.
In the year-ago period, CONCOR had reported a net profit of Rs 303.8 crore. Sequentially, the profit after tax has increased in the September 2023 quarter, as it stood at Rs 252.55 crore in Q1 FY24.
Concor's Q2 revenues rose 10.5 percent year-on-year (YoY) to Rs 2,194.87 crore, due to a 26.13 percent YoY growth in domestic volumes in the September quarter. The numbers were also higher sequentially, as the revenue in the June 2023 quarter was Rs 1,922.84 crore. Shri Sanjay Swarup the New Chairman and Managing Director of the company said that CONCOR had reported its highest-ever results in the company's history in Q2FY24.
"Congratulations to @Concor_India's dedicated team for their relentless efforts. The highest-ever results in the company's history display our commitment to excellence," Shri Swarup said on X (formerly Twitter).
According to a regulatory filing, the Container Corporation of India reported a 26.13 percent YoY growth in domestic volumes at 2.61 TEUs (twenty feet equivalent) for the quarter ended September FY 2024.
For the same period, EXIM volumes grew by 3.50 percent to 9.69 TEUs. Total volumes grew 7.59 percent YoY to 12.3 TEUs during the quarter.
Normalised rail operations post the impact of extremely severe cyclonic storm 'FANI', a shift of cargo volumes from road to rail shift coupled with market share and Earnings Before Interest, Taxes, Depreciation and Amortization (EBITDA) margin recovery helped the company during the quarter.
Price realisation improved during the quarter as CONCOR's rail freight expenses only rose 12.7 percent in Q2FY24 to Rs 1,203.02 crore despite a 26.13 percent rise in volumes as the company rolled back discounts across geographies.
CONCOR reported an earnings before interest, taxes, depreciation and amortization (EBIDTA) of Rs 536.93 crore in Q2 FY24, which was 17.16 percent higher than Rs 410.56 crore clocked in the corresponding period of the previous year. The company's margin was up to 34.46 percent in the September 2023 quarter as against 23.07 percent in Q2 FY23.
Apart from releasing the quarterly results, CONCOR informed the stock exchanges that its board has cleared a third interim dividend of "60 percent i.e. Rs 3 per equity share of the face value of Rs 5 each, amounting to Rs 182.79 crore."
The record date for payment of the interim dividend has been fixed as November 16, 2023, it said, adding that it would be paid to the shareholders on or after November 23. "The payment of dividend will be made within 30 days of its declaration," the exchange filing further noted.
An industry-wide increase in exports and imports in the country benefitted the cargo operator, whose two-thirds of revenue comes from the segment, according to analysts.
The completion of the dedicated freight corridors (DFCs) helped improve rail connectivity and helped the state-run company regain market share, which came under stress due to increased competition from private cargo terminal operators.
During July-September, CONCOR reported a 9.5 percent on-year growth in revenues from its Export-Import (EXIM) segment to Rs 1,443.95 crore, while segment profit rose to Rs 346.21 crore, a 4.4 percent growth compared to the same period last year.
Earnings before interest and taxes (EBIT) margin from the EXIM segment fell to 23.98 percent when compared to 25.15 percent a year ago but rose sequentially from 20.83 percent.
Similarly, the company reported a 12.5 percent rise in revenues from its domestic segment to Rs 759.92 crore, while segment profit rose to Rs 79.38 crore, a 25.15 percent growth, compared to the same period last year.
EBIT margin from the domestic segment rose to 10.57 percent compared to 9.50 percent a year ago and 5.28 percent in the quarter ended June 2023.
CONCOR had offered discounts to attract higher tonnage across geographies in Q1FY24.
The company also announced that Mr. Priya Ranjan Parhi has been appointed as the New Director (International Marketing & Operations) of CONCOR. Concurrently, he holds the post of Executive Director (Infrastructure) in the Railway Board.
Parhi is a key functionary for policy formulation and execution of special projects of national importance such as dedicated freight corridors and high-speed corridors.
On March 24, 2022, Parhi, was debarred from central deputation and foreign assignments and consultancies abroad after refusing to join the National Highways Authority of India as the chief vigilance officer.