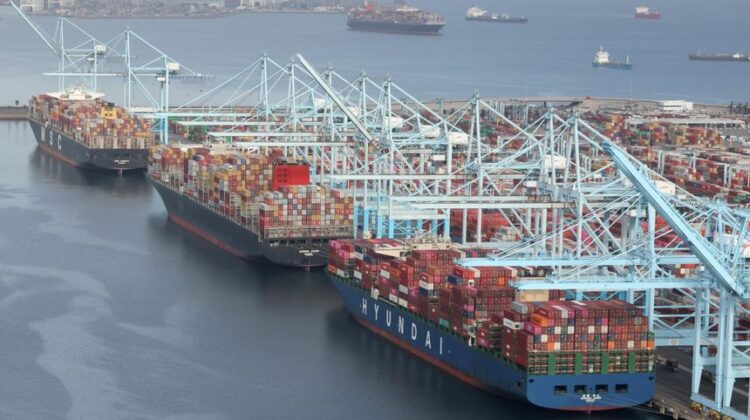 Congestion at LongBeach & LosAngeles ports could impact holiday shopping

---
LOS ANGELES : Current port delays on the US West Coast are contributing to the extraordinary lack of available vessel capacity that we are currently seeing globally, which is putting immense pressure on ever-tightening rates, according to VesselsValue, a shipping online valuation and data provider.
There are currently 49 cargo vessels that are waiting outside Long Beach/Los Angeles port, with the longest vessel having waited 23 days (Dali – Aframax – owned by TMS Tankers).
VesselsValue noted that 38 of these vessels are container ships waiting to enter the port, equating to a total of 228,955TEU, most of which have travelled to the US on the Transpacific leg from Asian manufacturing ports having left over a month ago.
Aside from the anchored vessels, a further 15 or more boxships are seen to be drifting further away from the port in an overflow zone, biding time.
How constrained is the flow? Port of Los Angeles Executive Director Gene Seroka said during a press conference on Wednesday that container dwell time in the terminal "has reached its peak since the surge began" and is now six days, worsening from 5.3 days last month. On-dock rail dwell time is 11.7 days, not far below the peak of 13.4. Street dwell time (outside the terminal) "is 8.5 days, nearing the all-time high" of 8.8 days, said Seroka. It has worsened from 8.3 days a month ago.
Marine Exchange data reveals the constraints of the Los Angeles/Long Beach port complex. Since congestion began, the total number of ships either at anchor or at berth has risen and fallen — it was an all-time-high 92 on Thursday, more than five times pre-COVID levels. But one stat has remained remarkably consistent: The number of ships at Los Angeles/Long Beach berths has remained in a tight band of around 27-31 per day — that is what the land side can handle, the tube of the metaphorical funnel. Throughout 2021, all ship arrivals over that threshold have overflowed into the anchorages and drift areas.
Container vessels anchored off Long Beach: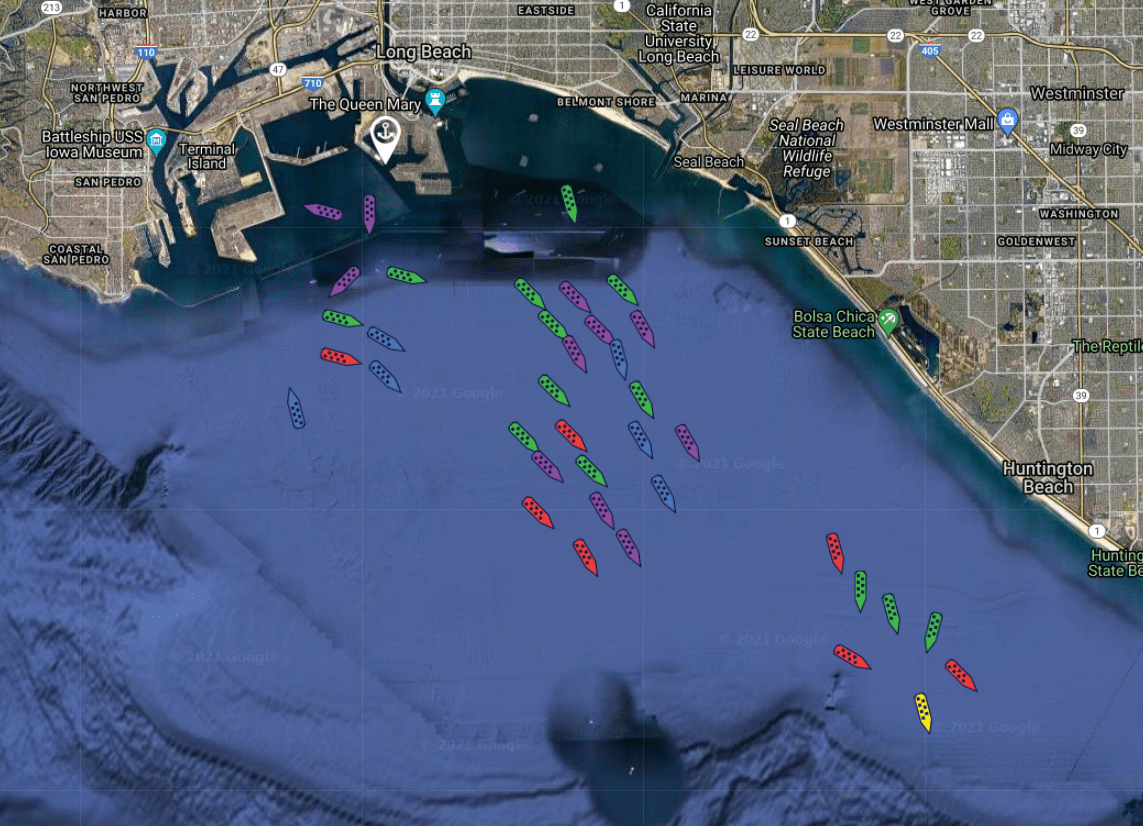 "This high congestion is already having noticeable knock on effects on supply chains at this busy time of year, as many large retailers are gearing up to fill shelves in time for Christmas," Charlotte Cook, Head Trade Analyst at VesselsValue, told.
"Vessels are being forced to wait outside US ports to offload their cargoes from the East, not only holding up the goods sat on board right now, but also causing ripple effects further down the line," explained Cook and went on to add, "Disruptions to last mile delivery are happening off the back of delays, as onward trucking and rail transportation is having to take port congestion into consideration, before getting inventories to warehouses and to final destination retailers."
In the meantime, the two major ports in California continue to announce record or near-record volume figures. In August, combined the ports of Long Beach and Los Angeles handled more than 1.76 million TEU, with POLB achieving the best August ever and POLA reaching close to 2020 all-time record volumes.
During periods of high congestion, ports are utilising as many terminals and berths as possible to maximise throughput, but this can often add further pressure on port operations and increase port call durations, adding to time spent waiting which is currently around six days on average, according to Cook, who pointed out that "delays are also slowing down the ability to move empty containers back to Asia, which in times of current scarce capacity and high demand is a critical piece of the puzzle."
VesselsValue predicts that in the next week alone a further 14 container ships are en route to Long Beach, suggesting that queues are only growing and current congestion is unlikely to ease in the short term.
"The congestion we are seeing at both import and export ports is causing disruptions to onward vessel schedules and only eating up more valuable capacity," commented Cook.
---