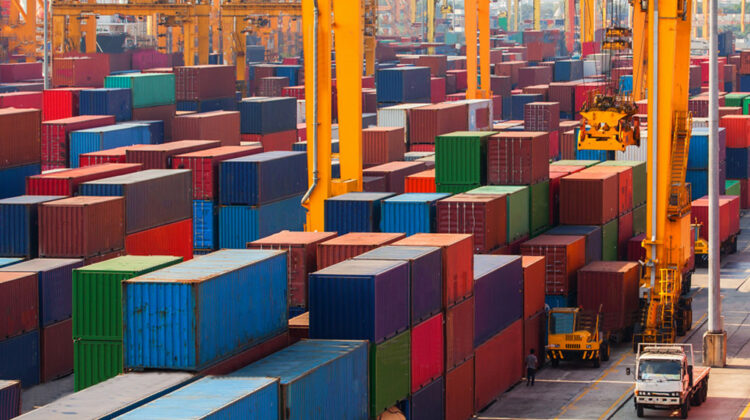 Container freight rates rise in five-fold in two years on supply shortage

---
MUMBAI : In a major blow to world trade, global average container freight rates have risen more than five-fold in two years due to a massive supply shortage which emerged partly on account of clogging and detention of vessels at major European ports.
Data compiled by the London-based supply chain advisory firm Drewry show, its benchmark Composite World Container Index jumped to trade currently at $9817 for a 40 feet container as against $1800 for the same size container in pre-pandemic August 2019. The index shows a rise of 361 per cent in a year and 2.1 per cent or $204 in a week ending August 26, 2021.
A sharp spurt in the composite value of the Index indicates a worrying scenario for world trade as the increase in ocean freight rates make the transported goods proportionately costlier. Eventually, global consumers will have to bear the brunt of high shipping charges which is bound to escalate world inflation and thereby exert economic pressure on developing countries.
"Shipment costs have gone up significantly in the last few months. The Chinese are driving the dry bulk transport market. If China goes into a lockdown with even half of its provinces, global transport of goods is going to get further impacted. Movement of ships come to a halt in case of any lockdown not only in China but also elsewhere across the world. Moreover, industrial production comes down due to lower consumption of goods. Eventually, the movement of goods impacts all of global trade," said Rahul Bhargava, Chief Operating Officer, Essar Shipping.
This is the 19th consecutive week of increases in freight rates. Freight rates on Eastbound Transpacific lanes surged 4 per cent or $393 to $11,362 from Shanghai to Los Angeles and 5 per cent or $631 to $14,136 from Shanghai to New York per 40ft container.
Spot rates on Shanghai to Genoa gained $203 to reach $13,464 for a 40ft box, a change of 594 per cent year-on-year. Similarly, freight rates on Los Angeles to Shanghai jumped 3 per cent or $40 to $1,398 per feu (forth-feet equivalent unit). Freight rates on Shanghai to Rotterdam gained $89 to reach $13,787 for a 40ft box. However, rates from New York to Rotterdam dropped 1 per cent or $12 to reach $1,142 per feu (forth-feet equivalent unit). Freight rates on Rotterdam to New York and Rotterdam to Shanghai remain stable at previous weeks level. Drewry expects rates to increase further in the coming weeks.
A combination of factors have supported a sharp escalation in ocean freight rates that have shown a three-fold jump in the last six months. Since the Covid-19 hit in November 2019, the entire world went into lockdown mode. World trade came to standstill which continued for months until new vaccines got discovered. With the increase in vaccination doses, the government started relaxing lockdown norms which ramped up consumption of goods. Thus, the demand of containers have shot up suddenly.
Experts estimate 95 per cent of world trade moves through water transportation route. With supply being restricted due to the paucity of fresh investments and most importantly since no corporate could have anticipated such a boom un container demand, freight rates have been continuously going up.
"One of the reasons for soaring container demand and its impact on global freight rates is the economic stimulus announced by a number of countries including India, China, Japan, United States to name a few. Such stimulus packages have increased purchasing power of an individual which has supported demand of consumer goods," said a senior industry official.
Moreover, availability of port infrastructure and handling staff has remained limited due to Covid restrictions. Many ports globally have only recently started to restore their workforce making it mandatory to restart only after a double dose of Covid vaccines. This delay has caused detention of vessels and delay in their downloading at ports in China and also in the western countries.
"The container freight rates have gone up dramatically since the Covid pandemic started. For a 40ft container, we used to pay $200 in the pre-pandemic time. It has now gone up to $1400 due to the acute supply shortage. While large traders and corporates can easily pass on such a high freight rate to consumers, small and medium sized players face huge problems in absorbing the high cost. Nor can they pass it on to their customers. We, therefore, have decided to reduce export and import of goods till the situation normalizes," Chintan Singhvi, Proprietor, Luckystar International, a city-based polymer importer said.
Meanwhile, companies have turned their focus on local markets for procurement of raw materials and selling of finished products in an effort to transact business hassle-free.
Source : Polymer Update
---