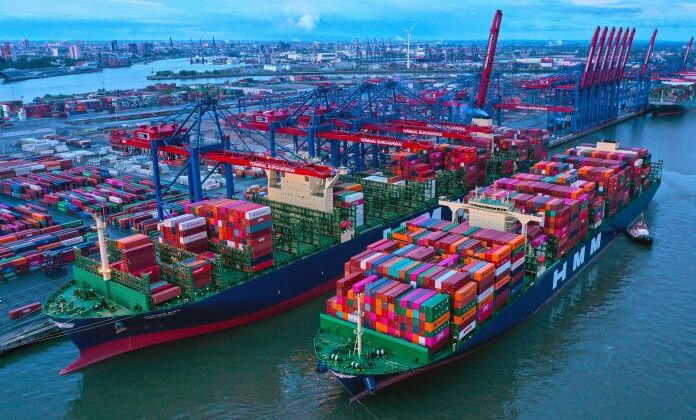 Hamburg recovers from Covid-19 downturn, marking all-time rail record

---
The Port of Hamburg has achieved an all-time rail container transport record in the first six months of the year, according to the port's 2021 first-half report, which shows an overall improved performance in its operational figures.
Even though the German port presented a modest start in the first two months, March and the second quarter brought a significant rise in container handling, with the port handling 4.3 million TEU during the first six months of the year, which translates to a 5.5% increase compared to the same period of 2020.
In particular, exports reached 2.1 million TEU, representing a year-on-year growth of 6.1%, while imports marked a 5% increase over 2020 H1, with 2.2 million TEU.
Additionally, the total throughput of loaded containers grew by 6.9% to 3.8 million TEU in the first half of the year, while empty boxes reached 464,000TEU, showing a decrease of 4.5% in comparison to the corresponding period of last year.
Furthermore, seaborne cargo throughput in the Port of Hamburg during the first half of 2021 was up by 3.8% than in the previous year given that cargoes loaded or discharged at terminals in the Port of Hamburg exceeded 63 million tons.
Joint CEO of Port of Hamburg Marketing – HHM, Axel Mattern affirmed that the port has not yet fully recovered from the repercussions caused by the Covid-19 pandemic, but "growing import and exports, heavy consumer demand, and the Port of Hamburg's immense range of liner services are bringing a stable growth curve."
In the meantime, the Port of Hamburg railway network achieved a fresh record by transferring 1.4 million TEU during the first six months of the year. "That's an 11.3% advance, underlining Hamburg's position as Europe's top rail port," pointed out Mattern.
Port of Hamburg Railway daily handles over 200 freight trains, with more than 5,500 railcars moving along its high-performance network of about 300 kilometres, according to Hamburg Port Authority (HPA) CEO, Jens Meier.
In addition to the favourable trend on railborne seaport-hinterland services, the first six months of 2021 also brought new container block train services between Hamburg and China along the New Silk Road as already existing links with Suzhou and Xi'an were expanded, according to a statement.
Concerning Hamburg's leading trade partners, the first one was China by handling almost 23 million TEU, despite the constraints for cargo handling operators in some of its ports. The following partners during the first half were the United States, Sweden and South Korea.
With the stabilisation of liner service sailings, the launch of new services and the situation also improving worldwide, the Port of Hamburg's marketing organisation anticipates uptrend throughput figures of around 130 million tons and 8.7 million TEU for 2021.
Source : Container News
---