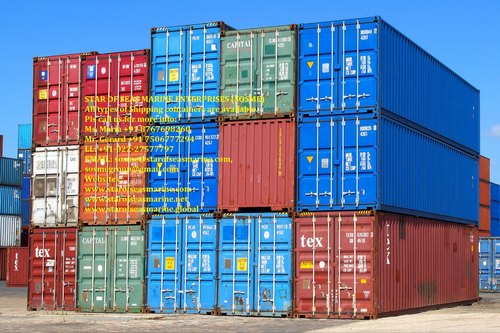 Container rates confine exports

---
AHMEDABAD : High ocean freight prices coupled with container and vessel shortage continue to haunt exporters as the spike in shipping costs has taken a toll on exports of several goods. These include low-value commodities such as dehydrated onions, salt, and plastic product recent weeks, they are still double or triple of what they were before the pandemic. The container rates have hardened at a time when manufacturers across industries are battling spiralling raw material and fuel costs.
Dehydrated onions : Movements dried up
For instance, increased shipping charges have made the exports of dehydrated onions, considered a low-value product, unviable. American buyers order dehydrated onions from India only when the cost is lesser than in their own country. "American importers are currently not placing any orders as high freight rates have driven up the landed cost of dehydrated onions," said Vittal Koradiya, an ovporter from Mahuva. The coastal town of Bhavnagar district is the hub of onion dehydration industry in India. Russian and European buyers have turned to China and Egypt, respectively, for sourcing dehydrated onions. The proximity factor helps in lowering freight charges. According to industry playe 75,000 tonnes of processed onions were exported in 2020-21. However, exporters hope to end the current fiscal with 65,000 tonne.
Clothing, apparel & chemical makers face delays
Container availability has become a challenge for most exporters, which in turn is leading to major delays in shipping consignments. Industry players suggest that containers for shipments which were available within a day are now taking at least 20 days to a month. This is leading to substantial delays in shipments. "With the availability of containe being erratic, export shipments are getting significantly delayed," said Rahul Mehta, chief mentor, Clothing Manufacturers' Association of India. Mehta added: "In such cases, international buyers are either insisting on sending shipments by air or cancelling orders." He said in both these scenarios, exporters will be at a loss because they will either have to shell out more to ship the orderor end up losing the order and revenues. Order delays and cancellations are also affecting the profitability of exporters. Industry players said that in some cases, clients are getting the consignments air lifted. "The entire apparel consignment of the winter collection should have been shipped by now," said Chintan Thaker, chairman, Assocham, Gujarat state council. "However, due to the container shortage, the shipments are significantly delayed." Thaker added: manufacturers are losing their goodwill that comes with timely delivery." Thaker went on to say: "At the same time, exporters have to bear higher costs for the same shipments."Some shipping lines have increased freight charges by 100% to 400%, said Shri Bhupendra Patel, CM of Gujarat Chairman, Gujarat region, Basic Chemicals, Cosmetics & Dyes Export Promotion Council(Chemexcil). Patel added: "With the increased cost of shipments, the profit margins of manufacturers are getting thinner, which is impacting the viability of business." He went on to say: "With stretched payment cycles and lower profitability, the overall growth of the industry is being impaired."
Salt makers feel the pinch
For low-value commodities, the cost of shipping gets higher than the value of the products. Salt is one such item, exports of which to China declined by 30% last year and the reduction is expected to be the same this year as well. Chinese buyers are not placing orders due to high freight rates, said salt manufacturers. India's salt production is estimated to drop to 1.70 crore tonnes in 2021-22 from 2.20 crore tonnes in 2020-21 d to the cyclone Tauktae and the extended monsoon this year. The reduction in production will push the consumption of salt that could not be exported due to firm shipping charges, salt makers added. Gujarat alone accounts for 76% of India's total salt production.
Ceramics, agriculture sectors take a hit
Ceramic exports remained buoyant even amid the pandemic-induced slowdown. However, the circumstances have changed this year due to container shortage and high freight rates. "The container freight costs have started easing but they are still very high and nowhere near normal," said KG Kundariya, Former President, Morbi Ceramic Association (MCA). "The volume of ceramic exports has come down by 50% over the four months and the volume was down 30% two months before that." Ceramic tiles worth Rs 13,000 crore are exported annually from Morbi, which is India's largest cluster of the ceramic industry. High ocean freight rates have escalated the cost of the locally made agriculture equipment by 30-40%, said Dinesh Khanpara, President, Gujarat Agriculture Machinery Manufacturing Association. "We make agri-equipment at rates cheaper than that of our competitors in the European countries," Khanpara said. "However, the surge in container charges has deprived the local manufacturers of the cost advantage in the export market." He added: "India's traditional buyers from African and Gulf countries are now ordering from European manufacturers." He said European products now cost as much as Indian products.