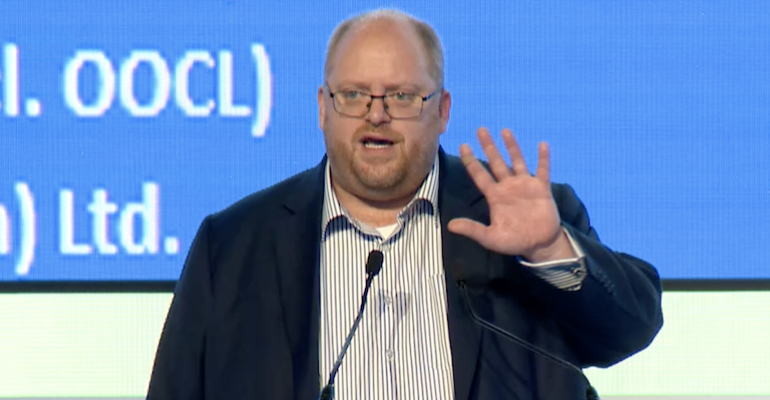 Container shipping market back in 2019
DAMMAM : Alan Murphy, CEO and founder of Copenhagen supply chain analyst Sea Intelligence,has warned of widespread service cancellations on major trade lanes across the Pacific Ocean and between Asia and Europe between now and the end of the year.
Murphy was speaking week at the Saudi Maritime Congress held in Damman this week. Taking out the peaks of the pandemic, which Murphy described as "the wildest ride in 60 years of container shipping", the world's two largest container trades have clocked up virtually no growth since the last year of normality in 2019. Zero growth is acceptable, he said, provided supply capacity remains constant too."
"So long as nobody did anything stupid, like ordering a bunch of vessels they don't need, we're fine," he quipped. "Unfortunately, they did order a lot of vessels."
For the last three months of the year, carriers have massive amounts of capacity scheduled on both liner trades. "Demand goes down … supply goes up … what's going to happen is they're going to cancel a lot of sailings. They're going to blank them."
Based on current service schedules, capacity on the Transpacific is likely to increase by 25% to the west coast of the US, and 35% to the east coast, Murphy predicted.
"This is what the carriers have planned right now," he told delegates. "I think they're going to pull the handbrake and they're going to blank a massive raft of sailings. So, if you're shipping cargo from Asia to North America, Europe, expect to experience horrendous service, massive cancellations," he warned.
When weak demand coincides with high supply, the result is poor utilisation, he said, which has come down sharply since the peak of the Covid pandemic. "And that's of course led to crashing freight rates, both spot rates and contract rates … so we're back to normal in the sense of market overcapacity, low freight rates, poor service and the shipping lines not making money. Unfortunately, not awfully good news," Murphy declared.