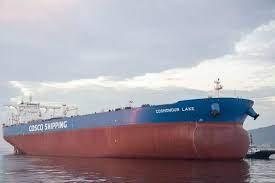 COSCO Energy and COSCO Bulk issue first eBLs with GSBN
SHANGHAI : Global Shipping Business Network (GSBN) announced that COSCO SHIPPING Energy Transportation (COSCO Energy) and COSCO SHIPPING Bulk (COSCO Bulk) have joined the consortium as members and successfully issued the first electronic bills of lading (eBL) for energy transportation and bulk shipments.
COSCO Energy is a corporation that specializes in the transportation of energy, such as oil and natural gas. Its tanker fleet is the world's largest in terms of capacity, with 155 tankers with a total capacity of 22.74 million DWT.
"For large value and high risk of oil tanker transportation, an eBL based on blockchain technology substantially improves the efficiency of document circulation, reduces logistics cost and commercial risk. It also guarantees the authenticity, security and uniqueness of the bill of lading, while promoting decarbonisation in line with ESG practices," stated a COSCO Energy official.
Furthermore, COSCO Bulk is the world's biggest professional bulk shipping firm, with over 400 different types of bulk carriers and almost 40 million DWT loaded with iron ore, coal, grain, and other bulk cargo.
In the absence of an original bill of lading, both bulk and energy shipments have traditionally depended extensively on letters of indemnity (LOIs) as confirmation of shipment ownership to authorize cargo release to the consignee.
However, the use of LOI does not come without risk for carriers, since cases of LOI misdelivery are widespread. The Miracle Hope case, which involved a US$80 million claim, highlighted the need for safe discharge without a LOI in 2022.
According to GSBN, COSCO Bulk and COSCO Energy have embraced the platform following the completion of its digital platform integration with IQAX's eBL application built on GSBN's blockchain infrastructure to connect with stakeholders across the value chain and significantly improve the security and consistency of title transfer with immutable records.
As part of this, COSCO Bulk issued its first electronic bill of lading (eBL) for Yancoal, an Australian coal producer, linking the whole business chain, including banks, traders, miners, and end-users.
This month, COSCO Energy also issued the first eBL for 30,000 tons of domestic trade marine oil for China National Offshore Oil Corporation's shipment. The upstream and downstream parties confirmed the bill of lading, which was then returned to the carrier to complete the release.
"The successful issuance of eBLs for bulk cargo and energy shipment will also unlock greater trade finance for the industry as banks want a single point to interface with all types of eBLs and trusted shipping data, especially for high-value cargo such as bulk and energy transportation," noted Bertrand Chen, CEO of GSBN.