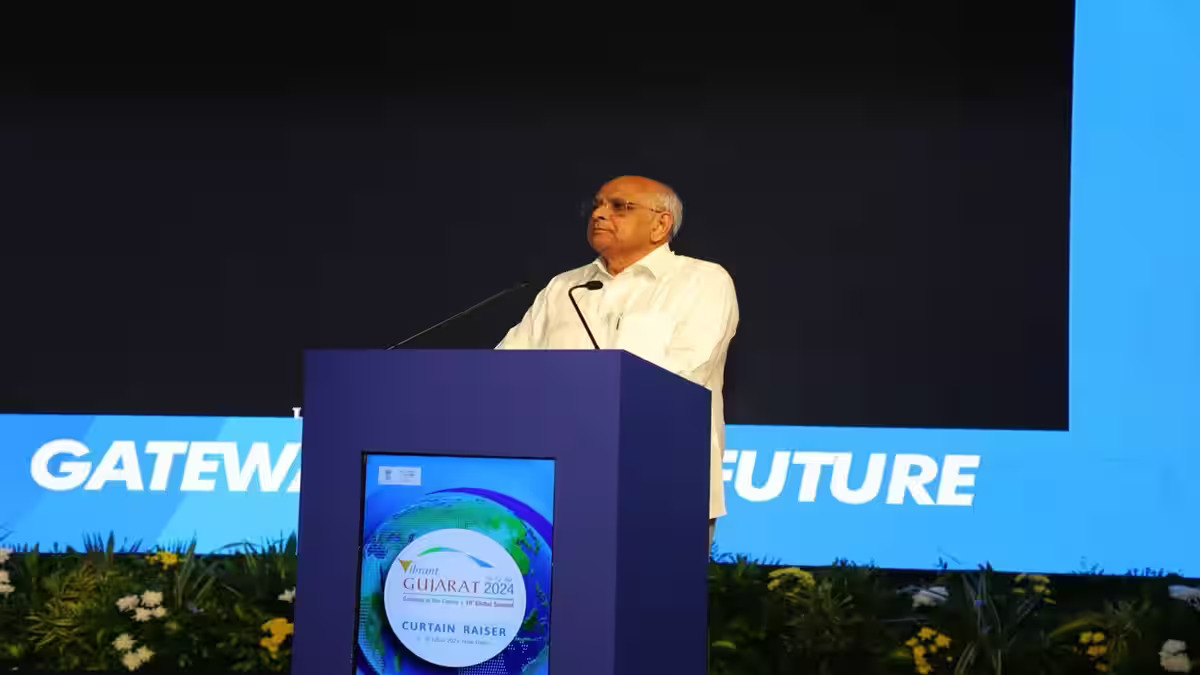 Curtain Raiser for 10th Vibrant Gujarat Summit held in Delhi
NEW DELHI : The curtain raiser event in lead up to 10th edition of the Vibrant Gujarat Global Summit scheduled for January 2024 was held here in National Capital.
Chief Minister Shri Bhupendra Patel while addressing industrialists and investors gathered at the curtain raiser event said, in 2003, when the idea of a business and investment summit was unheard of, PM Modi came up with Vibrant Summit with the spirit of 'One Earth, One Family, One Future'.
Through the Vibrant Summit, PM Modi brought global capital investors and thought leaders together on a single platform. He introduced a fresh concept – the idea that everyone can progress together. Over the past nine years, the Prime Minister has not only reformed the country but also spearheaded innovative approaches, establishing a new global identity for India.
CM Patel emphasized that Gujarat, for the past two decades, has earned recognition as India's Growth Engine. This recognition has been strongly reinforced by the Vibrant Gujarat Global Summit, which has evolved into a platform for business networking, knowledge sharing, and socio-economic development. The Chief Minister highlighted the success of two decades of Vibrant Gujarat, which Gujarat celebrated as 'Summit of Success'. He pointed out that the seed of Vibrant Summit, sowed by the Prime Minister, has now matured into a banyan tree, furthering Team Gujarat's commitment to carry forward the Vibrant Gujarat Summit.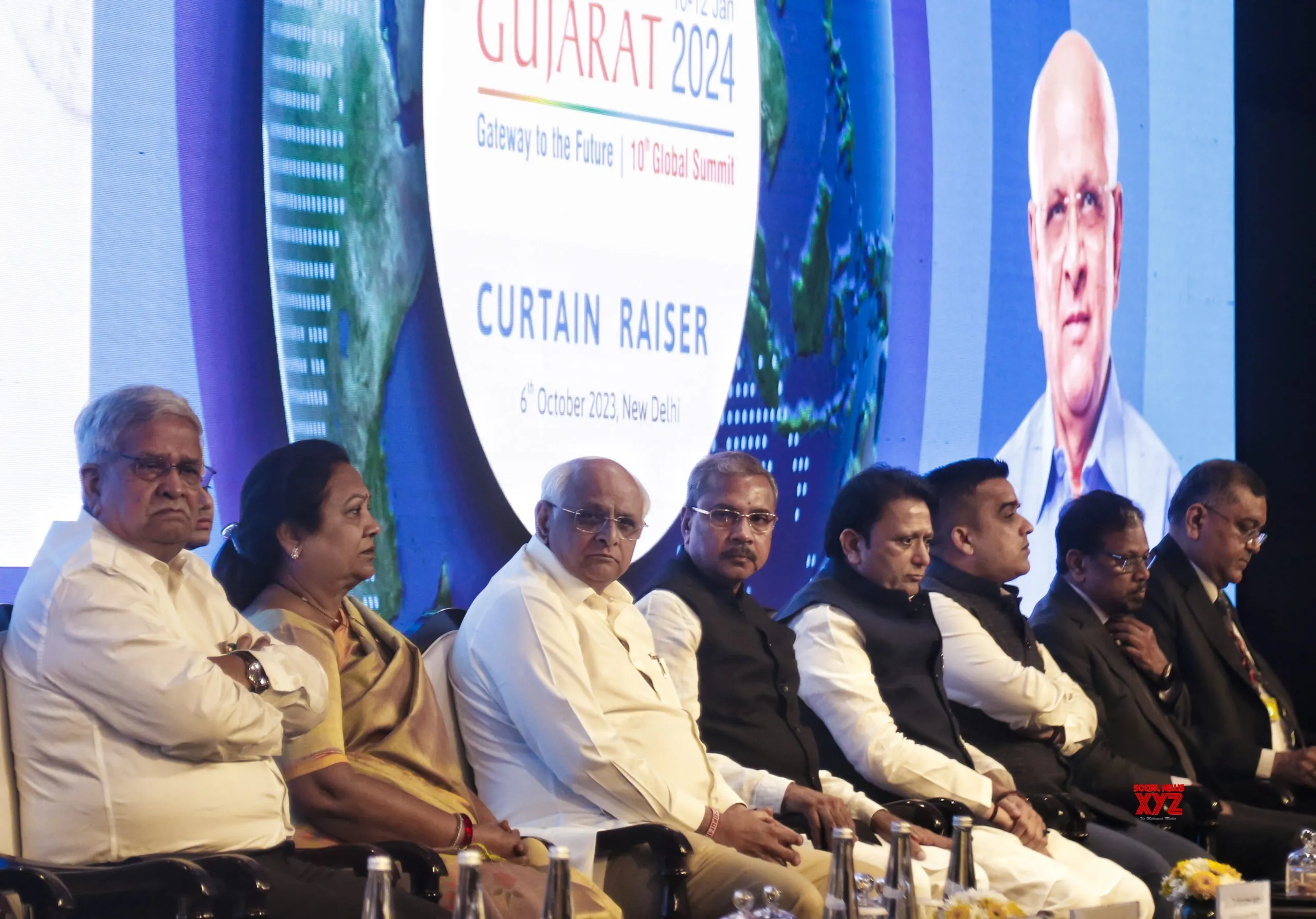 Chief Minister emphasized that the industrialists and investors gathered at this curtain raiser event stand as witnesses of the nation's 'Amrit Kaal'. The 10th Vibrant Summit is themed on 'Gateway to the Future'. Chief Minister emphasized that Gujarat will realize the Prime Minister's vision of a 'Viksit Bharat @2047' through this summit. With a proactive policy-led approach, ease of doing business, investor-friendly attitude, and robust industrial infrastructure, Gujarat has emerged as the most preferred investment destination. Not just that, 'Gateway to the Future' is entirely set to become the gateway to a bright future for the nation.
Chief Minister Patel also talked about the future-ready mega projects like GIFT City, Dholera SIR, DREAM City, Greenfield Ports, and the Ahmedabad-Mumbai High-Speed Rail project.
In GIFT City, new emerging sectors like aircraft leasing, financing, and fintech hubs are being developed. Dholera SIR will become India's largest greenfield industrial investment region and a greenfield smart industrial city. The Chief Minister also named Gujarat as the 'Most Preferred Destination' in the production of semiconductor and display fab. He expressed that Gujarat is the first state to implement the Semiconductor Policy in the country. In the renewable energy sector, Gujarat has also taken initiatives in line with Prime Minister's vision of a Net Zero Economy. He stated that Gujarat contributes 15% share of the country's total renewable energy capacity. The state's renewable energy capacity has reached 20 GW. Furthermore, Gujarat has set its target of generating 100 GW of renewable energy through Green Hydrogen Mission.
The Chief Minister said that seminars and conferences on essential topics such as new emerging sectors, renewable energy, semiconductors, sustainable manufacturing, green hydrogen, electric mobility, and Industry 4.0 will be organised in the upcoming Vibrant Summit in January 2024.
The Chief Minister expressed confidence that the 10th Vibrant Gujarat Summit will be a golden opportunity for investors looking to engage with Gujarat for its immense growth potential. He was optimistic about achieving success through the Vibrant Summit, counting on the support of investors and entrepreneurs to cultivate a sustainable and inclusive growth ecosystem.
Finance and Energy Minister Shri Kanubhai Desai, Union MoS Smt. Darshana Jardosh and Dr. Mahendra Munjpara, Gujarat Industries Minister Shri Balwantsinh Rajput, State Minister Shri Harsh Sanghavi, and senior secretaries of the state government also attended this event.
Secretary of DPIIT, Government of India, also addressed the event. Shri S.J Haider, Additional Chief Secretary of the Industries Department, shared Gujarat's development story. CEO of Arcelor Mittal Mr. Dilip Oommen, Maruti Suzuki MD and CEO Mr. Hisashi Takeuchi, and CEO of U.K. India Business Council Group Mr. Richard McCallum shared their experiences related to the Vibrant Summit. President of ASSOCHAM and Chairman of Welspun Group Mr. B.K. Goenka, in his welcome address, praised Gujarat's business prowess and investment-friendly policy environment. He stated that Gujarat and Business are synonymous to each other.