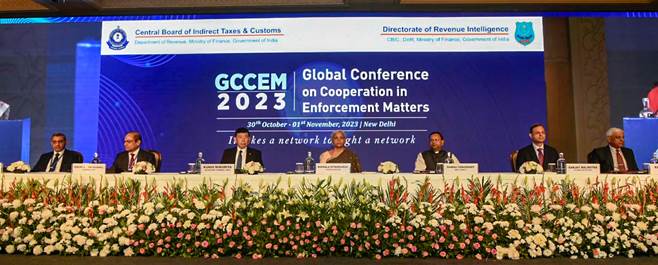 Customs using cutting-edge tech to detect illicit trade : CBIC Chairman
NEW DELHI : India's Custom authorities are "actively deploying" cutting-edge technologies including big data analytics, artificial intelligence, image analytics to detect fraud and curb illegal trade, Central Board of Indirect Taxes and Customs (CBIC) Chairman Shri Sanjay Agarwal said on Monday.
"The Indian customs administration is combining domain expertise with innovative technology to manage cargo related risks and ensure compliance effectively. A curated risk based approach is being deployed in processing and mitigating the identified risks associated with customs declaration while consciously striking a balance between enforcement and facilitation," Agarwal said while speaking at the 'Global Conference on Cooperation in Enforcement Matters' organised by the Directorate of Revenue Intelligence.
Agarwal mentioned the undercurrent of illegal trade in narcotics remains "strong", and highlighted that global drug trafficking is estimated to be worth $650 billion, contributing approximately 30% of the overall illicit economy.
At a time when the landscape of smuggling, tax evasion, commercial fraud, and trade-based money laundering has undergone a paradigm shift, especially post the COVID pandemic, there is a need for robust international cooperation and readiness to adapt to the ever changing scenario, he said. "There is no doubt that we collectively work to defeat these transnational syndicates for which there is a constant need of cooperation and coordination with all national and international enforcement agencies."
At the same event, Finance Minister Smt Nirmala Sitharaman said that Customs officers must make use of technology, share information and actionable intelligence with domestic and international agencies to create deterrence to illicit trade and transnational syndicates.
"I place a lot of emphasis on intergovernmental cooperation, along with World Customs Organisation (WCO), so that we are able to crack the brains behind it (smuggling), the masterminds behind it, with the help from local authorities and governments," she said.
Sitharaman also launched Phase-IV of 'Operation Sesha' by Indian Customs in collaboration with RILO (Regional Intelligence Liaison Office) Asia-Pacific and RILO Middle-East to curb the illegal trade of timber.