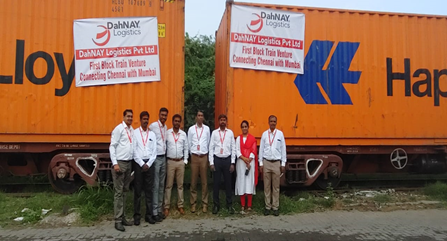 DahNAY Logistics commences Block Chain Venture, Chennai to Mumbai

---
CHENNAI : The Covid-19 pandemic has spared none including the international shipping industry! The huge container crisis and delays has disrupted supply chains for companies.
With on-time delivery and service reliability being the core values of DahNAY Logistics, the team devised a solution to bring some respite to the current crisis. On August 18th, DahNAY launched the first block train venture connecting Chennai and Mumbai in association with Container Corporation of India Limited.
The solution involves transporting cargo by train from Chennai to Mumbai and then loading it on The Direct Week to USA. The first maiden Block train of 45 x 40 HC left Chennai on 18th Aug 2021.

On achieving this milestone, Mr. Murali Babu, CEO of DahNAY Logistics says, "this first of its kind solution will reduce the dependency of containers and remove blockages in the current supply chain faced by shippers. We are thankful to the support extended by CONCOR and Hapag-Lloyd in launching this service.
The second cargo/trip followed on the 21st of August. A total of 90 x 40 HC is planned to move on Direct Sailing out of Mumbai to USA. DahNAY Logistics will now make this service available once a week.
Source : DahNAY Logistics
---