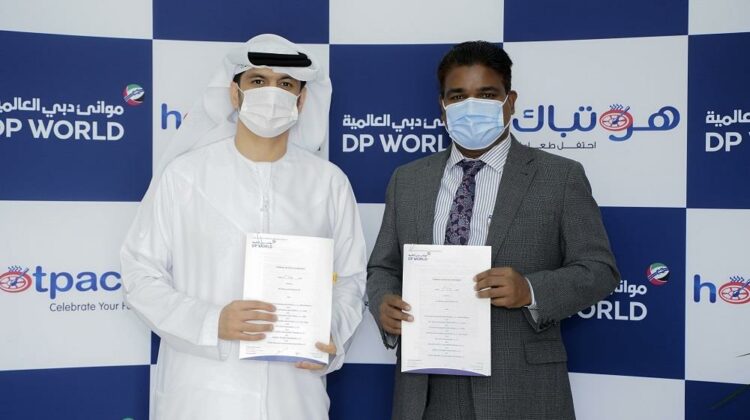 Hotpack Global signs Terminal Agreement with DP World, UAE Region

---
DUBAI : Hotpack Global, the world's leading manufacturer of disposable food packaging products, has signed a terminal agreement with DP World, UAE Region, expanding the export capacity for its products through Jebel Ali Port.
The agreement was signed at Hotpack's head office in Dubai Investment Park by Mr. PB Abdul Jebbar, Group Managing Director, Hotpack Global and Mr. Shahab Al Jassmi, Commercial Director, Ports and Terminals, DP World – UAE Region.
Hotpack Global has a group turnover of AED 950 million and a presence in 27 locations in 12 countries across the Middle East, UK and a chain of networks in the Gulf and African regions. The company's sales centres are present across the seven emirates in the UAE, as well as in other G.C.C. countries.
In the last two years, the company exported products worth AED700 million at an estimated volume of 4,625 containers. Recently, the company was certified as a `Verified Exporter' by Dubai Industries & Exports, the trade promotion entity of the Department of Economic Development (DED), which will enhance future international trade opportunities for the company.
Abdul Jebbar, Group Managing Director, Hotpack Global , said:"This agreement with DP World, UAE Region's Jebel Ali Port comes in the context of Hotpack's export push and expansion of its global market footprints. We are close to reaching a milestone in our export market reach. Our products will soon be available in 100 countries across the world from the current 95. The terminal agreement will help us consolidate our exports logistics to a single-point strategic gateway to the world. DP World's extensive global network and vast experience in operating terminals worldwide add immense value and ease trade facilitation."
Shahab Al Jassmi, Commercial Director, Ports and Terminals, DP World – UAE Region explained:"The Jebel Ali Port has underpinned the success of numerous packaging solutions companies including Hotpack Global. As the 12th largest port worldwide, the port has a capacity of 22.4 million TEU. Additionally, DP World's global connectivity in over 40 countries, seamless services, and rapid turnaround time will boost the company's growth and amplify their reach. We are confident that we will be able to help them realise their export growth strategy, thus, empowering them to contribute to the UAE's Operation 300bn initiative and stimulate the national economy."
Hotpack's export growth was a result of the sustainable development of its manufacturing strengths owing to their fully automated, state-of-the-art factories, benchmarked at 4.0 industry standards. International quality accreditations and certifications have also ensured their success. Additionally, their investment in technology and innovation has helped the company stay ahead of its competitors, while its continued product expansion has supported reach to newer markets
About DP World :
We are the leading provider of worldwide smart end-to-end supply chain logistics, enabling the flow of trade across the globe. Our comprehensive range of products and services covers every link of the integrated supply chain – from maritime and inland terminals to marine services and industrial parks as well as technology-driven customer solutions.
We deliver these services through an interconnected global network of 181 business units in 64 countries across six continents, with a significant presence both in high-growth and mature markets. Wherever we operate, we integrate sustainability and responsible corporate citizenship into our activities, striving for a positive contribution to the economies and communities where we live and work.
Our dedicated, diverse and professional team of more than 56,000 employees from 140 nationalities are committed to delivering unrivalled value to our customers and partners. We do this by focusing on mutually beneficial relationships – with governments, shippers, traders, and other stakeholders along the global supply chain – relationships built on a foundation of mutual trust and enduring partnership.
We think ahead, anticipate change and deploy industry-leading digital technology to further broaden our vision to disrupt world trade and create the smartest, most efficient and innovative solutions, while ensuring a positive and sustainable impact on economies, societies and our planet.
About Hotpack Global :
Founded in 1995, Hotpack Global is a recognized leader in both the manufacture and supply of food packaging products. Today, the company has operations in 12 countries which includes GCC countries, India, UK, USA, Morocco, Nigeria and Australia. Within a limited span of time, the company has grown to become one of the leading players in the packaging sector because of its reputation for supplying quality products, its reasonable price structure and outstanding service. Hotpack is seen as a one stop shop that offers the complete range of packaging products for HORECA, Retail and Industrial Packaging sectors. It represents other major manufacturing companies worldwide and products are packed hygienically in modern and attractive designs and marketed under"Hotpack" (Disposable Range) and"Soft n Cool" (Tissue Range) brands.
As a food packaging company Hotpack has been certified with BRCGS, SEDEX, ESMA, PEFC, FSC, ISO 9001: 2015, ISO 22000: 2018, ISO 14001: 2015, ISO 45001: 2018 which ensures the top quality of its products. Hotpack was adjudged winner of the coveted Dubai Quality Award under the category of Dubai Smart Industry Award 2020 for the manufacturing sector. Hotpack today has 30 standalone Retail centers across the MENA offering 600 plus Specialty range products which are not available in Supermarkets. Also is the region's largest online store for food packaging products. Over the years, Hotpack has become a trusted brand with its excellent products, services and continuous brand communication.
Source : MENAFN
---