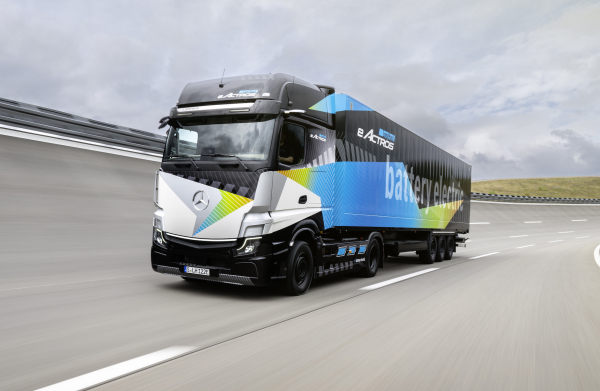 DB Schenker orders 100 e-trucks from 'converted' Daimler
After a recent order for 100 Mercedes Electric Trucks from Germany's DB Schenker, truck giant Daimler seems to have changed a view which previously appeared to favour hydrogen to power its vehicles.
The eActros LongHaul truck, set to go into production next year, will use lithium-iron phosphate (LFP) batteries, which prioritise length of service life over lithium-ion (Li-ion) batteries' generally higher capacity.
The move seems a change in strategy for the auto manufacturer, which has not expressed much enthusiasm for long-haul trucking powered by battery, arguing it would be 'sub-optimal' for journeys of over 120km, and that recharging at facilities, where today it is not unusual to see 80 trucks parked, would require "a power plant close to every fuel station", a spokesperson said at the end of 2021.
Findings from the European Automobile Manufacturers Association suggest electric truck sales, though still a tiny percentage of just 0.6% in the EU last year, are growing by around 33%.
And Daimler Trucks spokesperson Akim Enomoto told:"Battery-electric trucks are the right choice from light to heavy-duty distribution tasks, as well as for long-haul operations when used regularly on routes that can be planned, given suitable distances and charging options.
"Hydrogen-based drives can be the better solution, especially for very flexible and particularly demanding applications, in heavy-duty transport and long-haul applications.
"We have a clear 'dual strategy' that stresses the importance of both technologies."
Daimler Trucks says the eActros LongHaul will have a range of 500km, using three battery packs which add up to 600kWh of capacity.
Range has been a concern for electric trucks recently; the Tesla Semi recently completed a demonstration journey of 500km, in what Tesla referred to as "a fully loaded condition" – however, this comprised extremely light boxes of crisps. In December, PepsiCo VP Mike O'Connell told that, carrying bottled drinks, it would be limited to around 160km.
And Daimler customer DB Schenker's strategy appears not to be battery-exclusive, with the recent news it is operating a Hyzon hydrogen fuel-cell truck between Cologne and Eupen, in Belgium. The firm says the truck has a higher payload capacity than an EV and takes less time to refuel, indicating that perhaps more hydrogen-powered trucks are on the way.