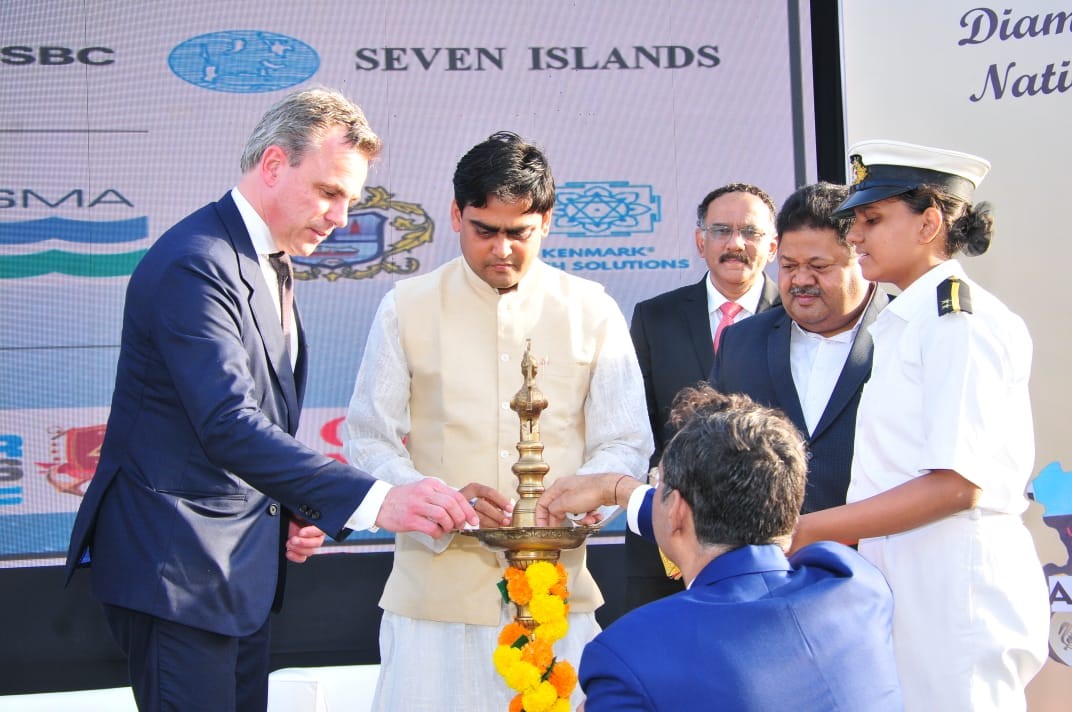 Diamond Jubilee Celebrations of National Maritime Day 2023 held in Mumbai
MUMBAI : The Grand Finale function of Diamond Jubilee of National Maritime Day was organised at Domestic Cruise Terminus, Mumbai on 5th April, 2023, with 'Amrit Kaal in shipping' as its theme. The day is celebrated to commemorate embarkation of the first Indian-owned vessel "S S Loyalty" on her maiden voyage from Mumbai to London, on this day in 1919. Eminent maritime personalities from India and abroad and seafarers and their families participated in the colourful event held in Mumbai.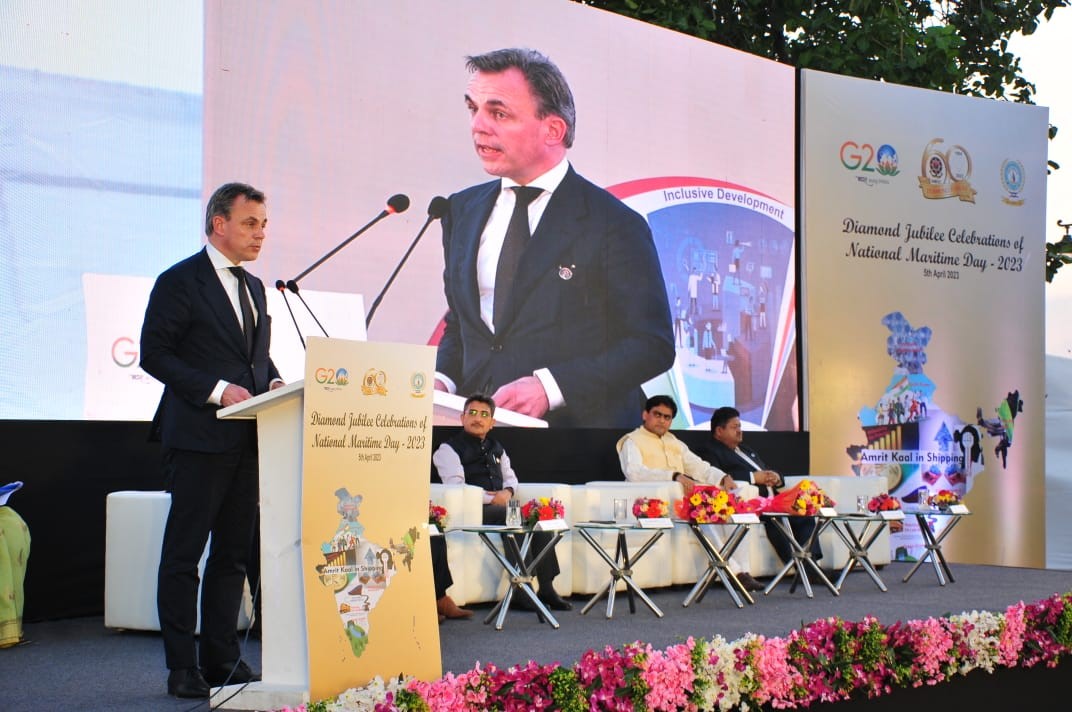 The Chief Guest for the function was Minister for Infrastructure and Water Management, Kingdom of the Netherlands Mark Harbers, and the event was presided over by Union Minister of State for Ports, Shipping and Waterways, Shantanu Thakur.
In his written message, the Union Shipping Minister Sarbananda Sonowal said he is very pleased to learn that the theme adopted for the 60th edition of the National Maritime Day 2023 celebrations is Amrit Kaal in Shipping. This theme refers to the most auspicious period to start new ventures which also holds true for shipping, said the Minister.
The Union Minister of State for Ports, Shipping and Waterways congratulated all stakeholders of maritime fraternity on the occasion. He mentioned that the vision of the Government for Amrit Kaal is creation of opportunities for citizens with focus on youth, growth and job creation, and a strong and stable macroeconomic environment. He underlined the strong need to promote coastal shipping as an energy-efficient and low-cost mode of transport, both for passengers and freight. This should be done through PPP mode, with viability gap funding, said the Minister.
The Minister said that we have to make shipping a fast-growing sector so that India can become a world leader in maritime infrastructure and a lead player in maritime economy. "Shipping has to become more modern; PPPs should be utilized more in infrastructure modernization. Reaching the last mile and promoting green growth are among our priorities. It is time we make all efforts to achieve goals set in Maritime Vision India 2030. As a responsible maritime nation, we should also aim to promote green shipping. Reducing pollution intensity and introducing renewable energy and green hydrogen in shipping sector needs to be given utmost attention."
The Minister for Infrastructure and Water Management, Netherlands, extended his greetings and best wishes to the seafarers and Indian maritime fraternity. He said that India is a key maritime player, like the Netherlands. "Today, about 90% of global trade routes are maritime, 90% of all necessities we use in daily life have probably completed a long journey across the world's oceans, our daily existence depends heavily on maritime transport. With its central location along the world's shipping routes and with around 7500 km of coastline, India is a key maritime player. This maritime DNA is something India and the Netherlands share."
The Minister of Netherlands recalled the age-old maritime relationship between the two countries and said that the country is happy to share its maritime expertise with its friends such as India. "Our maritime relationship with the emphasis on ship dates back more than 400 years, the first trading activity of the Dutch on the Malabar and Coromandel coasts marks the beginning of our strong maritime ties. With the establishment of diplomatic relationships 75 years ago, these ties have only become stronger. The Netherlands is Europe's gateway to the rest of the world and vice versa. Over the centuries, we have built up a wealth of expertise in shipping, ship building, port infrastructure and logistics, an expertise we are happy to share with good friends."
The Dutch Minister said that the Government of India has set out an ambitious vision for its maritime sector. "The Indian government has acknowledged the importance of the maritime sector for economic development and set out its Maritime India Vision 2030. The vision is about accelerated growth over the next decade across ports, shipping and waterways, in terms of not only capacity and economic growth but also sustainability. India's maritime sector is an engine driving our national development and economic growth. The efforts announced show ambitious this vision is. The emphasis is there on green and sustainable port development, ship building, logistics sufficiency, repairs and recycling, coastal shipping, inland waterways, digitalization and maritime trading."
The Netherlands Minister spoke about the recently signed MoU between India and the Netherlands and how it will help deepen the maritime cooperation between the two countries. "Over the last few days, India and Netherlands discussed collaboration along various fronts, including in zero emission shipping, inland waterways technology for improving sustainable water-borne transport. You can't help but be inspired with the eagerness of Indian and Dutch companies to join forces and navigate a shared sustainable maritime future. We are on the brink of a new dawn. The Netherlands is proud to be here as India's partner on this day, let us chart a sustainable maritime future. Recently, the Union Shipping Minister of India and I signed a MoU on cooperation in maritime sector. This will serve as a blueprint for our vision for deepening our existing strong ties in the sector. By working together, we can respond to many challenges facing us today, such as extreme weather due to climate change, the need for smart transport solutions in dense urban areas and the quest to make our energy systems more sustainable."
Director General of Shipping, Rajiv Jalota reminded all stakeholders of the past glory and dominance of India in shipping and seaborne trade. "Documented proofs of maritime trade are found in Indus Valley civilization and in excavation of our tidal dockyard at Lothal, Gujarat which date back to 2500 B.C. The concept of maritime insurance and administrative setup related to merchant marines are found in Chanakya's Arthashastra. During Chhatrapati Shivaji Maharaj's regime in Maharashtra, the importance of maritime dominance was acknowledged and strengthened."
The Director General mentioned that the government has a vision to make the Amrit Kaal as a pioneering period in the development of the country. He stressed that this is the time the shipping industry needs to gear up for the next generation by use of technology to connect all elements of shipping at one place.
During this program, the following Sagar Samman Awards were conferred upon the meritorious persons.
| | | |
| --- | --- | --- |
| Sr. No. | Name of the NMDC Awards | Recipients |
| 1 | Sagar Samman Varuna Award | Capt. Thanuvelil Koshy Joseph |
| 2 | Sagar Samman Award for Excellence | Mr. Indra Nath Bose |
| 3 | Sagar Samman Award for Gallantry | Capt. Anil Choudhary |
Moreover, 14 maritime organisations were recognised for their outstanding performance in different fields.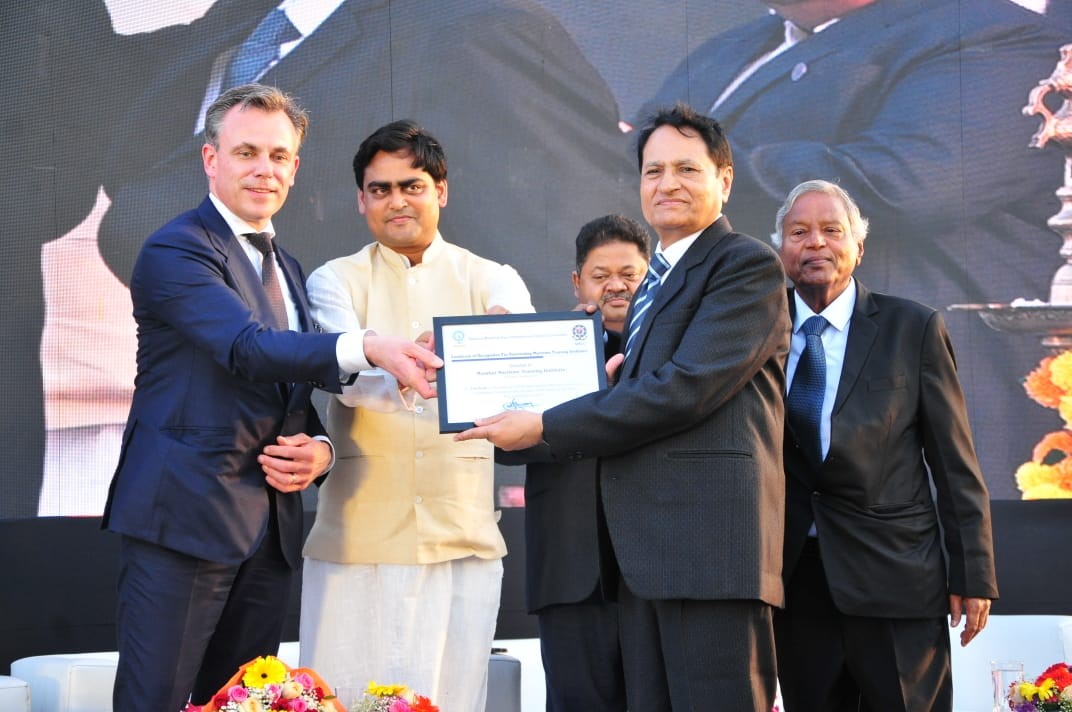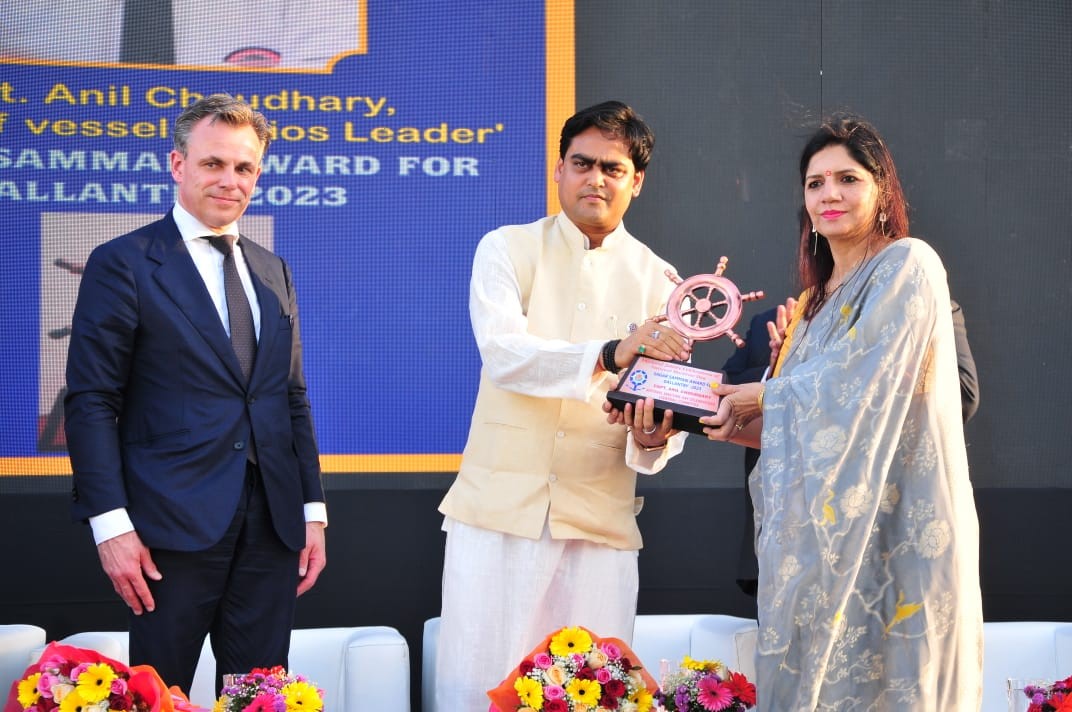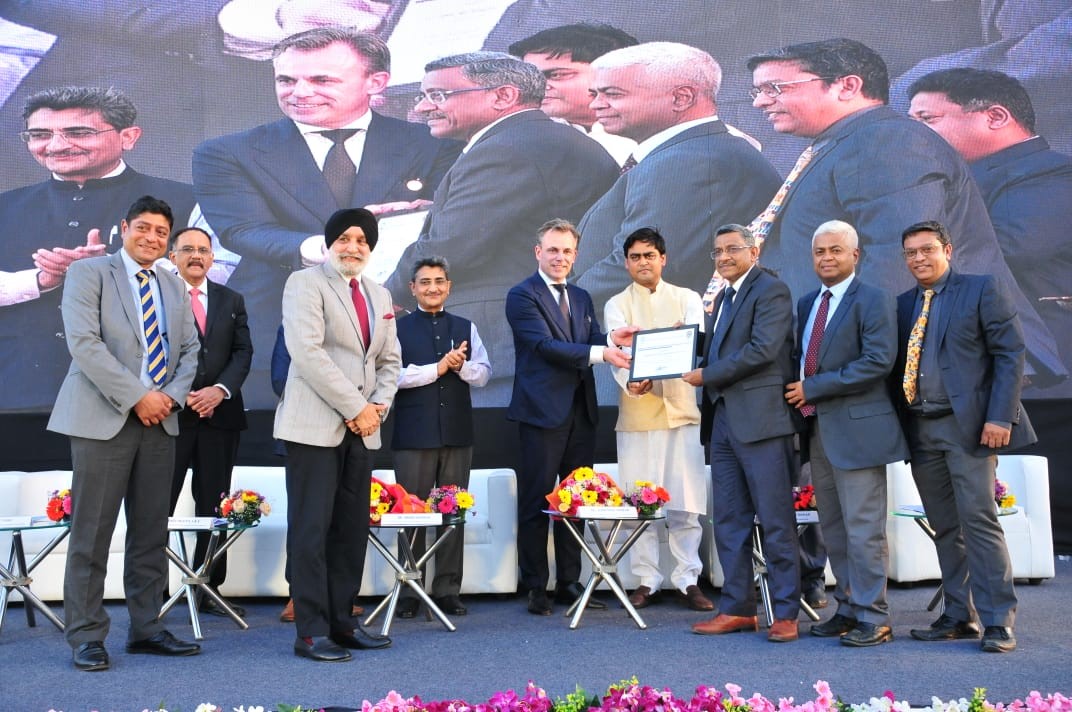 This event was witnessed by the special invitees of Ministry of Ports, Shipping & Waterways and Minister of Infrastructure and Water Management and delegates from Kingdom of the Netherlands, delegates from Royal Danish Embassy, officers and staff of Ministry of Ports, Shipping and Waterways, DG Shipping, SCI, IRS, Ports and all other departments of Government of India and state governments. The representatives of the Shipping Companies, Maritime Training Institutes, RPSL, MTOs Unions in Maritime field from India and abroad and Sagar Samman award winners and their families were also present in large numbers.
Dr. Raut Pandurang, Deputy Director General of Shipping and Member Secretary, NMCDC (Central) Committee delivered the vote of thanks.