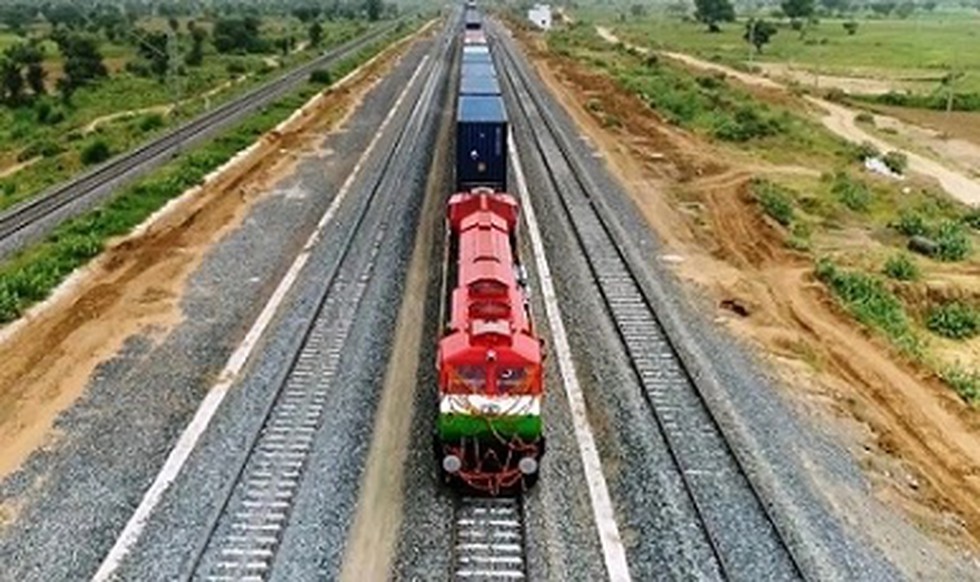 Direct Freight Corridor's western stretch to be ready by end of FY 24
VADODARA : You can look forward to faster train movements while travelling to Delhi and Mumbai. The Gujarat stretch of the ambitious Western Dedicated Freight Corridor (WDFC) hailed by Prime Minister Shri Narendra Modi as a game changer for India in the 21st century will be ready by end of the current financial year. Designed exclusively for freight transportation, DFC will decongest the existing network of Indian Railways as goods train will start moving on the corridor.
The Dedicated Freight Corridor Corporation of India Limited (DFCCIL) has completed 1,279km of the total 1,506km long stretch of WDFC that will connect the Jawaharlal Nehru Port Terminal (JNPT), Mumbai to Dadri.
"We have achieved another milestone as we have completed the trial run of goods train on the newly constructed railway electrified section connecting Gothangam to Makarpura," DFCCIL's Director (infrastructure) Hari Mohan Gupta, said in an exclusive interview.
Gupta said that the new railway section costing around Rs 3,644 crore, spanning 117km through Surat, Bharuch and Vadodara districts of Gujarat, will see regular movement of goods trains soon.
"Of the total 565km stretch that falls under Gujarat, we have just 170km stretch which is pending. We will be completing it within the current financial year – March 31, 2024," he said.
"The section connecting New Dadri in Uttar Pradesh to Sanand (North) near Ahmedabad has already been commissioned. Around 90 trains are running everyday on this section. All the key ports of Gujarat – Mundra, Kandla, Pipapav, Dahej and Hazira are already connected with WDFC. The containers which used to take 35 hours to reach Delhi-NCR from Gujarat port now take less than 12 hours," said Gupta, adding that the reduction in transportation time has also resulted in reduction in logistic cost.
"The work to connect Sanand (N) to Makarpura, a 138km-long section, is going on in full swing and we will completing it within this financial year," he said.
On the Makarpura-Gothangam section, on which the trial runs of goods trains have begun, DFCCIL has connected IR's Gothangam station to DFC Gothangam and DFC Gothangam to DFC Makarpura which in turn is connected to IR's Makarpura station.
"Now, as regular goods train movement starts, offloading of goods train will start right from Gothangam and we will be handing over the commodities to IR Makarpura. Apart from the freight connectivity, the biggest advantage will be on the front of enhancing speed of passenger train to 160 km per hour. As the goods train will divert to DFC, there will be significant time to upgrade the existing railway infrastructure to achieve the 160 km per hour speed," he said.
As DFCCIL targets to complete around 30km stretch from Gothangam to Bhesthan next month, it expects to connect Makarpura to Gholvad in Maharashtra within this calendar year.
"We are confident of completing the Gholvad-Saphale section in the current financial year thereby providing a complete connectivity between Sanand (N) to Saphale," he added.