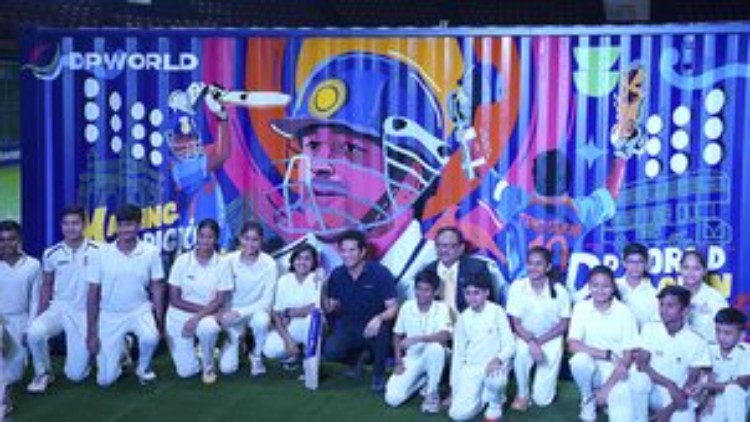 DP World unveils initiative to drive growth of Cricket globally
MUMBAI : Logistics operator DP World on Wednesday unveiled a new initiative 'Beyond Boundaries' in partnership with cricket legend Sachin Tendulkar and the ICC "to drive the growth of cricket around the world", the company said.
As part of the initiative, DP World will use its end-to-end network and logistics capabilities to distribute 50 repurposed shipping containers to grassroots cricket clubs around the world, each one having essential equipment, it said.
The move comes ahead of the 2023 ICC Cricket World Cup, which is being held in India from October 5 to November 19
Tendulkar unveiled the first container in Mumbai on Wednesday, ahead of the ICC Men's Cricket World Cup, which will kick off in Ahmedabad on 5 October. The first DP World container and 40 cricket kits will be placed at the Chikhalikar Sports Club in Palghar, Maharashtra, while another 210 kits will be presented to young cricketers from academies such as Achrekar Cricket Academy and Shivaji Park Gymkhana Academy. Every container will have 250 bespoke kits, each comprising a cricket bat, helmet, gloves and pads. The containers will also serve a dual purpose as pavilions and include a built-in scoreboard, sun protection and seating, the company said.
Tendulkar said, "Cricket is becoming more global and this initiative supports the growth of the game. We're focusing on creating cricket spaces and distributing kits in countries where cricket is not as popular. Grassroots initiatives are vital to cricket development. Talent needs nurturing and organisations like DP World must provide the support needed for athletes to thrive."
These cricket containers will not only provide budding cricketers with a place to rest and pad up, but also a safe space for young girls, who can use them as changing rooms.
While three containers will be distributed in India, the company has not unveiled the list of countries where the other 47 will be sent. Kevin D'Souza, SVP – business development – Middle East, North Africa and India subcontinent, DP World, told Mint, "This allows us to take cricket to the grassroots right across the world and to engage with diverse communities that benefit from our logistics services. So we're bringing sports and trade together in some way."
The company has a large network in India, comprising five port terminals, seven rail terminals, five container freight stations, two operational free-trade and warehousing zones in Mumbai and Chennai (and one under construction in Cochin), 92 cities with express logistics centres, and more than 30 container trains. It has invested over $1.2 billion in the country, and in 2018 partnered with the National Investment and Infrastructure Fund (NIIF), India's first sovereign wealth fund, to create a platform to invest up to $3 billion in rail logistics, multi-modal logistics parks, container freight stations, economic zones, cold-chain infrastructure, and contract logistics.
Under the Beyond Boundaries initiative, the first container design was brought to life by local artist Sadhna Prasad, and pays homage to the Master Blaster himself, with the first 10 containers being inspired by Tendulkar's legacy.
The initiative will be amplified throughout the course of the tournament via the ICC broadcast, with a bespoke graphic showing that 10 kits will be donated for every 100 runs scored. All kit donations will be made via the containers.