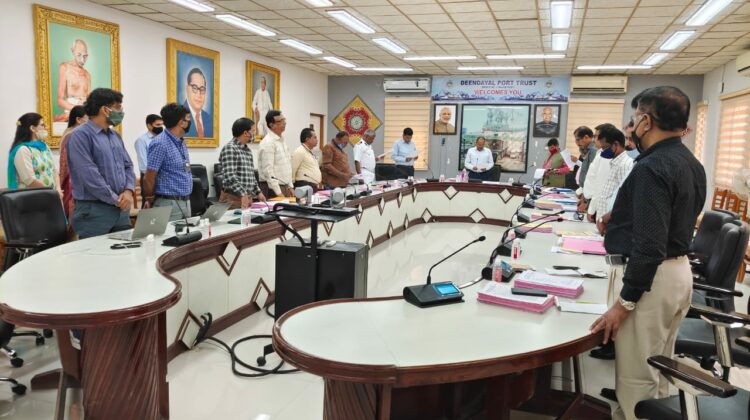 DPT held Board Meeting to discuss port's overall development

---
GANDHIDAHM : The Deendayal Port Trust Special Board Meeting No.1 to discuss Budget Estimate for the year
2022-2023 and Revised Budged Estimate for 2021-2022 and General Board Meeting No.4 of 2021-22
was held on 29-10-2021. The following trustees, apart from Shri Sanjay K. Mehta, IFS the Chairman,
attended the meeting:
1) Shri Nandeesh Shukla, IRTS, Dy Chairman-DPT
2) Shri Arvind Chaudhary, Economic Adviser, Rep. Ministry of Ports, Shipping & Waterways
3) Shri Subrat Mohapatra, IFS, Rep. Ministry of Environment, Forests & Climate Change
4) DIG B. Murugan, Rep. Coast Guard
5) Capt. Santoshkumar Darokar, Rep. MMD
6) Comd. Nitin Vishnoi, Rep. Defence Services, Navy
7) Shri L Satyanarayan, Labour Trustee-DPT
DPT is observing Vigilance Awareness Week from 26-10-2021 to 01-11-2021, on the 4th day of VAW-2021, Chairman, DPT administered Integrity Pledge to Trustees & HODs before the start of Board Meeting.
The following important items, inter alia, were considered by the Board:
Construction of Oil Jetty No. 7 at Old Kandla – Extension of Time period
Proposal for obtaining approval to open a Kendriya Vidyalaya in the Gopalpuri Colony initially upto Class – VIII and to go upto Class – XII on year to year basis as per the composite
scheme of the KVS for imparting school education from Class – I to Class – XII.
Amendment to the Kandla Port Trust Employees (Recruitment, Seniority & Promotional)
Amendment Regulations, 2009
Approval for extension of the work contract of M/s. E & Y for the total cost of
Rs.4,27,25,634/- (excluding GST) from the period 27-05-2021 to 28-05-2022 in five Major Ports for implementation of enterprise business system / ERP.
Proposal for recognition of hospitals to provide medical treatment facilities to the Board beneficiaries.
Outsourcing of 02 Nos. each truck mounted mist cannon system and truck mounted road sweeper system, alongwith comprehensive operation & maintenance for the period of three years at DPT.
Providing screen wall surrounding the coal stacking yards inside cargo jetty area of Deendayal Port
Retrofitting of extension cargo berth No. 7 (Panel No. 51 to 59) Work Assigned on Nomination Basis to M/s Gujarat Institute of Desert Ecology, Bhuj for
Studies on Dredged Material for presence of contaminants (EC & CRZ Clearance accorded by the MoEF&CC,GoI dated 19/12/2016 – Specific Condition No. vii) for three years (2021- 2024) Reg.
Approval of enhancement of Techno Commercial offer by 6% for approved rates for the project on boot model for Deendayal Port Trust to M/s. Central Electronics Corporation, New Delhi a Government of India Enterprise. Approval of CCTV Surveillance System work order to M/s. Central Electronics Corporation,
New Delhi, a Government of India Enterprise on nomination basis
E-Tender Cum E-Auction for allotment plot no. 59, admeasuring 15690 sq. mtrs situated adjacent to Plot no. 61 & 62 (Allotted to Vijay Tanks & Vessels (P) Limited, Vadodara),
Kandla for construction of Petrol Pump cum Service Station on 10 years lease on as is where is basis.
E-Tender cum E-Auction for allotment plot admeasuring 4000 sq. mtrs situated opposite to VTMS towers and behind boundary of DPT (east of dry dock) for the purpose of Barge repairing / Beaching on 5 years lease on as is where is basis.
E-tender cum E-auction for the allotment of various sizes of plots for salt manufacturing and salt related activities in between Village Veera to Village Jungi on 30 years lease on as is where basis – phase 1
Review of separate energy tariff for Class I to IV DPT employees residing in Port quarters at
Kandla, Gopalpuri and Vadinar and finalizing and implementing power supply norms for residential and commercial areas in Gopalpuri and Vadinar.
Assigning work on nomination basis to National Centre for sustainable Coastal Management,
Chennai (Ministry of Environment, Forest & Climate Change, Government of India) for "Shoreline change study for Deendayal Port Trust, Kandla, to study the effect of dumping."
Approval of services of M/s WAPCOS Limited, Govt. of India undertaking, Ministry of Jal Shakti for "supervision for smooth functioning of Ro-Ro Facility Services located at Hazira,
Dahej & Ghogha" on nomination basis.
"Augmentation of Liquid Cargo Handling Capacity by Revamping Of existing Pipeline network at Oil Jetty Area, Deendayal Port Trust, Kandla.
Executing the supplementary agreement for extending the period of agreement executed between Deendayal Port Trust and PTC India ltd. for trading of power on exchange platform through PTC for a further period of one year.
Allotment of Port Godowns to store import fertilizers upto a period of 90 days on Rental
Terms for a period of six months [from 25/10/2021 to 24/04/2022] and thereafter applicable demurrage will be levied as per SOR on the remaining cargo"
Constitution of Conciliation and Settlement mechanism for contractual disputes under the contract / agreement with the contractors / concessionaries / consultant / service providers in the Major Ports and approval thereof of the Revision of Guidelines and Reconstitution of
Conciliation and Settlement Committee framed and approved by the governing body of IPA.
Conversion of leases from Lease hold to Freehold (Residential & Commercial).
Assigning Work on Nomination Basis to IIT-M, Chennai for the work of "Conducting Navigational Study for berthing barges at existing Ambuja Cement Jetty No. 02- for setting up of RO-RO/ RoPax services at Muldwarka".
Engagement of additional Part-Time visiting specialists to provide OPD consultation/treatment in.
Board Meeting was held in a very cordial atmosphere and the Port's overall development was the main focus of deliberations.
---