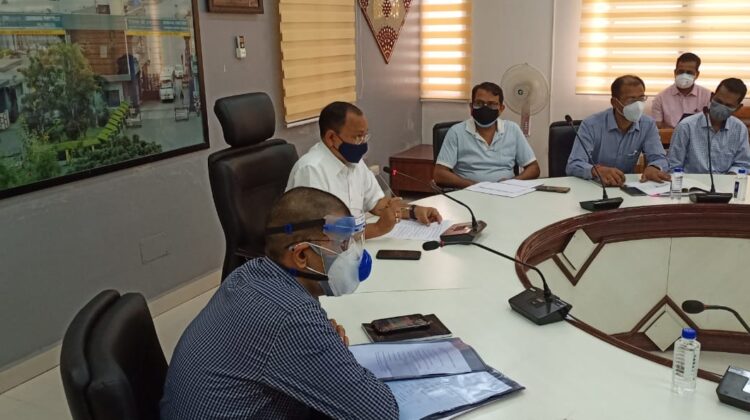 DPT held urgent meeting with Port Users, Stakeholders and Association to review TAUKTAE Cyclone preparedness plan
GANDHIDHAM : Deendayal Port Trust held an urgent meeting on Sunday, 16th May, 2021 with Port Users, Stakeholders and its Associations and thanked them for attending the Meeting at the short notice to review the Cyclone Preparedness Plan and to take stock of the remedial action to be taken to minimize the effect of Cyclone TAUKTAE, which is likely to hit Gujarat coast on 17th/18th May, 2021.
Mr. Sanjay K. Mehta, Chairman, Deendayal Port Trust said that the shipping operations will be immediately stopped from 1500 hours., 16th May, 2021 for the safety of Vessels & Tankers,Crafts, Cranes, Equipment, etc. and all the working vessels will be shifted to OTB from the afternoon of 16.05.2021 based on available tide. He also directed that Port Users shall ensure safety of their cargo lying at the Port. The manpower and the labour engaged in the Port may be withdrawn from immediate effect and no one should be allowed to be present at the Port area. All efforts may be taken to evacuate the manpower staying at low lying areas in coordination with Port Authorities & District Administration. Shelters may be kept ready for accommodation in case of evacuation required due to heavy rains. All the statutory guidelines and directives issued by the State/Central Govt., Disaster Management Authorities and Indian Meteorological Dept. from time to time have to be followed strictly.
Further, Chairman also issued following instructions to the Members of the various Associations for strict compliance, as under:-
The Representatives of Associations were advised to follow all statutory guidelines.
For safety & security of Manpower, all efforts may be taken to evacuate the labour staying at low-lying areas in coordination with District authorities.
Necessary instructions may be passed to the business community to take all required precautionary measures to ensure proper safety looking to the cyclone warning.
Transport arrangements may be kept ready for emergency use.
The Salt Association should inform all the Salt Manufacturers situated at various areas regarding the fast approaching cyclone suitably.
Tank Terminal Owners handling hazardous/toxic/highly inflammable cargo may strictly adhere to the guidelines issued by the statutory authorities.
The Tanks should not be kept stored at full capacity. As far as possible, all Toxic chemicals may be stored at safer place.
Safely & Timely Evacuation of Manpower should be ensured. They should move the Machinery to safer places, which is at risk during the cyclone. Other Machinery, which cannot be shifted, may be fastened properly so that it does not move from its place.
The respective Association may also form a responsible Team to coordinate with all their Members. They should prepare a WhatsApp group and their mobile numbers may be shared with DPT Officials. Volunteers may also be
deployed for emergency services.
The respective Association may collect information of all members so as to utilize the same in case of emergency and be in constant touch with DPT Officials for regular updates.
All pipelines and structures may be checked properly, looking to the safety measures and if need be, all precautionary measures may be taken.
All hanging and high-rise structures like Marine Unloading Arms, banners,hoardings, etc. may be strengthened/fastened properly or removed.
All loose material lying in the vicinity of Terminal which may blow during the cyclone may be shifted to safer place.
All measures to be taken to keep the Cargo safe and the same should not be dumped at high levels. The cargo should be kept covered with appropriate sheets.
Sign boards may be provided for showing the route/location.
They should ensure Power back up suitably.
Chairman stated that Doctors & Nurses are posted at our Kandla Hospital, but however, Emergency Kits consisting of Torch, Mobile Power Back up etc.may be kept ready for use.
Arrangements for food & water may be made for emergency use for the labour. During the meeting, the Stakeholders raised that since the Port would be closed down for operations from the afternoon of today i.e. on 16.05.2021, they would be put to heavy loss and they requested to declare "force-majeure" w.e.f. 16th May, 2021 itself. They also requested to relax the productivity norms applicable for the ships' productivity for the next one month, due to the closure of the Port operations.
Further, Chairman also stated that above issues would be decided in consultation with the Ministry of Ports, Shipping & Waterways as also in terms of the earlier practice for such natural calamities. On request from the Stakeholders and also in order to ensure the safety of the people living in low-lying areas around the Port, it was decided to deploy 10 Nos. of Buses for evacuation of people from Kandla areas to safe places at Gandhidham and nearby villages, as may be identified by the District Administration. For this purpose, DPT may hire 10 Nos. of Buses from 16.5.2021 to 20.5.2021 or till actual requirement, whichever is earlier, without disturbing existing staff buses; and out of these 10 hired Buses, 8 may be put at the disposal of District Administration and 2 buses at the disposal of CISF.
Source : DPT