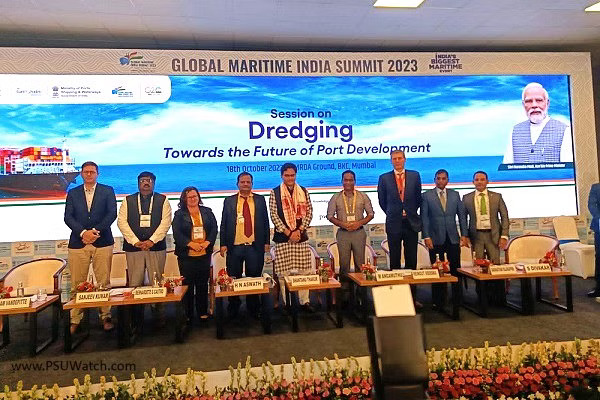 Dredging industry is undergoing a major transformation : Shantanu Thakur
MUMBAI : On the second day of Global Maritime India Summit 2023 (GMIS 2023), many enlightening and brain storming sessions were organised and one of them was on 'Dredging for Future Port Development'. Delivering a keynote address at the session, Shri Shantanu Thakur said "Dredging, a fundamental practice within the maritime industry, holds the key to unlocking opportunities, addressing challenges, and ensuring sustainable growth for our waterways and ports".
"The dredging industry is undergoing a major transformation with the rapid developments in technology, sustainability, and automation. The industry is now adopting sustainable dredging practices, ecologically friendly dredging equipment, and integrating artificial intelligence to improve dredging operations" the minister added. "Moreover, joint initiatives, public-private partnerships, and international cooperation are opening up new avenues for the creation of sustainable maritime infrastructure", he further said.
Dr Madhaiyaan Angamuthu (IAS), Chairman of Dredging Corporation of India & VPA delivered the welcome address in the session. "In this interconnected world, where distances are bridged by the might of maritime trade, our industry serves as the very lifeblood of international commerce. It's not just about transporting goods; it's about fostering understanding, nurturing cultural exchange, and forging partnerships that transcend borders", he said. "Today, we stand as guardians of this heritage, entrusted with steering it towards a brighter, more sustainable future", Chairman DCIL added.
During the session many MOUs of DCIL and VPA also got exchanged.
Key highlights of the session included:
Key trends, developments, and future outlook for Dredging Sector
Inland Waterways Dredging and Dams & Reservoirs de-silting.
Beneficial use of dredge sediments and its perspective
Sustainable Dredging Techniques and Advanced Technology
The session was ended with a vote of thanks by Captain S Divakar, MD & CEO, DCIL by thanking all the speakers for spending their valuable thoughts for making the session a grand success.