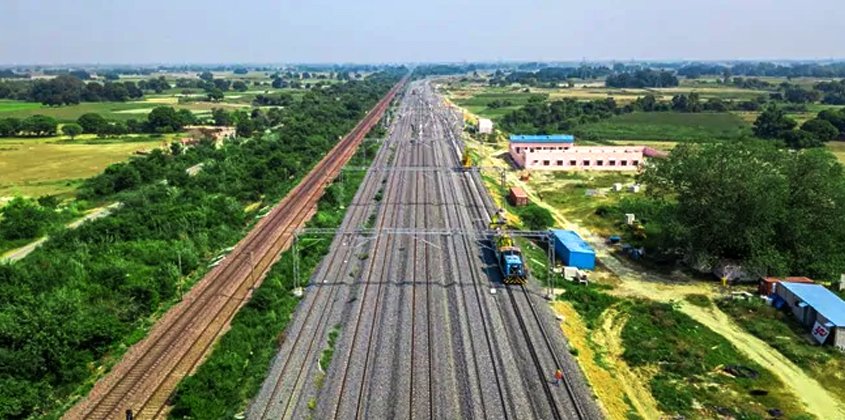 Eastern-DFC : Electric Loco trial successfully conducted on 94-Km-long last leg of freight corridor
MUMBAI : The Dedicated Freight Corridor Corporation (DFCC) has successfully conducted electric locomotive trial on New Khatauli-New Pilakhani section, the last leg of the Eastern dedicated freight corridor (DFC).
The loco trial run on the 94-km-long section of Eastern-DFC was carried out by the Meerut unit and with this, the 1,337-km-long Eastern-DFC witnessed the long awaited completion of the exclusive goods corridor.
The successful trial marks the completion of the main line section of the corridor.
"We conducted successful trial of electric loco run on New Khatauli-New Pilkhani Section section. It is the last leg of New Khurja-New Pilkhani section and also missing link of the complete EDFC route from Sonnagar in Bihar to Sahnewal in Punjab," DFCC maintained.
With this, the entire 1,337 km Eastern-DFC route, from Sonnagar in Bihar to Ludhiana in Punjab, has been completed.
Eastern corridor is meant to cater to a number of traffic streams — coal for the power plants in the northern region of Uttar Pradesh, Delhi, Haryana, Punjab and parts of Rajasthan — from the eastern coal fields, finished steel, food grains, cement, fertilisers, lime stone from Rajasthan to steel plants in the east and general goods.
An operations control centre has been built at Prayagraj which, which will monitor the movement of freight movement on the Eastern-DFC. Also known as command and control centre, it will also power supply systems besides goods trains.
The DFC aims to decongest the existing Indian Railways' network for passenger trains, while at the same time the average speed of goods trains could be increased from existing 25 to 70 kmph.
The Eastern-DFC would run heavy haul trains with higher axle load.
A large logistic hub is also proposed in Meerut, since the city is a suitable major hub due to its well connectivity and proximity with expressways like Delhi Meerut Expressway, Ganga Expressway, Delhi Mumbai Expressway, Yamuna Expressway and Meerut Haridwar Expressway.
The further construction of the 371-km-long Sonnagar to Andal section, would be constructed by the Railways itself, as the national transporter has abandoned its plan for making it in public-private partnership model.