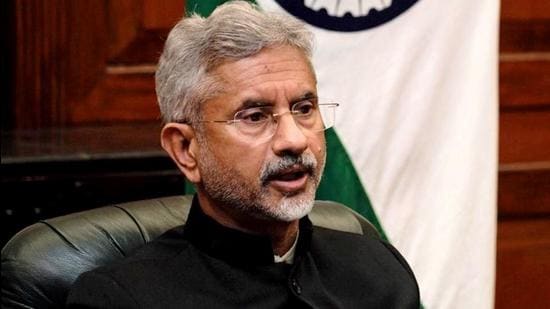 Enormous interest in IMEC', says Foreign Minister Jaishankar; West Asia conflict an "unexpected problem"
NEW DELHI : External Affairs Minister Shri S Jaishankar said there was an enormous interest in the India-Middle East-Economic Corridor (IMEC) during his recent visit to Italy and Portugal, in a conversation with Hindustan Times Editor-in-Chief R Sukumar here.
"Europeans do see today the need to have a smoother, more efficient, more seamless passage to India," said Jaishankar at the Hindustan Times Leadership Summit.
The minister also said Europe's weight as a hub of the global economy and India's growing economic weight, coupled with Arabia's historic role as a thoroughfare for global trade, made IMEC important.
"The IMEC comprises an Eastern Corridor connecting India to the Gulf region and a Northern Corridor connecting the Gulf region to Europe. It will include a railway and ship-rail transit network and road transport routes," reads a press release announcing the creation of IMEC on the sidelines of the New Delhi G20 Summit.
The memorandum of understanding on IMEC was signed by India, America, Saudi Arabia, UAE, European Union, Italy, France and Germany.
However, the unfolding crisis in West Asia after the October 7 Hamas terror attacks against Israel has led to concerns that connectivity initiatives like IMECC may be negatively affected. According to media reports, Israel has been a key backroom player in negotiating the IMEC deal.
While Jaishankar acknowledged that the crisis has been an "unanticipated problem" which is "serious", he indicated that India was not considering a rethink of the project.
"Certainly, unanticipated problems, even of a serious nature, can happen and we are seeing one right now. But I don't think, because something has happened, if you have a larger goal and a larger plan, that you immediately start rethinking and revising that," Jaishankar said.
"I think you keep your master plan going and you do the work. You also, side by side, respond to whatever else has happened out there," he added.