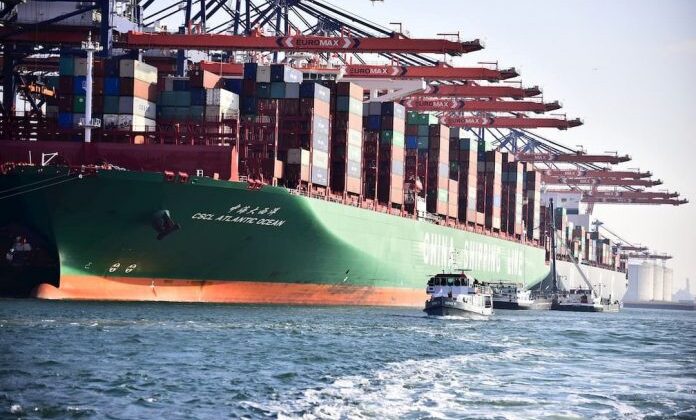 European ports join forces to cut ship emissions at berth
The ports of Rotterdam, Antwerp, Hamburg, Bremen and Haropa (including Le Havre) have agreed to work together aiming to reduce emissions from berthed vessels.
The five seaports in North-West Europe signed a Memorandum of Understanding (MoU) on 21 June to make a joint commitment to providing shore-based power facilities for container ships from 14,000TEU upwards by 2028.
The agreement is in line with the European Union's "climate strategy" signed last April and aims to reduce carbon emissions by half by 2030, according to HAROPA's statement.
The Port of Rotterdam authority explains in its announcement that the aim is to provide the container vessels with a capacity of 14,000+ TEU with shore-based power by 2028 so that the on-board generators are not used when the vessels are berthed. The ships will then be connected to the mains power grid through a cable, which will benefit air quality and the climate as it will mean lower nitrogen and CO2 emissions.
"Rotterdam already has shore-based power connections for inland vessels at all public berths in the port area," said Allard Castelein, CEO Port of Rotterdam Authority. "StenaLine in Hoek van Holland and Heerema's berth in the Calandkanaal are also equipped with shore power. Last year, we launched an ambitious programme to complete around eight to ten shore-based power projects by 2025."
According to the Flanders Environment Agency's emission inventory, almost 19% of the NOx emissions at the port originate from moored ships.
"Container ships moored at the port generate a lot of emissions, mainly of nitrogen oxides," noted the Port of Antwerp, which added that shore power is the only technology available for reducing emissions from boxships and contributing to better local air quality and less environmental noise.
However, the implementation of shore power is not an easy-going affair, as there are several hurdles, such as the uncertainty about future policy on whether or not to make shore power mandatory. "An international policy is needed to ensure a level playing field between ports," pointed out the Antwerp port.
Additionally, both the ports of Rotterdam and Antwerp agree that government support is necessary for the major infrastructure needed for the development of shore-based power facilities.
Furthermore, the limited number of container ships currently equipped with shore power facilities is another challenge, the project will face.
"This cooperation aims to boost the efforts already undertaken by all stakeholders and encourage innovation on this theme at national, European or international scale," highlighted HAROPA PORT.
Source : Container News