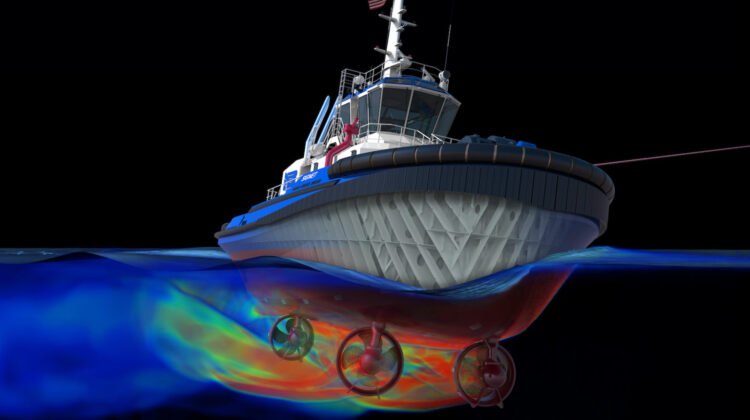 ABS just took One Step Closer to 3D Printed Ships
VANCOUVER : A record broke last week when naval architects at Robert Allan Ltd. and ABS completed the first fully end-to-end 3D vessel construction plans for a US commercial ship. The tugboat will be built by Signer Maritime using mostly traditional methods but the new 3D digital asset plans are the first step towards a future when giant 3D printers can start building ships.
Designed by Robert Allan Ltd., the Advanced Rotortug®, which is intended to escort vessels and offshore assets at the Port of Corpus Christi, will soon receive its Certificate of Inspection from the US Coast Guard, the final step before construction. The tug will be built and operated by Signet to ABS Class, making it the first commercial vessel in U.S. history to be produced using only 3D models in design and construction for all structures.
A purely 3D process reduces costs and time investment, and helps to futureproof new vessels. Prior to this Rototug design, ABS completed a successful pilot project with NASSCO that used 3D digital models for class surveys. This project means ABS is now able to fully support 3D model integration into engineering and now survey.
During the pilot with NASSCO, surveyors used 3D digital models instead of traditional 2D drawings for the simulation of new construction surveys on several steel blocks. According to ABS, 3D Model-Based Class allows a designer or a shipyard to eliminate 2D drawings entirely, saving up to 25 percent design time. 3D models are easier to navigate and can also reduce the time required to train shipyard craftsmen.
"This landmark achievement sets the bar for future projects both in the U.S. and internationally," said Mr. Christopher J. Wiernicki, ABS Chairman, President and CEO. "The advantages of 3D are significant, and we are confident that once the industry develops the infrastructure to handle 3D models in shipyards, a pure 3D process will become the default approach." he added.
"We are very pleased that ABS has taken the initiative to work with us on a process to review and approve 3D structural models," said Mr.Mike Fitzpatrick, CEO of Robert Allan Ltd. "Thanks to 3D, the time from the basic design stage to the production design stage is shortened, allowing the shipyard to start cutting steel earlier," he added.
ABS then became the first classification organization to accept 3D models for class surveys in April 2020.
Source : gCaptain