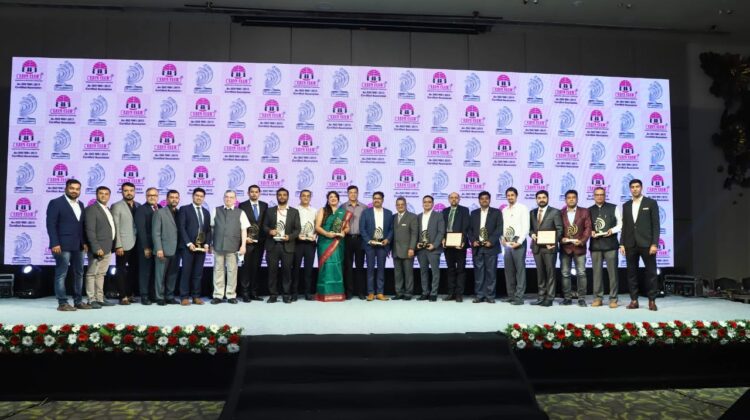 EXIM Club felicitated top performers at EXIM Club Awards 2020
EXIM Club (Exporter's & Importer's Association) Vadodara is celebrating its 27th year in 2020-21 as a professional body ( NGO ) in the field of Exports and Imports related issues and matters. EXIM Club's prime functions are coordinating, liaison with all government agencies like DGFT , GST, ICD , Customs, Ports and Ministry of Commerce for various issues related to EXIM Club members and related Industries. EXIM Club also provides services to Industries for online & offline Certificate of Origin. EXIM Club is also doing online and offline seminars, grievance meeting for the benefit of trade.
EXIM Club as part of it's endeavour of excellence,every two years recognising Best Exporter, Best Importer, Best SME Exporter, Best SME Importer, Best Innovative Products, Best New Development of Market at International level , Outstanding Women Entrepreneur , Best Export of Services, Best Importers in Trading and Services. All these awards were invited through nomination from members and giving them Awards, Trophy & Citationetc.
This year also EXIM Club have recognised the top performers and felicitated them at EXIM Club Awards 2020 ( Bi – Annual awards) in a Grand Ceremony held at Hotel Grand Mercure, Sayajigunj, Vadodara on 23rd February 2021.
The function has special significance as it has recognized it's proud member Serum Institute , Pune with special Presidential Award under Atma Nirbhar Scheme as they have developed Covid-19 vaccine Covishield and started its distribution in India & Abroad.
The function is graced by Chief Guest Shri Ashok Kumar Mehta , Principal Chief Commissioner of GST, Vadodara Division and also Jury members Dr. Ashish Kumar Dash, Joint DGFT at Ministry of Commerce New Delhi, Dr Hitesh Bhatia from Navrachna University & Mr Krishnaswami Srivatsan renowned Industrialists from Ankleshwar, besides all Past presidents and Members.
The function was organised in Hybrid style as both physical and virtual online platform presentation was made simultaneously "We have in all given 15 awards in various categories and other appreciation awards at the ceremony to various Trade and Industry participants. We thank our Sponsors , Associates and Well Wishers for their support to make this function a grand success",said Mr. Vijay Shah,President,EXIM Club.