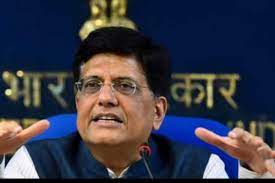 FCI, CWC working on modern crop storage: Piyush Goyal

---
NEW DELHI : The Central Warehousing Corporation (CWC) and Food Corporation of India (FCI) are working on modern crop storage plans for the benefit of farmers, Minister for consumer affairs, food and public distribution Piyush Goyal said.
Cluster-based approach in agri produce marketing and exports will help bring cost of production down without affecting quality, the minister said.
Rubber and niche products from different states have a huge potential, he said.
Under Prime Minister Shri Narendra Modi, India has changed its mindset to move from incremental changes to transformational changes, Goyal said. The works done in last seven years have laid a strong foundation to build a strong India of the future, he added.
Source : Economic Times
---